November 1, 2018

Filed under Campus
By Sully Barrett, news staff A leaked Oct. 21 memo from President Donald J. Trump's administration proposed legally defining sex as either male or female under Title IX, potentially urging universities to eliminate anti-discrimination protections for transgender and nonbinary students. The sugg...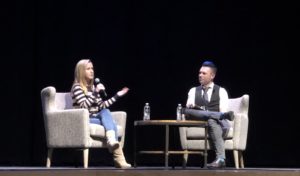 January 25, 2018

Filed under Lifestyle
By Samuel Kim and Kate Win, news staff Angela Kinsey, clad in a striped black and white sweater, skinny jeans and beige boots, strode onto the stage at Blackman Auditorium Tuesday night. As she eased into her chair, she realized it was too far from the table in front of her. "Short girl probs ...