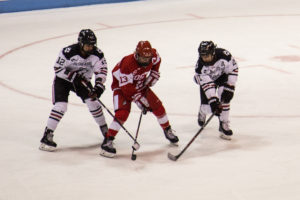 Caroline Ingram, news staff

December 4, 2018

Filed under Sports
The women's hockey team was unable to extend their 12-game unbeaten streak on Friday night in Worcester, falling to the Holy Cross Crusaders at a score of 5-3. The Crusaders entered the contest having not won a single game this season, but put the Huskies to the test and walked away with their first mark in the win column.
January 25, 2017

Filed under Featured Content, Sports
By Jack Hodge, news staff It was a strong week for Northeastern University (NU) women's hockey with a 5-3 win on Saturday following a 3-2 win on Friday, both against the University of Connecticut (UConn). These two wins boosted the team to a strong 15-9-3 record and continued their undefeated strea...