Students granted hardship housing required to move out by April 24, leaving some in limbo 
April 22, 2020
When Taylor, a fifth-year business administration major, got an email informing her she would have to find a new place to live by April 24, she "went into a complete shock." 
Taylor, who requested her last name be omitted to protect her privacy, was granted permission to stay in on-campus housing for the spring semester after explaining her situation to WeCare. 
All students were required to move out of university housing in mid-March, except for a small number of students who were granted housing for the rest of the spring semester because of what the university deemed a "significant hardship." 
Taylor was granted hardship housing through the end of the semester, but her application for Summer I hardship housing was denied. She was informed of her move-out date on April 2, giving her a little over three weeks to make alternate arrangements. 
No students will be given housing for Summer I, according to university spokesperson Shannon Nargi. However, students were offered the opportunity to apply for Summer I hardship housing in the Housing Online portal, and were informed of the opportunity through a Housing and Residential Life email on March 17.
However, Nargi did not acknowledge that Summer I hardship housing applications were collected, saying, "the application period for Summer I housing, Summer II housing and Fall housing took place under the usual calendar, before COVID-19 decisions about housing were finalized, which is why those applications were not approved." 
Taylor applied for hardship housing because her mother is homeless, her father's home situation at the time was untenable and she could not afford to pay rent in Boston. Taylor also described in her letter to WeCare that she has struggled with mental illness and suicidal ideation in the past, she said in a phone interview with The News.
"I grew up pretty poor. I can only attend [Northeastern] because I get probably the best financial aid package of anybody here," Taylor said. 
All students granted housing past the campus closure in mid-March were relocated to International Village, or IV, according to emails obtained by The News. Each student was given a bedroom and bathroom to themselves.  
Amy Aris, a fourth-year English major, also moved into International Village. Aris requested hardship housing because she could not afford to sublet a room elsewhere in Boston. Aris previously lived in Levine Hall, or 122 Saint Stephen St.
"The rent here is insanely expensive and as someone who finances their own education, I just couldn't afford to go anywhere," Aris said in an email to The News. "Plus my parents couldn't come up and get me when we found out everyone was being kicked out."
Taylor moved from her leased property room at 49 Symphony Road to International Village the weekend of March 28. She bought packing supplies and a rental car and enlisted help from several friends.
Social distancing in IV
In the past month, International Village has been quiet and sparsely populated, Taylor and Aris said. Northeastern's Media Relations office would not specify how many students were granted hardship housing, but Taylor and Aris both estimated around 100 students are living in the building, spread out so there are only a few students on each floor. 
"It's pretty lonely to be honest, but I'd rather be lonely than jeopardize the health and safety of my neighbors and surrounding community," Aris said.
Students have been provided toilet paper and soap and can get free takeout meals from the IV dining hall during certain hours. The university provides a free laundry service that picks up and cleans students' clothes within two days.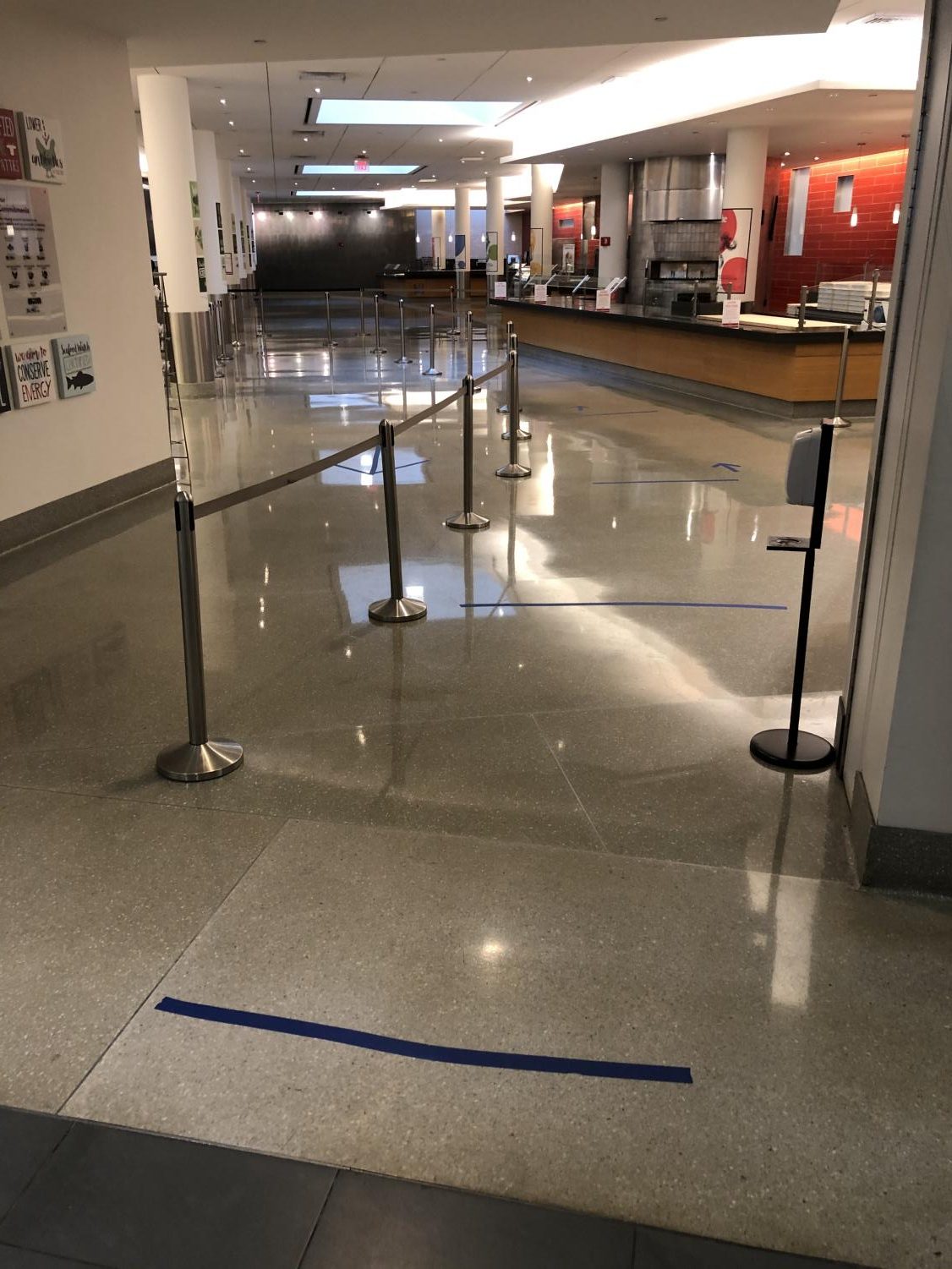 Taylor said living in International Village has been a good experience.
"It was kind of too good to be true. I was so relieved when I got here because I had to buy groceries [in my leased property] and I had just lost my job so I was struggling to buy food," Taylor said. "Here I don't have to pay for food, I can go into the dining hall."
Aris said she thinks Housing and Residential Life have done their best to accommodate students while encouraging social distancing. Aris said that any student with a Husky Card is allowed to sign in and get food as, well as Northeastern faculty and staff.
"It's nice to see that they haven't restricted the dining hall to just the students living in IV; a lot of people are struggling right now and having free food available to those who still live in the area can be really helpful," she said.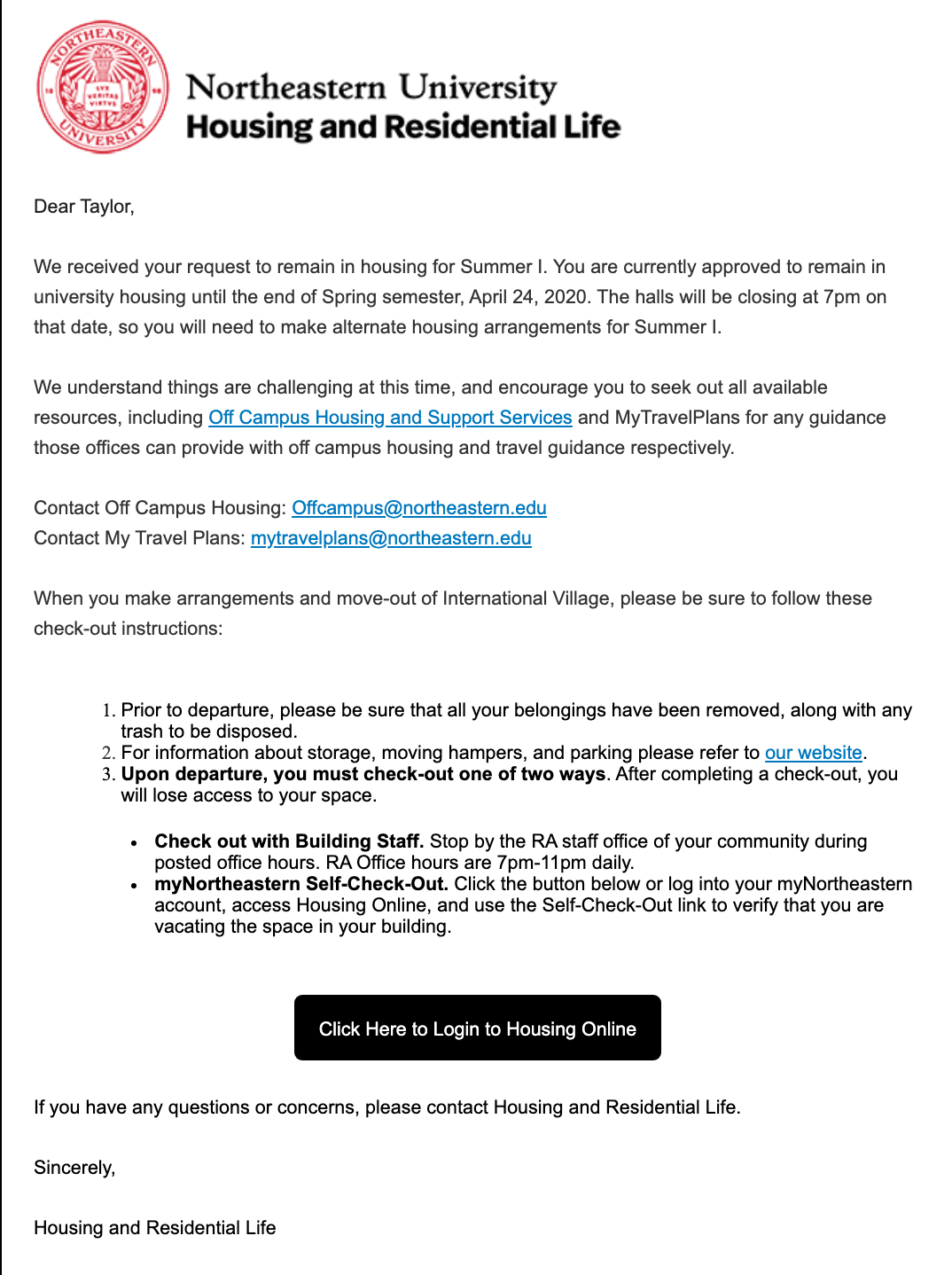 No hardship housing for Summer I
Taylor applied for Summer I hardship housing, but her request was denied. On April 2, she received an email from Housing and Residential Life requesting that she move out of International Village by April 24, the last day of spring semester.
The email from Housing and Residential Life stated that "the halls will be closing at 7pm on that date, so you will need to make alternate housing arrangements for Summer I." 
Shannon Nargi, a university spokesperson, said in an April 20 email to The News that "students with hardships were granted housing throughout the end of Spring semester with the explicit statement that this was for Spring housing only, through April 24th. International Village is closing on the 24th. Summer I housing is not available."
Taylor said she felt like she was lied to because Northeastern gave her the opportunity to apply for Summer I hardship housing.

"They did make it clear that very limited numbers of people were going to be accepted, but I thought I had a pretty good chance," Taylor said. "I unpacked all my stuff. I assumed I was going to be staying here until the end of Summer I, hopefully the end of Summer II. The email saying that no one could stay was not a possibility I expected at all."
Aris said she wanted to stay in on-campus housing and had hoped she would be able to, but will be moving out on the 24th. 
Nargi declined to provide a statement on why hardship housing is not offered for Summer I, but the application for Summer I housing stated that applications would not be reviewed until April 1 and suggested that students should make arrangements to move elsewhere. Taylor was informed of her April 24 move out date one day after the university began to review applications.
Housing and Residential Life announced April 14 that "the university will offer Summer II housing only to students hired for Boston-based co-op positions that cannot be done remotely." 
Taylor said she found the Summer II decision frustrating.
"I was especially surprised when they said they were going to keep housing open for co-op students," Taylor said. "That's kind of [expletive] to me that you would kick out students like me and people who literally have countries that they can't return to."
Artie Zhang, a second-year communication studies major who also moved into IV, will be moving into a summer sublet in Boston. Zhang originally requested hardship housing because his family lives in China and he does not have a permanent home in the United States.
"I was planning on dorming with the school, but that's not happening anymore … I'm nervous about [the sublet] for a couple reasons, but I guess it'll work out," Zhang said.
Taylor said she will move into her father's house in Maine at the end of the week. When she originally requested hardship housing her father was on the verge of eviction, but she said the situation has since improved. Still, she is nervous about her new living situation.
"I'm nervous about my ability to get food and make money," Taylor said. "I'm gonna feel pretty compelled to get a job. I could see myself applying at a grocery store, which is dangerous. I was just starting to get back on my feet, and this really set me back so far."
Aris said she will be moving back in with her parents. 
"It's certainly not ideal, but it's really my only option," she said. "I know I'm lucky that I have that option … I have several friends who don't and are still trying to figure out where to go and what to do come April 24th."