NU Asian community demands university action, accountability for recurring issues
March 27, 2021
Leaders of the Asian American community across Northeastern's campuses nationwide are tired of not being heard. 
More than 1,250 students, faculty and staff have co-signed a letter demanding action from the administration for greater funding, resources, transparency and other measures to address issues faced by the Asian American community. It has been signed by nearly every executive board member of every Asian American cultural organization as well as student leaders from organizations, such as the Student Government Association, Council for University Programs and Greek organizations. 
"We want more opportunities to learn about our history and our issues through representation in the courses that are offered," the letter read. "We want increased resources for all cultural centers and for mental health centers in order to ease the burden placed upon students. We want Northeastern to support our surrounding Asian American communities. We want a chance to speak with you regularly with other student leaders of color and for actionable change."
The letter was released Tuesday, March 23 via Instagram on Northeastern's Pan Asian American Council, or PAAC, account. It asks the university to respond to immediate action items, including opportunities to meet with administrators, culturally appropriate mental health resources and a decrease in campus policing. It also highlights several anonymous testimonials detailing experiences of gaslighting, microaggressions and frustration as members of the Asian American community. 
Claire Blaufox, president of the Chinese Student Association and 2021-22 co-chair of PAAC, was the initial driving force for this letter. Much of her motivation stems from anti-Asian hate crimes that have spiked since the onset of COVID-19, which was referred to as the "China virus" and "Kung Flu" by former President Donald Trump. 
More recently, Blaufox was struck by the fatal shootings of eight victims in Atlanta: Soon Chung Park, Hyun Jung Grant, Suncha Kim, Yong Ae Yue, Delaina Ashley Yaun, Paul Andre Michels, Xiaojie Tan and Daoyou Feng. Six of them were Asian American.
"The Atlanta hate crimes hit so close to home on so many levels. I was just really struggling and processing the grief, the fear," said Blaufox, a third-year chemical engineering major. "[This letter] is the one thing I'm clinging to. I still haven't had time to cope with what is going on in Atlanta, but seeing all of this support has helped me feel."
In response to the recent attacks, President Joseph E. Aoun sent an email March 17 to the student body to extend the university's support of the Asian community and denounce these hate crimes.
"I join with all members of the Northeastern community in condemning these racist acts," the email read. "Words of support, healing, and prayer are not enough. Northeastern is a community of action. Anti-Asian bigotry — and all other forms of racism — are corrosive to our shared humanity and must be actively opposed."
"
The Atlanta hate crimes hit so close to home on so many levels. I was just really struggling and processing the grief, the fear. [This letter] is the one thing I'm clinging to. I still haven't had time to cope with what is going on in Atlanta, but seeing all of this support has helped me feel."
— Claire Blaufox
Some students in the Asian American community appreciated the gesture, but many thought Aoun's words lacked substance and conviction. 
"While he was championing a worthy cause, it seemed almost paradoxical that he would say we are a 'community of action' without ever having mentioned any action in any shape or form," said Lawrence Deng, second-year biology major and 2021-2022 co-chair of the Asian American Students in Action, or AASIA. "I was angry, to be honest, that these issues are so out in the open and so visible, yet we don't actually treat them in any serious regard."
First-year Jaycen Tan, who is in the Explore Program and is involved with a few on-campus Asian organizations, said he found the message to be "compassionate" at first, but now, more than a week after the email, he finds himself still waiting for action.
"Ever since March 17, he hasn't done anything. That really concerned me because he's our president, and his word means everything to us," said Tan, who applied to Northeastern thinking it was a diverse and inclusive university from its branding and messaging.
NU media relations told The News that the university is dedicated to its "diverse global community of people from all backgrounds" and recognizes the concerns that the Asian American community has brought to light. 
"The university is committed to fostering an environment where these differences are celebrated and everyone feels safe, heard, and included," the statement read. "… Northeastern leaders are actively engaging with members of the [Asian American Pacific Islander, or] AAPI community around these issues to fully understand their experiences and make decisions that are informed by these conversations. We are looking forward to a productive collaboration where AAPI students feel heard and supported throughout every dimension of their Northeastern experience."
Following the letter's release, Blaufox and Deng said they received a message March 23 from Robert Jose, senior advisor to the president for diversity and inclusion, and Chong Kim-Wong, vice chancellor for student success. They have a meeting scheduled for Monday, March 29, which will include other student body leaders and supporters as well, for a follow-up discussion on the open letter.
On Wednesday, March 24, Chancellor and Senior Vice President for Learning Ken Henderson also reached out and set up individual meetings with the main coordinators of the letter, including Blaufox, over the course of the weekend.
As Deng watched more signatures roll in, he said it felt "truly liberating" to see the amount of support that the AAPI community has received. 
"
I want students of color to feel as if they are human."
— Claire Blaufox
Blaufox said that the letter's purpose is to uplift the Asian American community as well as other communities of color on campus.
"I want students of color to feel that they are as valued as other students and generally valued as unique individuals for what they bring to the university beyond [diversity] statistics and numbers," Blaufox said. "I want students of color to feel as if they are human."
Recent letters to [email protected] to address Asian American coverage
Prior to Tuesday's letter, a group of faculty and staff across NU's campuses nationwide had sent two letters to [email protected], according to an anonymous source who worked closely on both letters. Each letter had roughly 20 to 25 signatures from faculty and staff, the source said.
The first letter, the source said, was sent near the end of February. It addressed [email protected]'s lack of coverage on the hate crimes against the Asian American community due to COVID-19 over the past year. 
"We're here, and we're not invisible," the source said. "A lot of folks in the community did not feel seen or heard. [email protected] has a voice to bring this to light, and we were disappointed that they had not done that yet."
The second letter was sparked in reaction to a March 2 [email protected] article about anti-Asian hate crimes, which did not include a single Asian American voice. The anonymous source said several faculty and staff members felt that the article was "poorly written" and lacked representation.
"
How could you represent the thoughts of the community without talking to any members of the community?"
— Lawrence Deng
"Sure, [the sources] might be experts in their fields, but there was just no representation from the Asian American community," the source said.
Blaufox also said she thought the article was "incomplete" and even sent a personal response to [email protected] about the lack of Asian representation and proper consideration for the community's input. Deng said he felt the same.
"How could you represent the thoughts of the community without talking to any members of the community?" Deng said.
Following both letters, the anonymous source said that the responses from [email protected] were similar in language and did not properly address their concerns. Rather, the source said it felt like a "simple statement" that discussed how [email protected] works hard to cover relevant issues. 
"There was no real redress for the issues we brought forward," the source said. "It just lacked any real compassion or sensitivity to the issues. It was just an empty response."
On March 22, [email protected] published another piece about the topic. This time, it featured two Asian American sources: Blaufox and Northeastern University School of Law professor Margaret Woo. 
Michael Armini, senior vice president of external affairs, said in a statement to The News that [email protected]'s coverage in both articles was "flawless."
"This is an award-winning news organization and their coverage on this has been flawless," he said in a statement. "The first article featured two very accomplished faculty experts offering their insights, and the second article showcased a variety of Asian voices."
Armini also noted that [email protected] does not take race into account when seeking out expert sources.
"When the news team seeks out faculty experts to comment on their areas of research, they don't impose any kind of racial or ethnic screen," the statement said. "I hope no one is suggesting that we start doing that."
The anonymous source said that they appreciated the representation in the second article and that it should continue thereafter.
"It was a big improvement from the first one," the anonymous source said. "But there needs to be consistency across the board when it comes to addressing issues that particularly impact communities of color."
Woo said this article from [email protected] was a good start to highlighting Asian American issues and that she wishes to see more coverage of the like. 
"My hope is that this [article] is only the beginning and that there will be additional inquiries and articles in the future," Woo said. 
A history of struggles for the Asian American Center
These recent events are not the first time that the Asian American community on campus has felt ignored by the university, Deng said. For them — as outlined in the student letter — this is another instance in a pattern of negligence.
The Asian American Center, or AAC, is one of the main umbrella organizations that houses AAPI student organizations, including PAAC, and acts as a safe haven for many students. Yet for years, they have lacked physical and financial support from the university, Blaufox said.
Between 2014 and 2015, the university cut the AAC's yearly budget by more than $10,000, said Aaron Parayno, a former staff member of the AAC. He does not recall the specific amount, but he confirmed that this portion of the budget was being used for funding student programs at the time. He said the budget cut, in turn, negatively impacted the quality and number of events hosted by the center.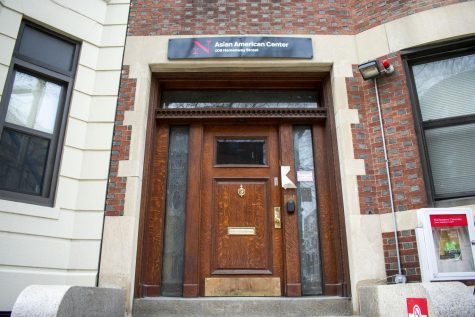 For every year after, Parayno said the AAC received the reduced budget and AAC staff had to request the university for the money that was taken away. Every year he was a full-time staff member, which was until 2019, he said the request was granted, but the money was not guaranteed for the next year.
NU media relations has not immediately responded to The News' inquiries regarding the budget cuts.
Deng feels that the budget should have increased given the growing Asian student population. In 2008, 8.2% of NU's undergraduate population identified as Asian; today, the community has more than doubled, making up 16.8% of the undergraduate student body. 
Along with many other students, Christopher Park, a fourth-year biochemistry major and AASIA senior mentor, believes the AAC is understaffed with currently only one director and one assistant director. In the last few years, there have only been three AAC full-time staff members at most.
"It's hard running a center with two or three people. You can only run and air so many programs," Park said.
He believes that more funding and staffing for all cultural centers on campus would allow for more meaningful programs for students to embrace their heritage and history. He feels this is key for making the campus a more inclusive environment. 
Members of Asian culture organizations, including Blaufox, Deng and Park, also feel there is simply not enough space at the AAC for them to gather. The center has a handful of small rooms and two areas for storage, which are all shared among at least 11 AAPI organizations. 
Additional anonymous testimonials in the open letter also discuss the limited amount of space, as well as limited funding for cultural organizations.
Blaufox said she spoke on the phone directly with many of those who submitted testimonials, spanning nearly a decade's worth of on-campus grievances and issues for the AAPI community. 
"The first thing I felt was so incredibly upset," Blaufox said, "not only that Northeastern has been like this for a long time and is continuing to be this way, but truly upset that my community has had to deal with this for so long."