NU community organizes to alleviate food insecurity
April 15, 2021
When Northeastern Mutual Aid first started hosting weekly food pantries last fall, they only saw 30 to 40 people a week. Now, around 200 people from the Northeastern community come to the pop-up pantry a week, with an all-time high of more than 350 people last week according to data collected by Mutual Aid. 
"You can't [focus on studying] if your basic needs aren't covered," said Harrison Garcia, a third-year double major in cell and molecular biology and business administration and a coordinator for NU Mutual Aid, a student organization that works to counteract food insecurity. 
Though NU Mutual Aid, or Mutual Aid, doesn't just address food insecurity, a lot of their work centers on providing good, healthy food to the Northeastern community. Garcia said the increase in participation in their pop-up pantries indicates that the issue of food insecurity isn't going anywhere and has been exacerbated by the pandemic. 
Food insecurity is defined as the "limited or uncertain availability of nutritionally adequate or safe food" by The Hope Center, a research center focused on college students. According to a 2019 report, approximately 41% of students at four-year institutions experience food insecurity. 
Northeastern students living in first-year residence halls are required to purchase a seven-, 12- or 17-meal-per-week plan, and meals do not roll over from week-to-week. The average price of meal plans across the country is $2,250 per semester, but Northeastern's cheapest meal plan, with only seven meals-per-week, costs $2,330 per semester.
The unlimited meal plan at Northeastern costs $4,245 per semester, while Boston University's unlimited plan costs $3,100 a semester, or $6,200 per year. 
"
We found that a little bit over half of all students at Northeastern did not always have enough money for food each week, so that is very concerning.
— Harrison Garcia
Many students and organizations are looking at food insecurity on campus, including fourth-year health science major Madeleine Allocco, one of the co-founders of Mutual Aid. The results of the survey Allocco conducted were shared with Garcia.
"We found that a little bit over half of all students at Northeastern did not always have enough money for food each week, so that is very concerning," Garcia said. 
The recent Student Priority Survey run by Student Government Association, or SGA, and the Center for Student Involvement featured several questions regarding food insecurity. Out of 1225 respondents, 277 people, or 22.61%, indicated that they had cut the size of their meals or skipped meals because they didn't have enough money.

Another question asked if students would use a food pantry if it were available on campus and they did not have sufficient resources, and the response was overwhelming — 87.76% or 1075 respondents indicated that a food pantry would be a useful resource if they were ever in need of food.
How students are tackling the issue
Joshua Sisman, the communications director for Northeastern's chapter of the Young Democratic Socialists of America, or YDSA, co-sponsored a referendum that addresses food insecurity on campus, proposing changes to make meal plans more affordable for students.
The referendum aims to address the higher-than-average price of Northeastern's meal plan. It proposed a plan where Northeastern guarantees three meals a day for students at a rate of at least 24% less than current plans. 
"I regret not writing the referendum to say 'guarantee students a meal plan for free,'" said Sisman, a second-year political science and economics combined major. "When we were talking about drafting the referenda, we were trying to be as bold as possible also considering what was feasible and what we had the most evidence and precedents to base our referendum off of." 
The referendum went before SGA in early 2021 and then was on the ballot for all students to vote on in late March. It passed with 3,988 votes, or 86% of the vote. 
Ioanna Ploumi, who co-sponsored the referendum, said attending Northeastern and living in Boston is already expensive, so cutting costs in places like the meal plan would make Northeastern more accessible.
"The goal, of course, is eliminating food insecurity on campus and again, it's an issue of diversity and inclusion — we want to make sure that the university's as accessible as possible," said Ploumi, a second-year biology and political science combined major. 
While the referendum was being debated in SGA, second-year mechanical engineering and political science double major Sebastian Chavéz expressed his reservations with the referendum. As part of his job as vice president for student services, Chavéz coordinates the Food Advisory Board, a group open to all students that meets monthly with staff members from dining to discuss topics related to dining at Northeastern. 
Chavéz said he feels the Northeastern community needs to address food insecurity, but that the solution proposed by the referendum is not feasible. 
"The difficulty for me comes with knowing that there is such an issue on our campus, and knowing that this issue does exist, and knowing that many faculty members and administration members don't necessarily think it's as big of an issue as it is, but I'm also trying to balance that with the knowledge of how the dining program runs," Chávez said. 
Chavéz said he was originally unsure if the referendum was viable because of how large a change it proposed and the price of maintaining the current system, but after recent conversations with Maureen Timmons, the director of dining services, he thinks it may be possible. The changes would not be immediate but could come further down the road. 
Passing referenda through SGA isn't the only way students are advocating to address food insecurity at Northeastern — Mutual Aid is also doing its part. 
The club's mission statement lays out its goals of "determining the most effective ways mutual aid can serve Northeastern's population" and working with all members of the community to meet others' needs.
A large part of the work Mutual Aid has done this year is hosting weekly food pantries and running a community fridge at 70 Saint Stephen St. 
Garcia, a coordinator for Mutual Aid, has been involved with the food pantries since last fall and helped foster Mutual Aid's relationship with Fair Foods, a local company that collects and distributes food that would otherwise end up in landfills.
"Obviously if we were able to feed the world, that would be great, but obviously we can't, so we're trying to work with Dining Services and YDSA and all these other organizations that correspond to these referenda and are trying to have Northeastern leverage their existing food infrastructure to feed people on campus," Garcia said.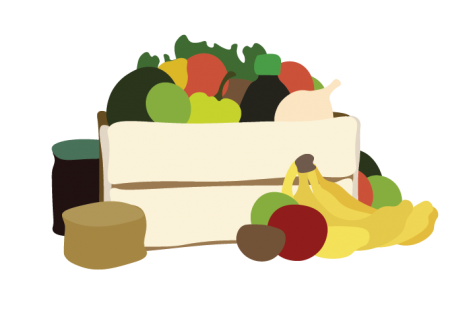 Garcia's work with Fair Foods and Mutual Aid has turned into a self-developed co-op for him. Now, in exchange for his labor, Garcia said Fair Foods provides Mutual Aid with "really good fresh, healthy, sometimes organic produce every week."
"We have received positive remarks from the administration. We've tried working with them and meeting with them and presenting what we do and the results of our work to them. … there are a lot of individuals who want to come together and get a more sustainable kind of food pantry thing going," Garcia said.
Future steps
Chávez, who works with both student organizations and administrators, said he hopes the support he has seen from administrators will help make a sizable change at Northeastern. 
He said the work Mutual Aid has done over the past year has helped show administration that food pantries are feasible, and though he doesn't want to get his "hopes up too high," he thinks seeing more permanent food pantries on campus is "looking pretty likely."
Garcia said the goal for Mutual Aid is to make it so that nobody worries about where to get their next meal. Even if that is not feasible, he said any change they can make is worth it.
"We have so much in this country — we're one of the richest countries in the world, but we waste so much, and we don't help each other," Garcia said. "We can't feed everybody, so we all do what we can."
"
Forty-one percent of people in four-year institutions will face food insecurity at some point, and that's disproportionately lower-income students. If you're hungry in class, you're not going to do as well. It's as simple as that.
— Joshua Sisman
While Mutual Aid continues holding food pantries, the referendum is moving into its next stage: the Northeastern administration. Passing with such a large margin is helpful for the organizations backing the referendum, as it shows the large amount of student support. As elections vice chair for SGA, Ploumi said referenda that have been passed by students in previous years are usually dismissed by the university.
"In the past years, there've been very few referenda that have been implemented. … Something like this would require external pressure to actually get implemented," Ploumi said. 
Both the organizations behind the referendum and Mutual Aid are always looking for more students to be involved. 
"It's never too late to get involved, and everything that anybody does is important," Garcia said. "With Mutual Aid as a concept, we all come together — all of our contributions are equally important. I couldn't help lead the food stuff if it wasn't for everybody else helping out in marketing and talking to the university officials and getting stuff done."
Ultimately, initiatives like Mutual Aid and the meal plan referendum are seeking to address the same issue of food insecurity, just through different means. 
"Forty-one percent of people in four-year institutions will face food insecurity at some point, and that's disproportionately lower-income students," Sisman said. "If you're hungry in class, you're not going to do as well. It's as simple as that."
Editor's note: A previous version of this story incorrectly reported the results of the Student Priority Survey to say that 77.39% of survey respondents had cut the size of meals or skipped meals because they did not have enough money. In fact, 77.39% had responded that they had not cut the size of meals or skipped meals due to financial concerns. The story was updated Wednesday, Feb. 23 at 5:20 p.m. to accurately reflect the results of the survey.
Editor's note: This story was updated Thursday, April 29 at 12:25 p.m. to accurately reflect Harrison Garcia's involvement in the survey.
Editor's note: A previous version of this article included quotes from an earlier interview with a member of Northeastern Dining Services. The story was updated Friday, April 16 at 3:25 p.m. to no longer include content from this interview.