NU community creates, advocates for mental health resources
January 6, 2022
As discussions of mental health become increasingly prevalent across college campuses, Northeastern students are finding the available mental health resources limited. To inspire change in the Northeastern community, individual students and student organizations are working to create an open dialogue with administration and make things better for students. Community members have shared their stories, advice and struggles regarding mental health on platforms such as Reddit, but emphasize that this has been an ongoing issue. 
Especially in the midst of the COVID-19 pandemic, many on-campus organizations have advocated for students' mental health through the improvement of NU's current resources. One such organization, Active Minds, partnered with other concerned students last summer to conduct a survey about mental health resources on campus. 
"It pretty much showed us that this is a huge issue on campus. But not just that it was a huge issue, but that the issue kind of comes down to communicating to students what's available because only 30% of people have used on campus mental health care," said Jackson Hurley, a fourth-year political science major who was involved in conducting the survey. 
More than 65% of the 272 students surveyed said they would not recommend Northeastern on-campus mental health resources to others and, on a scale of one to five, ranked Northeastern's resources at an average of 2.12.
Hurley said the pandemic has exacerbated many previously present mental health issues. It's not that the issues themselves have changed, he said, but rather due to the isolating nature of the pandemic and the accompanying restrictions, students may not realize that they aren't alone in their feelings, frustrations and fears. 
"There's been a lot of energy from every part of campus," he said. "This is an issue that touches all of us."
Student leaders explain Northeastern's mental health resources
While there is no one-size-fits-all solution for mental health struggles, Northeastern offers students a variety of resources. 
The university-run institutions Find@Northeastern, We Care and University Health and Counseling Services, or UHCS, offer to help students deal with different struggles they may be facing. But the individual function of each institution is often lost as students grapple with the stressors of college life.
"We're in kind of an odd time right now where Northeastern really does have some good resources, but there really seems to be a disconnect between the resources that are available and students actually knowing where they should go if they're struggling," said Casey Buttke, a fourth-year political science and criminal justice combined major and student body president.  
From Buttke's perspective, We Care, a network of mental health support services, is an undervalued and underused organization. Buttke has personally interacted with We Care and said it was very helpful in pointing her in the right direction, even if We Care doesn't have the power to directly change a student's situation.  
"We Care is basically the best place to start," Buttke said. "When you don't know what resource you need or what resource you're looking for they can help you decide what next steps are when you're struggling with something at Northeastern, whether it's mental health, physical health, housing or whatever."
We Care helps students who are facing unexpected challenges in their time at Northeastern, according to the website. We Care can be reached at 617-373-7591 or by email at [email protected]. 
While We Care takes a more indirect approach to help students face issues, UHCS and Find@Northeastern provide more hands-on help. 
UHCS provides clinical appointments to students. In an initial appointment, a mental health clinician will assess concerns, identify immediate needs and help make a plan for future treatment, according to the UHCS website. 
UHCS has walk-in hours Monday through Friday 11 a.m. to 2 p.m. and Tuesday and Thursday 5-7:30 p.m., and can be reached at 617-373-2772.
Find@Northeastern offers 24/7 mental health support to students. Services offered through Find@Northeastern are confidential and range from free counseling sessions through private practices, teletherapy such as the service BetterHelp, free access to a mindfulness program called Headspace and access to ICare, an online mental health skill-building program. 
Charlie Zhang, SGA's incoming vice president of student services, strongly advocated for students to take advantage of these resources if they need support.
"Speaking from my personal experience, I have used the services like a few months back and it's something I feel like would have helped me if I knew there were more resources available than before," the second-year sociology and international business double major said. "[UHCS is] doing their best with limited resources."
Buttke stressed that it is important that the university prioritizes the comfort level of students, as students' trust in mental health services can impact how actively they utilize them to get necessary support. 
"Every small step that we can make towards making students feel more comfortable is huge. That's also what I've been emphasizing to those offices, and they've all been incredibly receptive to this, even if certain steps may feel redundant," Buttke said. "[The changes] might not help everyone, they might not even help the majority, but if they don't hurt anyone and if they're able to help one or two students, then that's worth it."
Students across the university have expressed the sentiment that the pandemic has exacerbated the challenges that come with being a student. Buttke appreciates Northeastern's efforts toward supporting the student body, but believes there's still more work to be done to fit the needs of as many students as possible. 
"No matter what people's situations are, these past couple of years have been so hard," Buttke said. "I think that while Northeastern has been really trying to keep up with that from a mental health resources standpoint, that's also a very hard thing to do. How do we adjust to ever-changing situations and make sure that there are resources that work for everyone?"
Students support each other through mental health organizations, advocacy
Beyond university resources, groups from the Northeastern community are working to uplift the mental health of the student body.
Many student-run organizations, such as Active Minds and Lean on Me Northeastern, promote or offer services that the university does not, such as peer support and open spaces to air concerns and grievances.
Still students themselves, the leaders of these organizations understand the gravity of Northeastern's mental health crisis while fighting for improvements within the university's administration.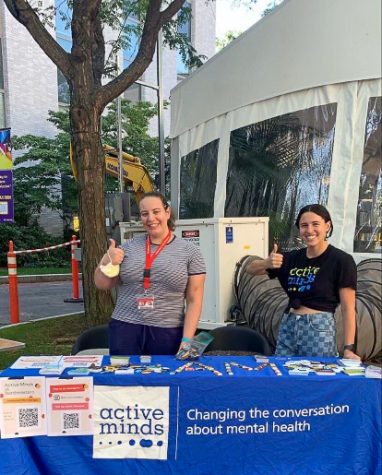 Active Minds is a nonprofit organization centering on mental health in young adults, with chapters in over 600 high schools and college campuses nationwide. The Northeastern chapter focuses on education around mental health, advocacy to improve mental health resources for students and self-care programming, according to its Vice President MK Moskowitz.
"We're a community of people that care about mental health and a lot of us have lived experiences with mental illness," the fourth-year human services and political science combined major said.
Throughout the semester, Moskowitz has helped organize numerous mental health programs for students. Active Minds held its first virtual grief meeting Dec. 27 as a way for students to speak openly and safely about the events of the semester.
"It's been a really hard semester for a lot of people, and we wanted to hold some sort of space. [A grief meeting] is not something we've ever done before because none of us are clinicians, but we figured as a peer support event, we could just have a space where people could talk about what they've been going through the past couple of months," Moskowitz said.
Active Minds also launched Break the Silence, an Instagram account where students can anonymously submit their experiences with NU's mental health services, call for change or receive community support. Moskowitz said this program was inspired by NEU Speak Out, a similar Instagram account providing a platform for survivors of sexual assault. However, the need for Break the Silence also arose out of a request for evidence from the university.
"This past semester, I and a couple of other members of the board have been meeting with Northeastern admin about improving [mental health] resources. A lot of the pushback we were getting was like, 'Oh, we're just not hearing that it's a problem, we need tangible evidence or first-person accounts of students running into issues with mental health services on campus,'" Moskowitz said.
Active Minds has planned to meet with UHCS this semester to discuss their ongoing list of demands to improve NU's mental health resources. These demands range from bettering the mental health training of faculty and staff to pushing for Northeastern to adopt the International Accreditation of Counseling Services, or IACS, which would assure the hiring of diverse and proficient clinicians, among other improvements. Moskowitz said that while the administration is receptive to meetings, it is difficult to actually enact changes.
"They're very, very nice people, but there's definitely a lot of resistance to change. I understand to an extent, it's a lot of nodding heads and saying, 'that sounds great.' And then there never seems to be any follow-through," Moskowitz said. "There does seem to be a desire to do better, but there just seems to be so many institutional barriers in place where it gets really hard to get anything tangible done."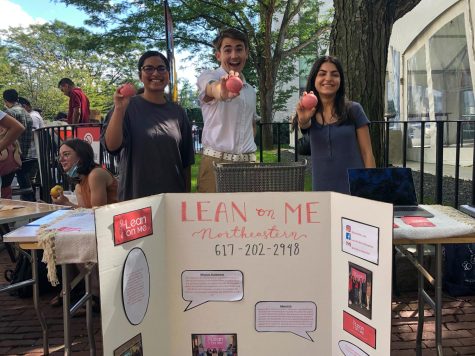 Other organizations on campus, such as Lean on Me Northeastern, offer peer-to-peer counseling for students who need someone to talk to. The anonymous text hotline allows for those in the Northeastern community to discuss non-crisis issues with those who understand the pressures of being a student and without a time limit. 
"We do think it's a really unique resource because as Northeastern students we have stuff like co-op, we have stuff like N.U.in, which is a little bit difficult for someone older to empathize with those issues, so training supporters, training Northeastern students to listen to other students build[s] a better community and allows for more empathetic conversations to happen," said Brigitte Cronin, a fourth-year chemistry and environmental science major and chapter coordinator of Lean on Me.
While Lean on Me is waiting to obtain designation as an official on-campus club, members are already working with the university to expand access to resources on campus. Cronin explained that UCHS in particular has been supportive of their efforts. 
"[UHCS] have been really good advocates for us to get on campus because the people that work there are fantastic. … They recognize that there has been an issue with UHCS in the past and there still is just not enough access and staffing and counselors for such a big campus, they recognize that and they really want to get as many mental health resources out to students as they can," Cronin said. 
But in order to enact these changes within NU's mental health services, students had to mobilize. Hurley, who was involved with the Active Minds survey, decided to create a petition in late December 2021 to share some of the statistics survey had found, as well as call on the administration to improve access to mental health care on campus. 
"
I am a pretty big skeptic when it comes to the university and the administration, as I think a lot of people are. I went into that meeting thinking I would need to change people's minds in the sense that I needed to make them realize that there's a lot of sense of urgency behind this. But I didn't really need to, they knew that. There was a lot of listening.
— Jackson Hurley
"I think the petition solidified that there's a lot of people just really kind of just unsettled and unhappy with the way things are currently going," Hurley said.
In the first weekend the online petition was published, it reached Hurley's initial goal of 5,000 signatures. Many seem to come from Northeastern students, both based on the comments left and because it was only posted in Northeastern circles.The message is resounding: Students are ready for a change. 
When the petition had around 600 signatures, Hurley got a call from Christine Civiletto, the executive director of UHCS. Hurley said she reached out because she had seen the petition and wanted to talk, a move that, to Hurley, proved a willingness to listen which he wasn't expecting. 
"I am a pretty big skeptic when it comes to the university and the administration, as I think a lot of people are. I went into that meeting thinking I would need to change people's minds in the sense that I needed to make them realize that there's a lot of sense of urgency behind this," Hurley said. "But I didn't really need to, they knew that. There was a lot of listening."
Through that first phone call and the ensuing conversations Hurley said he wanted to share the student perspective that administrators may be missing.
Hurley said he has now discussed some changes and solutions with administrators and, though it is not clear which ones will be implemented or when, Hurley said he was hopeful coming out of those conversations. 
NU community pushes for institutional, personal mental health improvements
Several students who spoke with The News echoed the same thought: The conversations surrounding mental health that have taken place over winter break can't be forgotten when spring semester starts.
Moving forward, as students work for changes within the university, they also emphasize the importance of self-care while having difficult discussions surrounding mental health.
SGA is working with university administration to implement a UHCS advisory board, in which students representing various wellness and affinity groups on campus will meet with UHCS and voice concerns regarding student mental health before administration. SGA plans for the advisory board to be fully implemented by the fall of 2022. Matt Coleman, SGA's mental health project lead, believes that while there have been some challenges in getting the project off the ground, the university has generally been receptive to what students are asking for. 
"There have been some roadblocks when it comes to figuring out resource promotion, but that is mostly in the way of communication, not necessarily in that they don't want to do it, but maybe that they're restricted in the ways that they can," Coleman, a second-year business administration and psychology combined major, said. 
Buttke, the SGA president, emphasized that beyond pushing for systemic change at Northeastern, the student body should also strive to change the community dynamic on campus, destigmatizing the conversation around mental health. 
"The more people that are able to say 'hey, this is what my experience was,' or 'this is what I'm going through,' that creates an environment where people don't feel that they have to deal with everything," Buttke said. "One of the biggest things we can do is continuing to encourage students to be very open about what they're dealing with mental health-wise."
Hurley said that the conversation around mental health has changed since his first year and he hopes Northeastern can continue to become more accessible and supportive for students who may be struggling. 
"I think there's just a lot of energy. I've seen energy from everyone from people who do mental health stuff, to people who are in student government, people who do athletic stuff, people who are in political organizations, people who are in Greek life, like every part of campus," Hurley said. "This kind of is an issue that touches all of us."
Coleman said going into the spring semester he feels that the issues and the steps to move forward are more illuminated than in previous semesters. 
"There will always be a need for mental health services, there will always be a need for open and honest dialogue about that so we will push for that dialogue and continue that dialogue indefinitely," Coleman said. 
Zhang, SGA's incoming vice president of student services, believes that students need to give themselves more credit for all the hard work they do each and every day, and that excelling academically, professionally or otherwise should not come at the expense of their mental health. He argued that in times of crisis, there are tools out there to help them feel less alone.
"Being a student is hard, I feel like that's a fact that we should accept openly. Every student at Northeastern is accomplished and worthy and we have to cut ourselves some slack and prioritize our own health," Zhang said. "We are all so stressed and in crises all the time so reaching out or trying to take advantage of these resources for self-care along with coping strategies is always incredibly necessary."
While student organizations and leaders continue to create spaces for conversation about mental health, Buttke encouraged students to get involved, but only if they have the bandwidth to do so. 
"I urge everyone to be very, very conscious of their mental health as they are having these conversations because while these conversations are important, they are never worth making yourself uncomfortable or at risk," Buttke said. "This conversation will always be here. And people will always be ready to help you with your activism when you are ready."