Shattering glass ceilings, Massachusetts candidates seek to make history
November 7, 2022
Massachusetts is likely to break records at the ballot box Nov. 8. 
If elected, gubernatorial candidate Maura Healey and lieutenant gubernatorial candidate Kim Driscoll would be the first female team elected to the governor and lieutenant governor positions in the history of the United States. With Diana DiZoglio running for state auditor and Andrea Campbell running for state attorney general, a historic slate of female candidates are seeking office in Massachusetts this November.
"It's incredible that it's taken this long, but these are … strong women leaders who'll move the Commonwealth and the country forward," said Suzanne Walmsley, a 52-year-old Franklin resident.
Several notable women, including Boston's Mayor Michelle Wu, Rep. Ayanna Pressley and Vice President Kamala Harris, spoke at the "Get Out The Vote" rally held at Roxbury Community College, or RCC, Nov. 2.
Each speaker discussed the weight and importance of voting, their vision and goals for the upcoming election and the significance of having a nearly all-female led state government.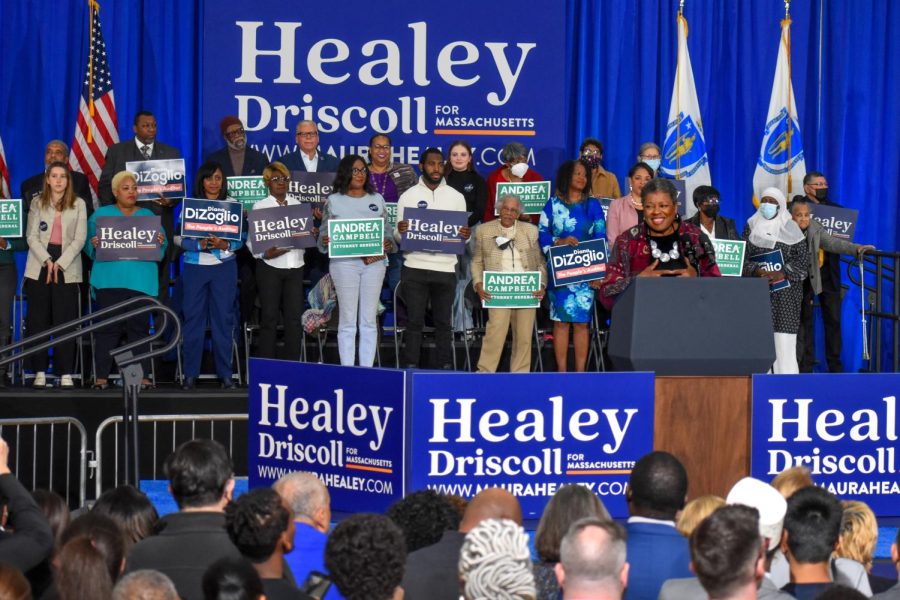 Jackie Jenkins-Scott, the president of RCC, welcomed everyone to the event. Jenkins-Scott spoke with pride about RCC's students, the recognition of RCC as a predominantly black school and the upcoming 50th anniversary of the school in 2023.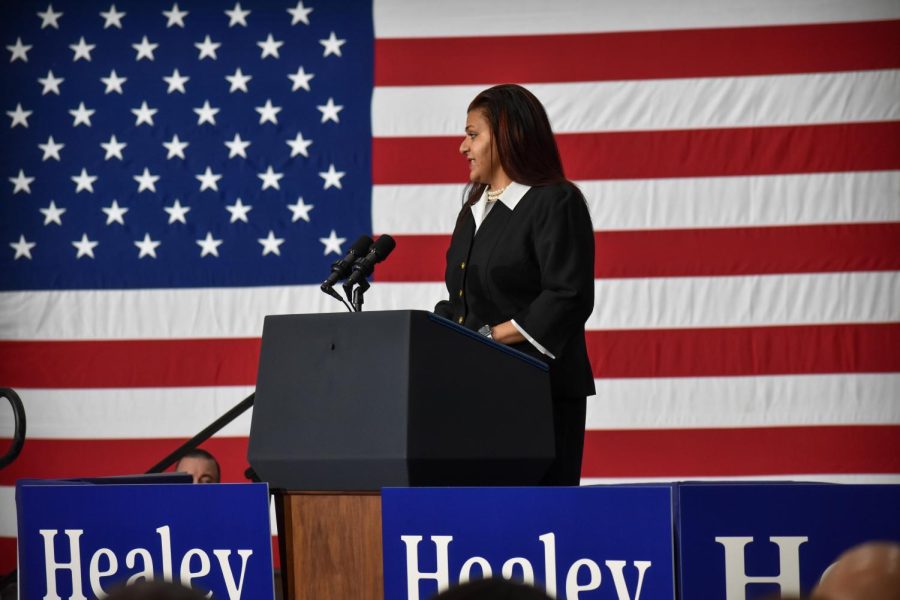 Kiara Rosario, a single-mother of a 5-year-old child with autism and a student at RCC, explained the difficulties that come with working multiple jobs and being a full time student, all while caring for her daughter. She commended the women standing alongside her as inspirations for both her and her daughter and encouraged everyone to vote on election day.
The next speaker was Austin Moore, a regional field director for Healey's campaign. Moore spoke of her experience learning about the civil rights movement and how this year's election is another opportunity to make history. 
"In six days, we are about to break open some concrete ceilings," Moore said. "Whenever I am tired I think about what [these women] have overcome, and it just keeps pushing me forward."
Wu spoke to the gravity of this year's election, going into detail about the importance of fighting for racial and climate justice, voting for this years' ballot questions and encouraging friends and family to vote Nov. 8.
DiZoglio discussed how being raised by a 17-year-old single mom, facing housing insecurity and growing up in a working family will inform her time as state auditor. She promised to fight for working families, much like the one she grew up in, and to ensure funding for affordable healthcare, climate change initiatives and housing programs.
Pressley gave a fiery and impassioned speech diving into Roxbury's rich history. She explained the power that resilient communities like Roxbury hold in elections and the importance of voting for representatives who will fight for their constituents.
"We have a chance to elect an unprecedented set of leaders for our Commonwealth. Not just trailblazers and history-makers, but champions of our communities," Pressley said. "These are some extraordinary women and public servants, and to pundits who might think that it's a fluke, or a wave, or magic, … we're not here for any of those reasons. We're here because we're damn good."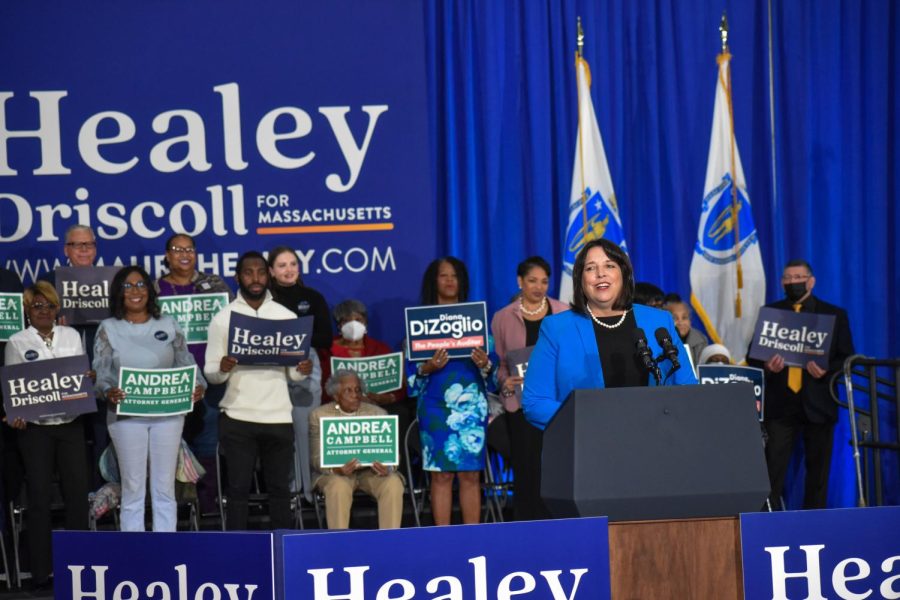 Driscoll spoke about the potential policies that she and her running mate Healey would implement if elected. The duo would be the first female governor and lieutenant governor state elected in the history of the United States and would work to lower the cost of living, increase access to safe transportation, fight for abortion rights and govern with a "get stuff done attitude."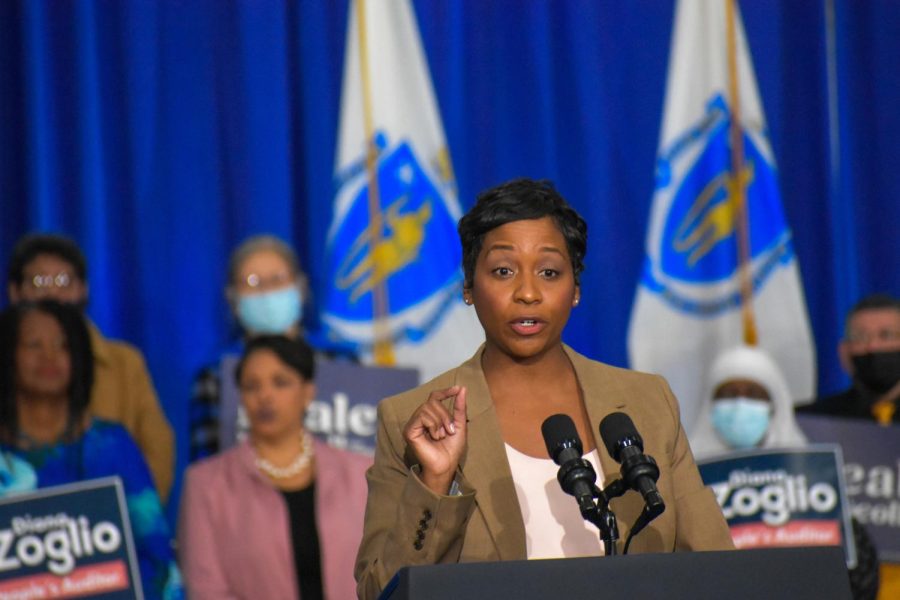 Campbell spoke of how she would use the office to guarantee that all communities in Massachusetts find success. If elected, Campbell would be the fifth Black woman to own the title of attorney general in the history of the United States.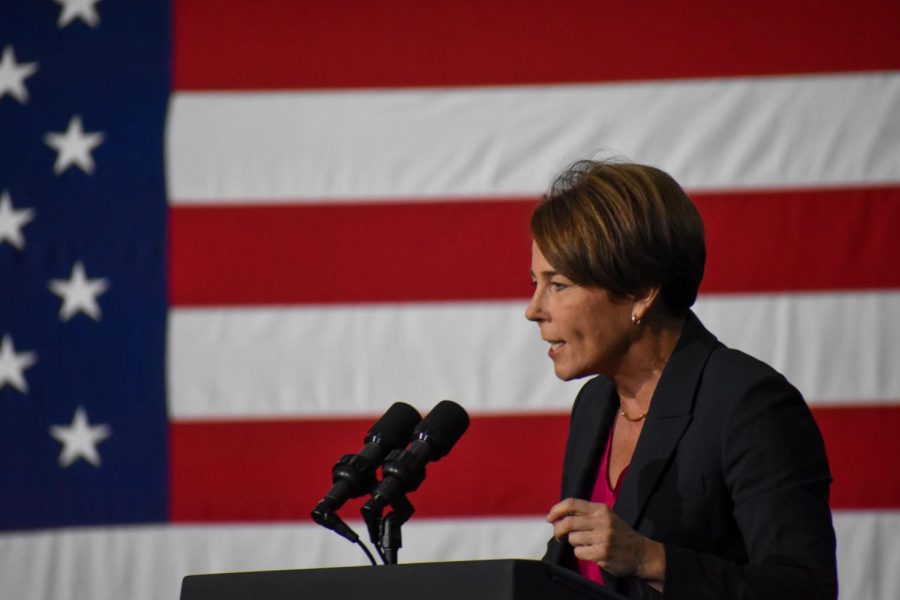 Healey was the penultimate speaker of the rally, and similar to Driscoll, described her vision for the Bay State: a Commonwealth with affordable housing, transportation, education, childcare and in particular, a state with access to safe reproductive healthcare. 
"In our great Commonwealth we have a chance to make history," Healey said. "Today is a message to all the little girls out here…and to the little boys too, the message today is you can be anything you want to be." 
If she wins, Healey would be the first elected female governor of Massachusetts.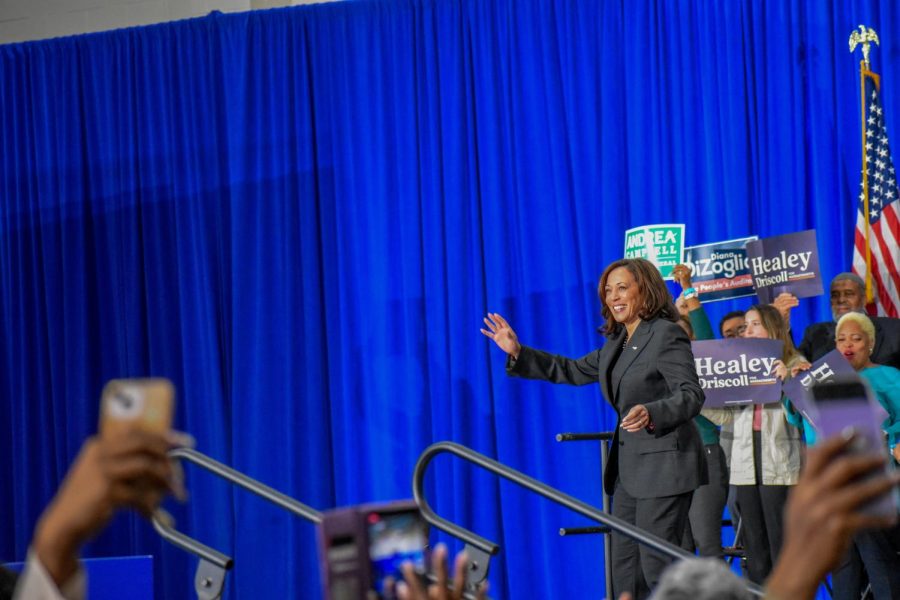 Harris was the final speaker of the event, and reiterated the importance of getting out to vote. She spoke about the work that she and President Joe Biden have done to fight child poverty, expand the child tax credit, increase infrastructure spending and protect democracy.
"I think that the nature of democracy is that there's a duality to it. On the one hand, when it is intact, it is extremely strong in the way that it defends and secures individual rights and liberties and freedom. It's incredibly strong in what it does for its people," Harris said. "On the other hand, it is extremely fragile. It will only be as strong as our willingness to fight for it. And so fight for it we must, and fight for it we will, and when we fight, we win."