Star-studded No. 4 women's hockey gears up for playoffs
February 26, 2020
Before the season started, women's hockey sat third in the national rankings. They had their sights set on another Hockey East crown to go along with a Frozen Four berth, particularly since the national tournament will be played in Boston this year. With the regular season behind them, it is safe to say the team has lived up to their own lofty expectations, coming away with a 28-4-2 record overall, including a remarkable 24-3-0 showing in their conference. They locked up the Hockey East No. 1 seed weeks ago – now it is time to put it to good use.
The journey begins against the beleaguered University of Vermont Catamounts (10-16-8, 7-14-6 HEAW), who Northeastern ripped apart earlier this season. Despite Northeastern's impressive track record, NU head coach Dave Flint was careful to guard against overconfidence.
"The thing with Hockey East is there's a ton of parity, so any team can beat anybody, and there aren't going to be any easy games. Even the last two years when we've won it, we've had to grind it out, and it wasn't an easy path to the championship," he said. "We've got to take it game by game and just play our brand of hockey and make other teams adjust to us … If we can do that, I like our chances."
According to Flint, grinding it out has been a theme for this team. Even with their lofty record, third-most goals scored in the country, second-fewest goals allowed, two Patty Kazmaier Award contenders and the best penalty kill unit in the nation, both at dominating opposing power-play units and hanging up short handed tallies, Flint stressed that his team battled through a difficult schedule, particularly in the second half.
"It's been a demanding second half, we've had some travel," he said. "We had some challenging games where we had to come back from deficits and we had to win in overtime. We got a little bit of everything thrown at us in the second semester, and I thought we handled it well and played well despite having some key injuries."
The story behind their jaw-dropping success looks simple on paper, but also speaks to the talent in the Husky locker room. Elite players like Alina Mueller, Chloé Aurard, Skylar Fontaine and Aerin Frankel have been strong enough to carry the team when needed. If any of those four slipped, there were plenty more skaters equipped to step up.
"Those are the four that they make us go and then we have a great supporting cast of players that do certain things well and fill voids in and do their own thing," Flint said. "I think that's what makes us so good. We have a group of our elite players, and then we have kids that play different roles, and the buy in is there by our players, which I think is important."
Mueller and Aurard are each among the best in the country in scoring, at fifth and twelfth in points respectively, and have many defensive contributions as well, leading to three shorthanded goals each. Fontaine is second in the nation among defenders in points and is one of the top skaters from the backend you'll ever see.
Frankel, already a top goalie coming into the season, has pulled through as well, with a gaudy 1.08 GAA and .959 save percentage, good for second and first in the nation, respectively. Frankel has also piled up 10 shutouts, a new NU single season record.
"She's definitely elevated her game to another level this year, and that's what you want to see with your players, and especially your goaltenders. I think with her it was a little bit of a confidence boost this summer getting to play with the U22 team and then making the national team this winter," Flint said. "I always say [playing goalie] is 90% confidence, and I think she's playing with that confidence that she needs and that's why she's successful."
Outside of the top four, the Huskies have received huge contributions from freshmen skaters. Jess Schryver has played heavy minutes on the first line alongside Mueller and Aurard. Katy Knoll has done the same on the offensively-stacked second line with senior Matti Hartman and sophomore Mia Brown. Megan Carter has stepped into the first pair on the blue line, playing alongside Fontaine and chipping in great defensive zone play to go nicely with Fontaine's attack-style play from the defense.
"You recruit these kids and you have high expectations for them and you want them to do well. I think going in, I knew the potential of our freshmen," Flint said. "It's just a matter of how quickly they get there. I was pleasantly surprised with all of our freshmen and how well they've transitioned to the college game and contributed in different ways."
For the aforementioned freshmen, they didn't just step into a top program in the country and contribute, but they did it in roles with top players in the nation counting on them every shift. If the pressure has stressed any of them, it hasn't shown. Knoll has picked up 25 points and multiple awards, Schryver has come through with 19 points and while Carter has a less eye-popping 11 points to her name, she has already proven to be an imposing presence for opposing forwards.
While the transition can be made more difficult by so much added pressure, Husky elders have made it as easy as they could on the new skaters.
"You just hope that they can adjust to that and understand that the coaches have confidence in them and that we wouldn't put him in that situation if we didn't," Flint said. "A big thing with our leadership is they do it from day one and they make the new players feel like they're part of the team right away … That doesn't happen with a lot of programs, but our captains do a really good job with that and integrating them."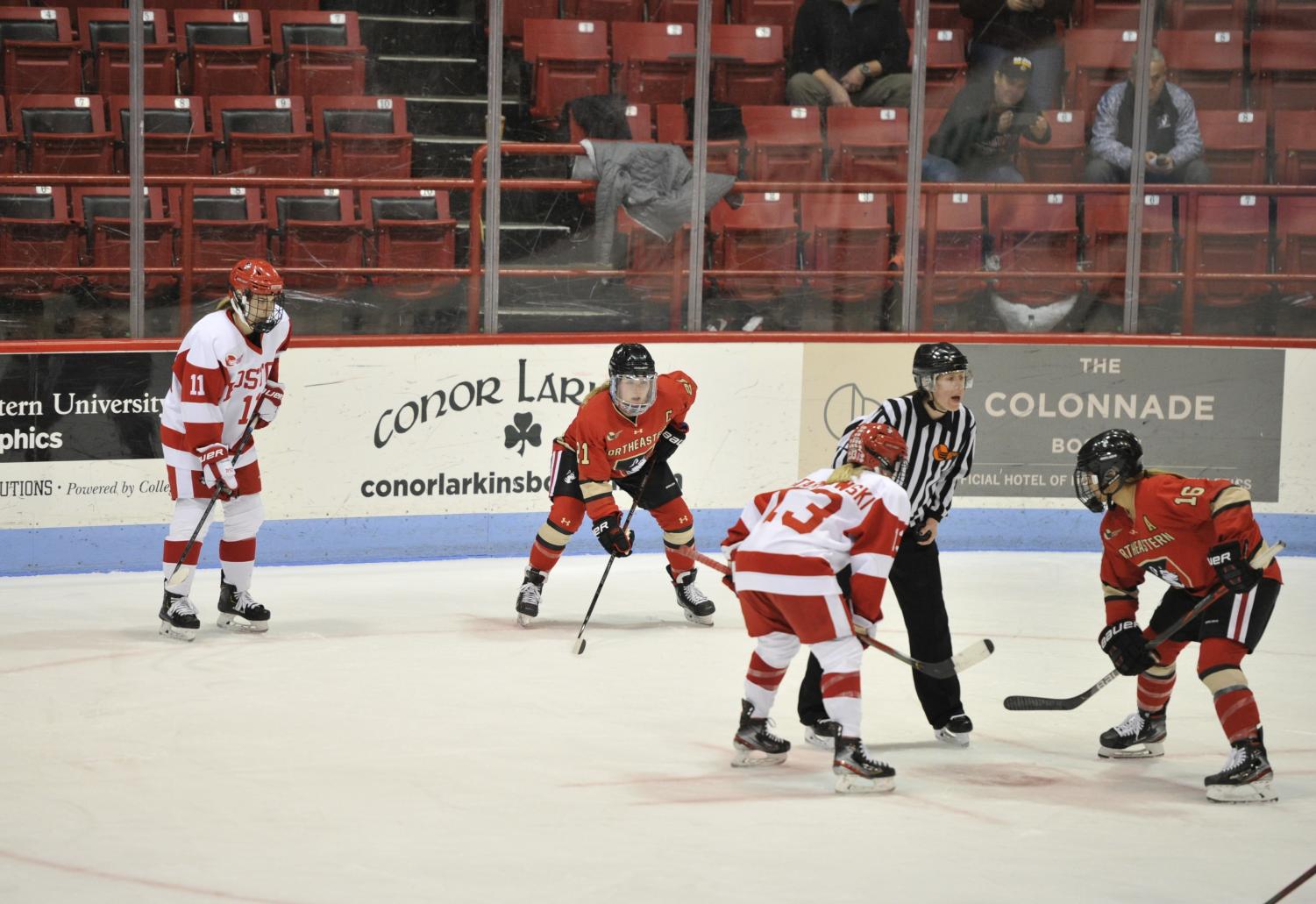 While Flint hasn't looked ahead too much beyond Hockey East, he did mention that winning to secure home ice for any national tournament games is in the back of his mind. He guessed it would be for his players too. Earlier this season, they were just edged by No. 1 Wisconsin in a barnburner 4-3 OT-loss featuring a career-high 51 saves from Frankel and prolific play from the skaters as well.
"We put 40 shots on that game, and I think they hadn't given up more than 32 in years … they don't give up that many shots that often," Flint said. "For us to put up 40 shots and lose in overtime, that showed our team, 'Hey, we can we can play with the best.'"
Before a potential Wisconsin rematch, the Hockey East postseason is still to be conquered. The Huskies are the favorite to come out on top, but not without a fight from their opponents.
Northeastern has handled most of their conference opponents well this season, but the other top five seeds: BU, Providence, BC and UConn have each given the Huskies at least one true test this year with either a tight one goal contest, a gritty overtime battle or in the case of Providence, two Husky losses.
"Early on we had a one nothing loss at Providence. I just didn't like our compete level. We weren't playing hungry or gritty," Flint said. "So, we really hammered home that message that we needed to be a gritty team that would battle in front of the net for goals and compete and play hard. I think from that point on, we kind of got that message."
It isn't just Providence that forces the Huskies to focus on the 'dirty areas' of the ice and battle for a win. Northeastern has been one of the best teams in the nation all year. Flint said that level of prestige paints a target on your back.
"The thing I tried to stress to my team is like when you're the defending champ and you're number one everybody's trying to knock you off, so you see everybody's best game," he said. "We need to realize that and be ready for any opponent."
The road begins Thursday at 1 p.m. with a showdown in Matthews against the visiting Catamounts. NU will need to win two of three against UVM to advance. It's hard not to like their chances as they dropped the Catamounts 4-2, 4-0 and 10-2 in three games this season. But, Coach Flint said he isn't taking anything for granted quite yet.
"Now it's playoffs, anything can happen."