Championship week primer: Battle-tested Huskies have just two more Hockey East hurdles
March 5, 2020
If you ask No. 4 Northeastern women's hockey head coach Dave Flint about Hockey East, he will often point out the extreme parity of the league. So upon looking at the string of "upsets" that occured over the weekend in the quarterfinals of the Hockey East tournament, Flint was not surprised.
"I'm looking at BU and I'm like 'Jeez, Maine is the best seven seed I've ever seen.' UNH is getting hot at the right time, their goalie played really well," Flint said. "UConn had BC's number this year, so it doesn't really surprise me. We have a good league through and through and anybody can beat anybody, so it's exciting to be part of it."
Top-seeded teams were rendered nearly extinct rather quickly, and NU is the only member of the endangered top four seeds to survive the first weekend of playoff hockey. Particularly fortunate for the No. 1 seeded Huskies, both Providence and BU, two teams that gave NU trouble during the season, were knocked out.
"We beat [BU] four times and to play them a fifth time…" Flint said as he trailed off to groan at the thought of another tilt against the Terriers. "[Providence] had our number this year… They won two out of three, so those were going to be two tough opponents."
Flint was careful to note that the road ahead is still no cakewalk for the reigning champs. Each of the three remaining teams has given Northeastern at least one tough game. Maine (15-13-8, 9-11-7 HEA) gave the Huskies their only November loss, downing them in a 3-2 OT victory at Matthews Arena which featured over 50 shots on net from NU.
"It was also our fifth game in 10 days. Just the way we played, we were just kind of going through the motions, we were kind of flat and didn't have a ton of energy," Flint said. "I'm hoping now that we're in the semifinals, that we're going to have a lot more energy, a lot more jump and be able to finish on our opportunities."
UNH (18-14-4, 12-12-3 HEA) held the Huskies to one goal in November, which is no small feat against one of the top offenses in the nation, but the Huskies won all three games against their next-state neighbor. NU also went undefeated against the UConn Huskies (18-17-2, 13-12-2 HEA), but at the end of January, UConn forced overtime in what turned out to be a 3-2 win for Northeastern to clinch the regular season Hockey East crown.
"That game, things weren't clicking. [UConn] was going and we were a little tired," Flint said of the win, which he described as one of their more important games of the year before last week's quarterfinals. "We found a way to battle … And that was a good win for us which gave us a little bit of confidence. It was just one of those games where I just liked how we battled and liked how we competed."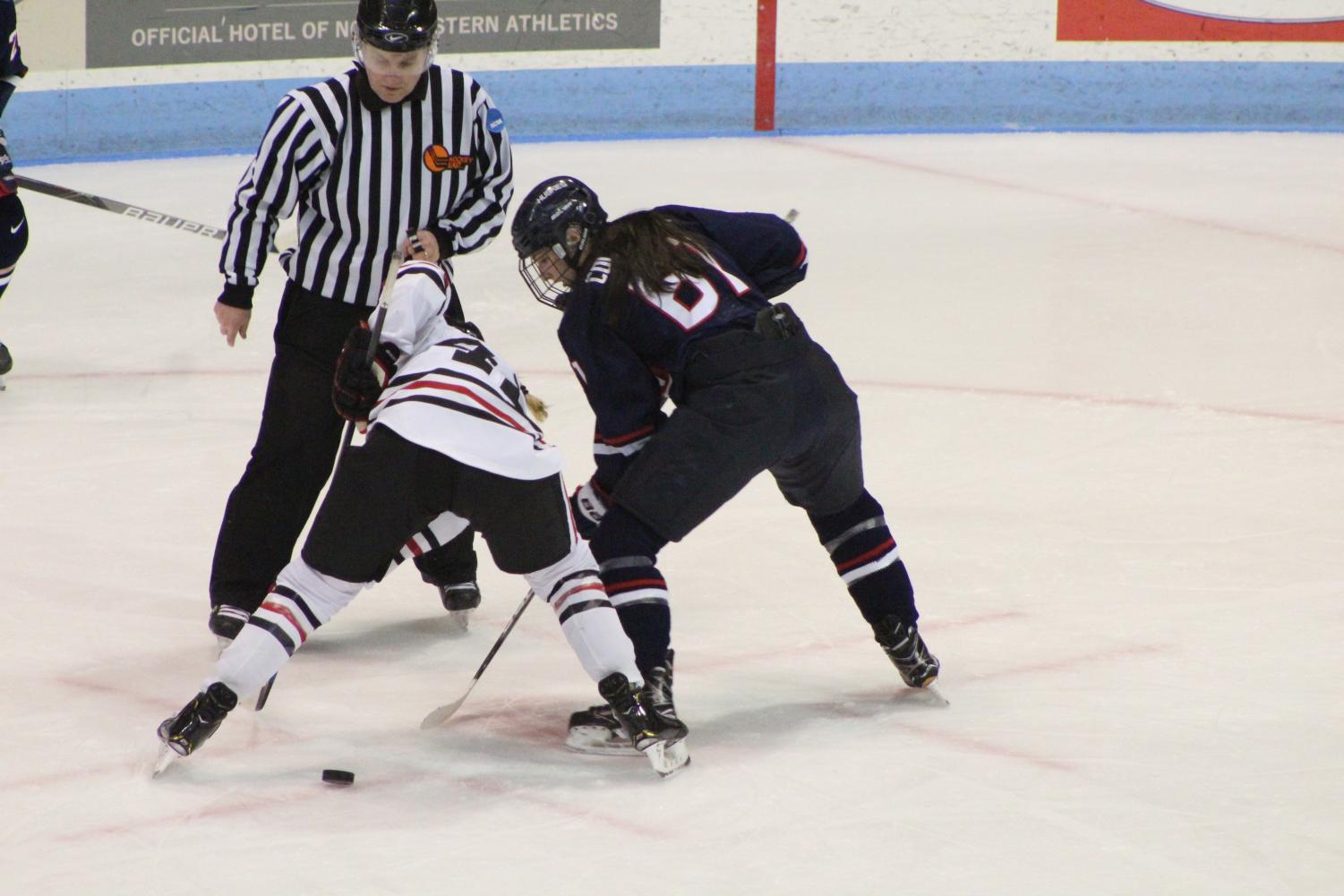 The Huskies' first test of the weekend
When looking specifically at Maine, since Northeastern has to get past the Black Bears before any potential championship game against UNH or UConn, the player to key in on is senior goaltender Carly Jackson.
The Nova Scotia native performed stupendously against the Terriers to end their season, hanging up 57 saves on 59 shots in a double OT victory to open the series, then less than 24 hours later, breaking BU's heart with a 27 save outing in which she allowed just one goal to clinch a semifinals berth.
"I look at [Jackson's] last seven or eight games, she's been really good. She's one of the better goalies in the league," Flint said of the Black Bear veteran who has stopped over 93 percent of the shots she's faced this season. "I know it's going to be a challenge for us and we got to get traffic in front, get pucks to the net and be gritty in front. I think if we can do that, we'll be okay."
Black Bear netminder depth is strong as a whole, especially considering her backup, junior Loryn Porter, was the one in net with 50 saves to beat NU earlier this season. Outside of the goalies, Maine is a fundamentally sound hockey team: "They've got two lines that really make them go, they're solid defensively and [they've] got a good goalie," Flint said.
In addition, the Black Bears have a very strong power-play unit. Freshman forward Ida Kuoppala is second in the conference with seven power-play goals. Her team, with just under a 20 percent success rate on the man advantage, sits second in power-play efficiency. Luckily, the Huskies have the top penalty kill in the nation to fight back with, but Flint still isn't ignoring Maine's special teams talent.
"We need to stay out of the box as much as we can," he said. "If you're not ready for them, they have kids that can definitely make you pay."
Two of the players that could make NU pay are Kuoppala and senior forward Tereza Vanišová. Kuoppala is fifth in Hockey East with 19 goals while Vanišová is locked into a five-way tie for tenth with 14 tallies on the season.
"Vanizova is one of the better players in the league. She's scary when the puck is on her stick," Flint said. "Those two, [you've] got to keep an eye on, and then they got some other kids that are just hard nosed, meat and potatoes, go to the net hard [and] forecheck hard type of kids."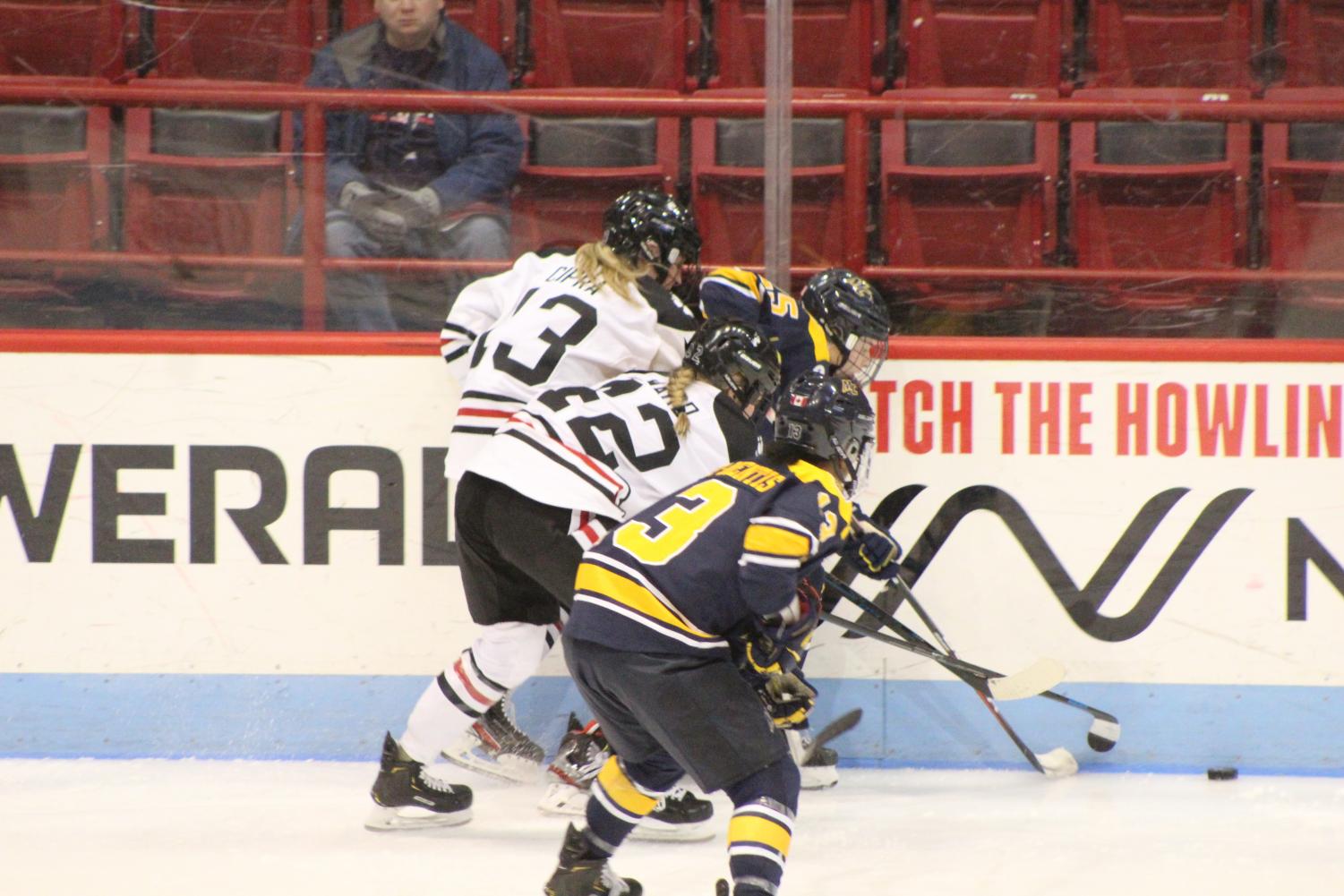 Husky Grit is Plentiful
Maine's hard-nosed skaters won't be lonely during Saturday's semifinal, as the Huskies bring plenty of their own grit to the table. Junior center Tessa Ward, senior blueliner Codie Cross and freshman winger Katy Knoll are among the handful of Huskies that standout in that regard.
"[Ward] has had a breakout year this year. We're using her at all situations and she's been one of our most consistent centers. She'd been great defensively, gets hard working goals [and] great on the penalty kill," Flint said. "She plays with a ton of grit. I love that. The rest of the team feeds off of that. She blocks a million shots and she lays it all on the line every shift."
Much like Ward, Cross also constantly gets herself into the shooting lanes. In hockey, few things get the bench louder than watching a player hit the ice to block a shot, which the Huskies have made a habit of doing this season. Ward is second among Hockey East forwards with 44 blocks, while Cross is fourth overall with 69 blocks to her name.
"[Cross] blocks all kinds of shots, even in our practices it seems like she gets hit all the time. She's in the right place at the right time. She's not afraid of shots," Flint said. "She'll block a shot, take the puck and jump up in the offense."
As for Knoll, her reputation for tough hockey comes less from stopping steaming shots and more from stopping opposing skaters in their tracks. The physical power forward plays with an extremely high compete level and brings an edge to the Husky lineup. Even as a freshman, Knoll has been a major presence in the Husky lineup, boasting 25 points en route to a Hockey East Third Team All-Conference award. Like Ward, Knoll has played in all situations for the Huskies and excelled in each.
"She works all the time and she's really come into her own. I think she started out a little bit slow, beginning of the season, adjusting to the college game, but she's really adapted nicely," Flint said. "A while ago, we slid her onto that second line, and she's really given a boost to that line. She's having a great year."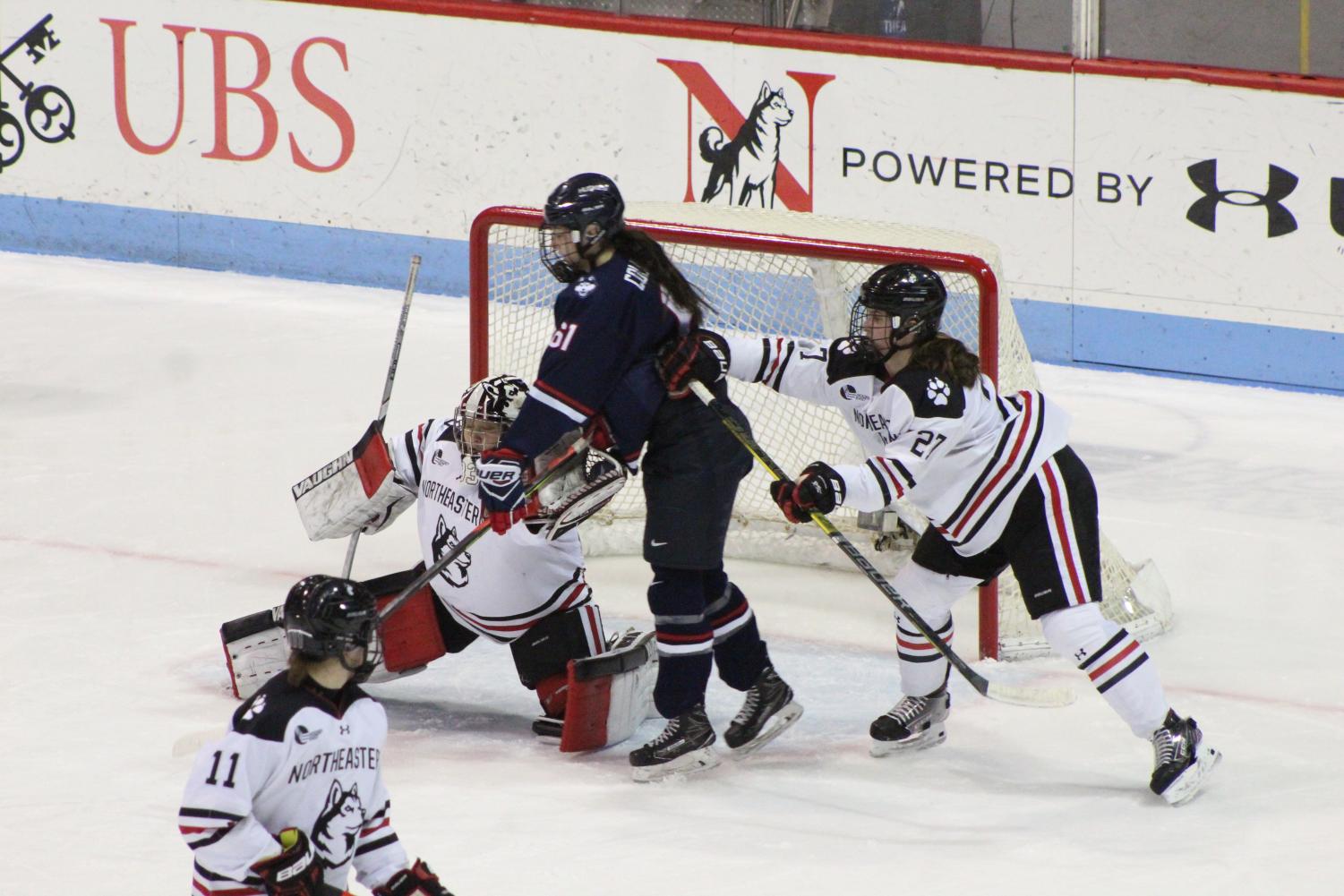 A season of battling for one weekend, for now
Not all teams that are 30-4-2 and 24-3-0 in their own conference view themselves as battlers, but that is certainly the identity the Flint and his team have adopted this season. Not all their wins are blowouts, they don't face weak competition and they don't get the luxury of resting their stars during long road trips or periods with little rest between games.
This is Hockey East, and nothing comes easy. For the team at the top, that is emphasized even further. In their last obstacle before a possible third-straight Hockey East tournament crown, expect it to be raised up yet another notch.
Fortunately for Flint and his team, the level of fight they will face this weekend is nothing new, something he thinks will be an advantage for them.
"They've seen it time and time again this year where teams just show up and they're playing like they're playing for the Stanley Cup," Flint said, highlighting the target that NU's high national ranking paints on their back. "All the teams that are in the semifinals, they're playing with house money now. They've got nothing to lose, they want to make the NCAA tournament and they want to win a championship. They're just going to leave it all out on the ice and that's what we need to do."
Even against the eighth-seeded Vermont Catamounts in the quarter-finals, his team was challenged, particularly by Vermont's impressive energy on the forecheck.
"I was happy that Vermont made us earn our wins, and we had to work because I think that helps us for [championship weekend]," Flint said. "If we had coasted through two wins, we might be a little complacent going into the games, but I think the team realizes 'Hey, we're going to see everybody's best game.' So we need to have our best game."
The Huskies' best game is nearly impossible to stop. It's why they're the first seed in the tournament and the fourth-ranked team in the country. After a season of hard work, they have the chance to further cement their legacy with a chance to win their third straight title.
"It'd be a feather in our cap and the university's to win three in a row in such a good league where you have 10 teams and probably eight of them could win it," Flint said. "It's not going to be an easy task, but I think with our experience playing in the tournament and winning the last couple years, that holds a big, big weight for us. I think it gives us an upper hand."
If the Huskies can capitalize, they will punch their ticket to a chance at a national title. This year, the national tournament will be played in Boston. While the Huskies haven't been ones for looking past their next opponents, something that multiple players have credited as a reason for their success, the pure proximity, in location and in obstacles remaining, to a chance at a historic Frozen Four bid makes it an opportunity that can't be overlooked.
"That's been a point of emphasis for us: 'Hey, how special would it be if the first time we ever make it to the Frozen Four, it's in Boston and we can have home fans behind us? It'd just be really special. The times that we were over at BU this year, when we're driving back by Agganis [Arena], the girls were like 'That's where we're going. That's what we're going to be in March.'"