No. 1 women's hockey wins program-record fourth straight Hockey East Championship 6-2 over Providence
March 7, 2021
History has become routine for the Northeastern women's hockey team, and once again tonight, the Huskies set a new standard for greatness at the historic Matthews Arena. In a 6-2 win over the Providence Friars, Northeastern claimed their fourth straight Hockey East Championship and cemented their senior group as undefeated in the Hockey East playoffs in their four-year careers at Northeastern.
"I told [the seniors] some people go through their whole career and never win one championship, so winning a championship is pretty remarkable, but to win four in a row is usually unheard of. For them to never have lost a Hockey East playoff game is a credit to them as people and as student-athletes," said head coach Dave Flint. 
Northeastern (20-1-1, 20-1-1 HEA), who is ranked number one in the nation, is now the third program in Hockey East history to win four consecutive championships, joining UNH and Boston University in the prestigious club. 
NU took control early in a contest where they outshot the No. 3 seed Friars (12-7-1, 12-7-1 HEA) 47-31 and got goals from six different skaters to extend their unbeaten streak to 20 games, the longest such streak since the 1988-89 season. The scoring from up and down the lineup comes as a great encouragement to Flint with the national tournament looming. 
"That's what we've been doing most of the year, and that's what we need going down the stretch here into the NCAAs. We're going to face tough opponents and we're going to need that depth," Flint said.
Senior goaltender Aerin Frankel secured tournament MVP honors, an award bolstered by her strong 29 save performance in the championship game, including 13 saves in the first period. Her opponent in the opposite crease, senior netminder Sandra Abstreiter, performed admirably as well despite the lopsided score, facing a multitude of NU shots and stopping 41 of them. Redshirt junior forward Maureen Murphy scored the game-winning goal for NU on a second period power play, while senior defender Skylar Fontaine, who earned two points tonight, junior wing Chloé Aurard and junior center Alina Mueller all joined Frankel on the all-tournament team. 
"I think it has unified us as a class, and we're so proud of one another, coming in here and winning freshman year. [It feels] like it was yesterday, winning the first program Hockey East Championship, and I think just since then, we've cherished that feeling so much. I think that's part of the reason why we've been able to do it four years in a row," Frankel said of her senior class' undefeated status in the Hockey East postseason. "Credit to our coaching staff, because they are a huge part of why we've been so successful in the postseason, but our class has been having a pretty special run."
The victory in tonight's championship guarantees NU's place in the NCAA national tournament starting next weekend, placing NU in the same spot they were last season before the COVID-19 pandemic shut down athletics across the world – knocking on the door of a national championship with more momentum than possibly anyone else in the country, years of playoff experience and success on their side. This year, they also have three top-10 Patty Kazmaier, which is given to the top player in college hockey, nominees. 
"[A Hockey East Championship] means a lot to them, and it means a lot to me, and to be able to do it four times in a row is amazing. Now, we just got to focus on getting to the NCAAs and doing some damage there. Hockey East Championships are nice, [but] our next goal is Frozen Four and national championship," Flint said. "I think we have the makings to do it this year. We got a great group and a ton of talent… The nice thing is we picked up where we left off last year. We ended strong, and I feel like this year with all the uncertainty, we still picked up right where we were."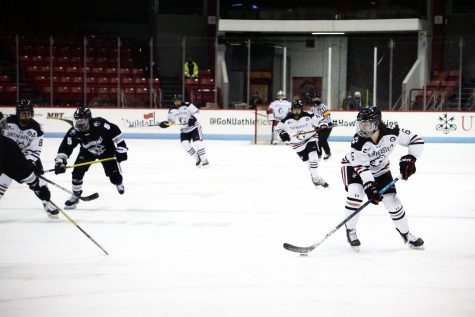 While the 6-2 score creates the impression that Northeastern completely dominated the contest, Flint felt it was close for much of the game, but eventually, Providence's short bench got too fatigued to keep up with Northeastern. The Friars could only dress 10 forwards and five defensemen due to COVID-19 protocols. 
"It affects the way you can forecheck, get on loose pucks, create offense definitely. That's happened over the last couple games, for sure… Northeastern is a great skating team, so playing at their speed definitely takes some out of you," said Providence head coach Matt Kelly, who added that around the middle of the second period fatigue really started having an impact. "[You] just try to take as many whistles as you can and live to the next TV timeout to get your breath back."
Outside of the first two minutes of the first period, Northeastern controlled the puck and hounded Abstreiter with it all period, forcing the German netminder to make 19 saves in the opening 20 minutes, including 16 from NU's top five skaters and a one-on-zero breakaway shot from Mueller. Abstreiter's skaters leveraged a quick trigger finger to 13 shots of their own, but not of as high quality as the Huskies opening stanza chances. 
While Abstreiter managed to keep the Maine Black Bears blanked for 62 minutes for an overtime shutout win in the semifinals, it took NU just four minutes and seven seconds to get one past her. Senior blueliner Lauren Macinnis snagged a puck near NU's blueline and banked it off the boards to senior wing Katie Cipra, who has made a name for herself with her flashy and accurate shotmaking abilities. With only one defender to beat to get to Abstreiter's cage, Cipra used the full length of her stick to keep the puck safe and predictably lobbed a top-shelf backhand into the twine for a 1-0 Husky lead. 
"It was a quick transition in the neutral zone, she got a good head of speed and the defenseman got caught outside the dots there, and [Cipra] got inside and got to the net," Flint said. "I told them pregame, 'Let's try to pop one in the first five minutes.' …  So it was nice that we responded so quickly."
The second period was much more evenly matched, but the Huskies won the middle stanza anyhow. Senior forward Tessa Ward got NU their first goal of the second period via unconventional means, as she sent more of a dump than a shot toward Absreiter from the blue line; a fairly common hockey play to get set up behind the defense got the puck set up directly behind Providence's netminder instead though. Ward's "shot" struck Abstreiter's stick side post, and since she had come far out in her crease, the puck was able to bank off Abstreiter and into the net for Ward's sixth goal of the year to give NU a 2-0 lead just under seven minutes into the second period.  
Providence kept the game close though, and after an offensive zone faceoff win that followed a long TV timeout of planning, the Friars jumped on the board for just the second time all season against NU. Providence senior blueliner Ariane Julien sent a ripper on net that Frankel was able to save through traffic, but her attempt to send the puck into the corner and prevent a dangerous rebound backfired as the puck deflected from Frankel right to the efficient stick of Providence junior wing Caroline Peterson who sent the puck right in for her eighth goal of the year eight minutes into the second period to push the score to 2-1. 
"Obviously, the second goal was a tough one, right? So I think the kids were a little bit stunned," Kelly said. "[I was] just trying to build them up and get them back… I love the response we had and obviously got a goal real quick, and we started getting our legs going there for a little bit."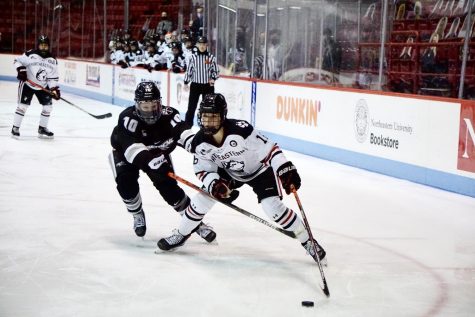 NU got some revenge on the power play five minutes later, courtesy of a goal from former Friar Maureen Murphy. After masterful work on the power play to generate a few dangerous shots on Abstreiter, Murphy finished the job with a snapshot one-timer from her knees in the slot to give the Huskies a 3-1 lead to carry into the final intermission and trigger one of the rowdier celebrations from the Huskies that we've seen this season. 
"I was so excited for her as everyone else was… She's just a huge piece of the puzzle that we have. We have so many talented players on our team and just adding her to the mix is huge for us. She's such an amazing person, not only a great hockey player, but a great person," Frankel said. "So just seeing her get that rewarding goal, especially against a team that she just came from and has played on before, I think just speaks measures to her and her work ethic. She left it all out there."
Four-on-four hockey to start the final period gave the Huskies' number four freshman wing Molly Griffin a chance to push the score to 4-1 early in the final stanza for her first non-empty net goal of her Husky career. After receiving a pass from senior defender Brooke Hobson, Arlington native Griffin got a scoring chance quite similar to Cipra's from earlier and bore down on Abstreiter's net with a slick wrister that just snuck over Abstreiter's pad and under her glove two minutes into the third. 
Junior forward Miceala Sindoris followed Griffin's snipe with one of her own four minutes later. Her linemate Ward fought hard for the puck behind Abstreiter's cage and won it from Providence captain and senior defender Chloe Gonsalves, giving Sindoris a chance to shoot from just a couple feet from Abstreiter. Sindoris picked her spot and hit it, nailing a short side shot just over the Providence netminder's shoulder and under the post, one of the smallest windows to break in hockey. 
The Friars looked to claw back with a goal of their own with six and a half minutes to go after senior wing Giana Savastano grabbed her first career goal in what could be her final collegiate game of hockey after acting as an overtime hero against Maine with a critical OT assist. She scored with a deflection of Julien's shot from the blueline, which gave Julien her second assist of the game. 
The comeback effort was short-lived though, as when the Friars emptied their net with just a few minutes to go, Fontaine won a race to a cleared puck and even as Julien forced her to the ice, she was able to backhand the puck into the Friar cage for the Huskies' sixth and final goal of the game.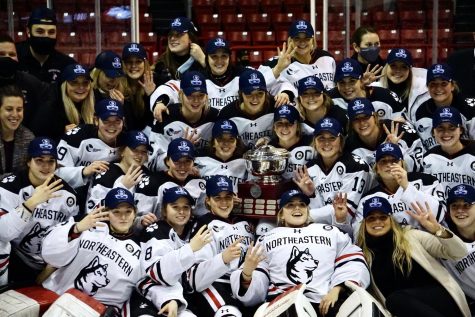 Northeastern's next opponent will be announced sometime tomorrow, and their next game will come March 13 at Matthews Arena in the quarterfinals of the national tournament. A year after that game was ripped away due to the pandemic, the Huskies are feeling hungry. 
"I know it's something a lot of teams had to go through, so I think everyone has that competitive edge on their shoulder this year knowing that they were denied the opportunity to play last year. I think we have that in the back of our head and that feeling in the bittersweet of the Hockey East Championship, but then not being able to compete for the national title, so I think we're all super motivated," Frankel said. "We're ready to go and we'll celebrate tonight, but we're going to get focused on our opponent tomorrow when we find out and get ready for the tournament."