Women lead NU hackathon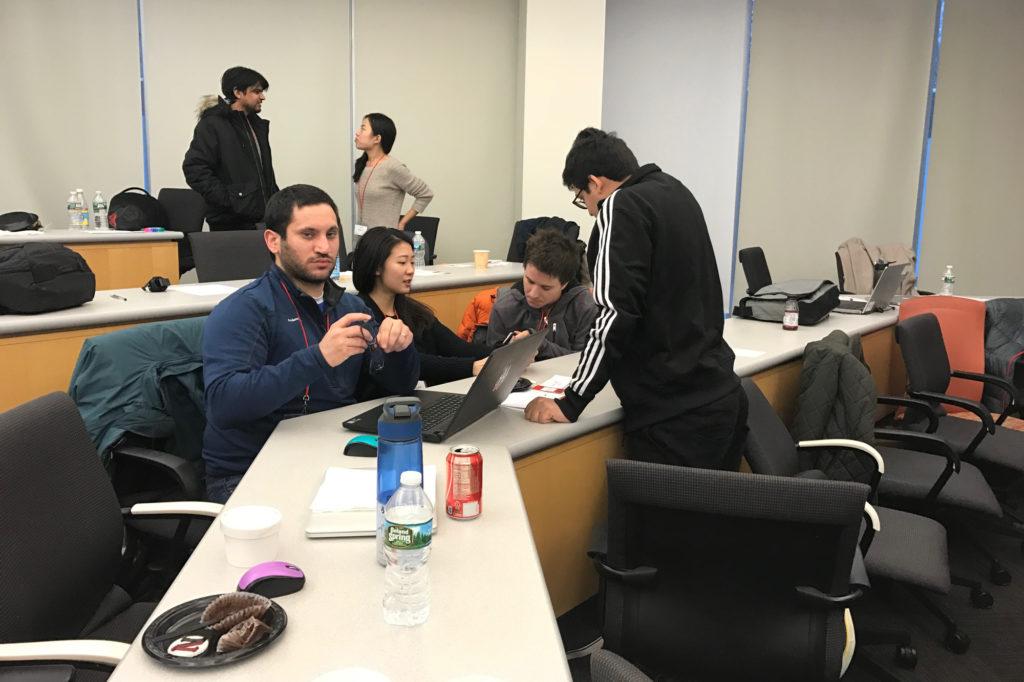 Northeastern alumna Avanti Patil never anticipated she'd be running a hackathon just three semesters after founding a program to empower women in computer science fields.
The hackathon, organized by an on-campus group called HackNEU that Patil leads, was held over a 24-hour period in West Village H Saturday and Sunday. It was open exclusively to Northeastern graduate students and featured speakers ranging from Northeastern professors to technology experts.
Patil, who graduated with a master's in computer science in December and was the hackathon's director, said the idea to plan a hackathon came from her work with Northeastern Grad Women Coders (NGWC), the club she founded while attending Northeastern. Four out of seven HackNEU board members are women, including herself, the director of operations Nuhiya Rafeeq, the director of sponsorships Connie Ferreira and emcee Isha Srivastava.
"We wanted to create platforms where women would feel comfortable working in that environment," Patil said. "Our event has a lot of women – hosting it, supporting it, leading it. That makes it really awesome, to see that leadership from the women."
Rafeeq, an information systems graduate student, said she saw the involvement from women as a key part of the hackathon.
"One thing I really like about this hackathon is we realized we have women in such important roles, like running this and putting this together," Rafeeq said. "We just realized a few days before the event that we have women participating so much and taking the lead spots, so that was really nice."
Twelve teams participated in the hackathon, and projects included new data analytics software, home automation such as turning on and off appliances and a website to better facilitate food delivery.
A panel of judges selected four teams as winners after the hackathon concluded Sunday. These included Food Finder, a service to help Facebook users locate food featured in videos; GSTBot, a modified chatbot that could accept gestures and images instead of just text; SmartHomeKeeper, home automation technology; and Outlier, a service to detect abnormalities in a system, such as during a hacking attempt.
Purva Kamat, a graduate student pursuing a master's in computer science, attended the hackathon as part of the BookBuddies team, which created a book loaning website. She said in an age of e-books, she and her teammates wanted to start a community of people who could easily share physical books outside of a library.
Originally her team was creating the project solely for the hackathon, but she said because it received good feedback, the group members are considering working with the idea more.
"We didn't expect the kind of response we got," Kamat said. "We knew the idea was new and it was nice, so I think probably we'll think about [expanding it]  because a lot of people have told us that it's a good idea."
Successful hackathon projects require more than working technology, Rafeeq said.
"It's just presenting a business idea, basically," she said. "A team could be a good mix of technical people, people with soft skills – people who are good with ideas. A good project is not just good code."
Patil said hackathons provide opportunities for students to work on computer science projects, develop business ideas and consult with leaders in their fields.
"Hackathons are basically places where people come to work on an idea, but not necessarily have a team or idea when they come here," Patil said. "They are just here to have fun, meet strangers, form groups and work on an idea together."
Google, one of HackNEU's sponsors, provided money and hardware for the event. Patil said a recruiter visited twice throughout the event to see the projects and judging process.
"We have a lot of sponsors who are actively looking for people for internships, co-ops and full-time jobs, one of them being Google," Patil said. "[The hackathon] kind of serves as a career fair, also, so there is an advantage to that."
Kamat said her involvement in NGWC and friendship with other women in her field influenced her to get involved in the hackathon.
"It's really inspiring to see [women leaders] because women always want to settle for something," Kamat said. "We always want to settle and not aim for better jobs or take responsibility and organize a whole hackathon. It's really inspiring to see people taking so much responsibility – you feel like you can do something like that."
Photo by Paxtyn Merten