Sexual violence survivors speak out to raise awareness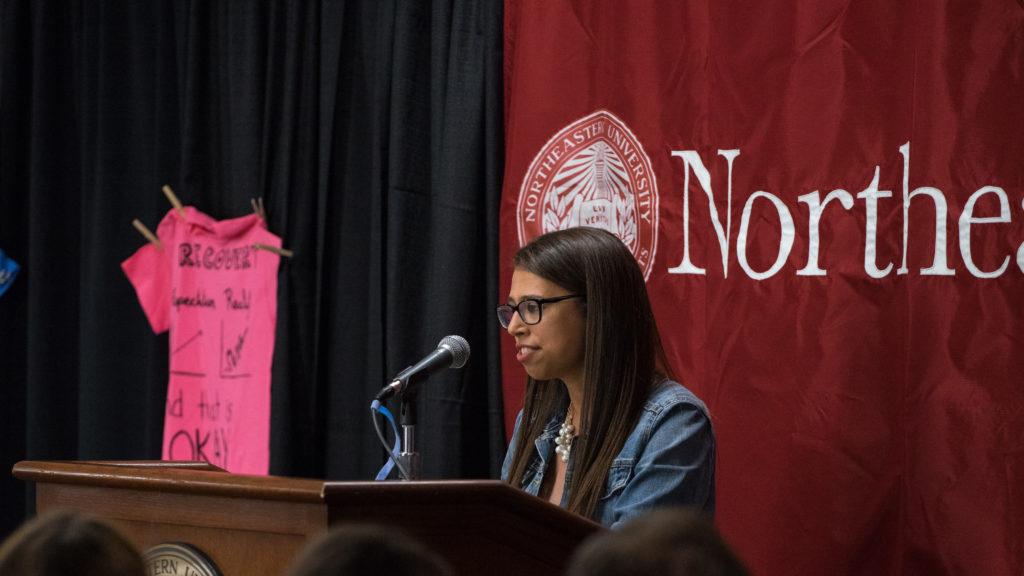 As a graduate assistant in the Office of Prevention and Education at Northeastern (OPEN), Dayna Altman raises awareness about sexual violence on campus. She is motivated by the memory of her own experience when she was raped while abroad as a Northeastern undergraduate student.
"It was someone that I got to know on the trip, and it was someone who was emotionally abusive and essentially coercive," Altman said. "We know that these crimes are crimes of power and that's exactly what it was in my situation."
Altman, now a first-year public health graduate student at Northeastern, said she tries to commemorate her healing in some way with each passing year. Previously, that has meant creating a music video and launching a photography blog, which evolved into the nonprofit Erasing Excuses, an organization that works to dismantle rape culture.
This year, she took it a step further and shared her story at OPEN's Take Back the Night event, which took place Wednesday evening in Curry Student Center.
The event is part of an international movement to break the stigma around sexual assault and provide spaces for survivors to speak out about their experiences. It began in the late 1960s in Europe and migrated to the United States soon after.
OPEN director Amaura Kemmerer said the the university has held Take Back the Night events in the past as part of Sexual Assault Awareness Month, which takes place in April. She said Northeastern planned one this year intending to increase the visibility of sexual assault resources on campus.
"It was a decision to do an event we haven't done in a long time and try to actively engage with survivors on campus to really put the event together," Kemmerer said.
Altman said Take Back the Night is meant to allow survivors and community members to form a support system around education, prevention and awareness.
"It gives people the space and the opportunity to share stories," Altman said. "Not only does it allow speakers to tell their stories, but it's just as much about getting people aware about what's gone on and how they can be helpful."
Third-year computer engineering major Jordan Massa said speakers taught her how she can be a support system for survivors who are are struggling with advocacy and speaking out.
"It makes no sense for it to be the burden of the survivors to then catalyze a whole social movement," Massa said. "It's on those of us who haven't gone through a similar thing to power through it with them, because if someone's just too tired to do something today, that's not their fault. It's on me, so much, to just be a support."
Massa said the conversation around sexual assault changes once personal experiences are involved. While she's not a survivor, hearing their stories has helped motivate her to change, she said.
"It takes a different shape when you hear people's individual stories," Massa said. "It's not the first time I've heard personal stories, but every time it just hits you like a train. It just never stops. The tears don't stop for me."
Altman said it has taken her a long time to come to terms with what happened, but now that she has, she believes she is obligated to share her experience with others.
That advocacy has taken many forms, but she currently works with the Joyful Heart Foundation, a New York-based nonprofit started by "Law and Order: SVU" actress Mariska Hargitay. She also sells t-shirts to fundraise and holds dance classes designed to create safe spaces for survivors.
She said she remembers what it was like before she could process what happened, and what it was like to be inspired by the courage of other survivors who spoke out. Speaking out has become part of her healing process, and she hopes to inspire others, she said.
"I hope that not only does my story resonate with other survivors, but I hope that it gets people involved and motivated in doing such important work," Altman said. "Because the more people we can get against this and changing things is how we're going to eventually change the story and the narrative."