Northeastern outlasts UNCW, 107-100, in overtime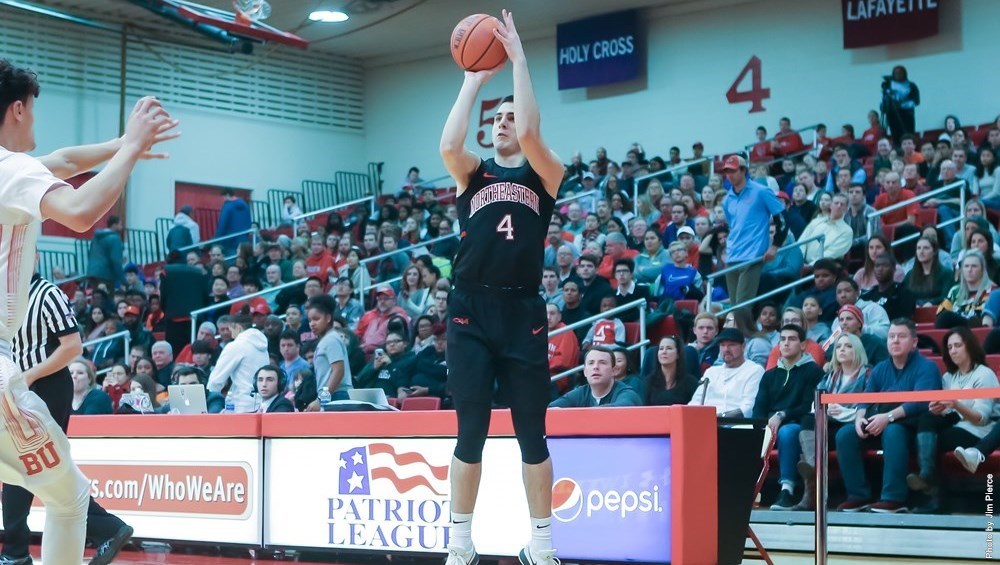 Northeastern dug themselves out of a horrific shooting start to the game and discredited the old unnamed adage, "You can't win a game in the first 10 minutes, but you can lose it." In the first eight minutes against University of North Carolina at Wilmington Saturday, they shot 2-12 from the floor, 0-5 from 3-point range and Max Boursiquot had their only field goals. They trailed by 13 with under seven minutes left in the half.
They battled back slowly, took a lead early in the second half and rolled with the punches to a 107-100 overtime victory at Matthews Arena. They also had to overcome a thunderbolt at the second-half buzzer; UNCW hit a wild bank shot for a game-tying 3-pointer to send the game to the extra session.
Key to Northeastern's success was their front-court's work against the Seahawks' big man, six-foot-seven, 240-pound Devontae Cacock. Cacock came in averaging 17 points and 13 rebounds, leading his team in both categories. He ended up going for 18 points and 17 rebounds Saturday. But Northeastern's "tag-team" of centers, as head coach Bill Coen put it, made up of third-year Anthony Green and first-year Tomas Murphy responded in kind.
"We're really proud of our bigs tonight," Coen said. "Cacock is a terrific player. [Green and Murphy's] production, we needed all of it. They were very effective."
Green took the lead role in the tandem for most of the game and scored 16 points — including several ferocious dunks — until he fouled out with under 10 minutes left in regulation. Murphy was already enjoying a noteworthy performance before that, but he kicked it into high gear with the starting center sent to the bench: The rookie finished with 21 points on an efficient 8-11 in 28 minutes on the floor.
If Green and Murphy were the muscle on the inside for the Huskies, Vasa Pusica and Bolden Brace were the engines that kept them moving. Pusica finished with a dynamic 24 points and nine assists, and Brace, though he scored only six, pushed the pace all game long and "ignited" his team every time he touched the ball, as his coach said.
Pusica scored just one point in the first half, but didn't let a slow start get in the way of his game.
"I knew the shots were going to fall," Pusica said. "I wasn't really worried about it. The points came."
Coen praised Brace's aggression and energy as he has all year, no matter his point totals.
"You can see his energy," Coen said. "He had 11 rebounds, I think they were all on the defensive end. When he gets the ball it just ignites our break. He comes out of there like his hair's on fire, and it really ignites our transition offense."
Northeastern seemed to have the game wrapped up with around two minutes to go in regulation, but after a missed free throw by Donnell Gresham Jr. (the second-year guard went for 14 points and nine rebounds, to his credit), the door was left open for UNCW. The Huskies led by just three with 15 seconds left.
The Seahawks, after a defensive timeout by Coen, rushed the ball up the floor and Cacock flipped it to Ty Taylor, who flung up a shot that banked in with all zeros on the clock.
"You can't change anything that's in the past," Coen said was his message after the team was forced into overtime in a game they led by 11, just minutes earlier. "You have five minutes to make a difference. You've got to execute better and fight harder. Vasa stepped up and really set the table for us."
Coen marvelled at the offensive display by both teams:
"I think a CAA game was scheduled and an ABA game broke out," he said. "Both teams were playing wide open basketball."
Fourth-year guard Jordon Talley loomed large for the visitors; he scored 20 and made four triples. Ironically, he may have been his team's undoing in overtime, though: He went down with a leg cramp after a foul, and looked to be in serious pain. He dragged himself to the line, though, not wanting to be kept from further action. On one healthy leg, he missed both shots and Northeastern went on to win in overtime by seven.
Murphy sang Pusica's praises, complimenting the point guard who set up many of his points Saturday.
"He makes it pretty easy a lot of the time," Murphy said. "We've got some good chemistry."
The win moved Northeastern into a momentary tie for first place in the CAA with Charleston, who can move back in front with a win Saturday night, though. NU passed William & Mary, who lost to Drexel Saturday. Northeastern travels to play Delaware Thursday; NU won the previous meeting.