Athletic Director Peter Roby retires, leaving lasting legacy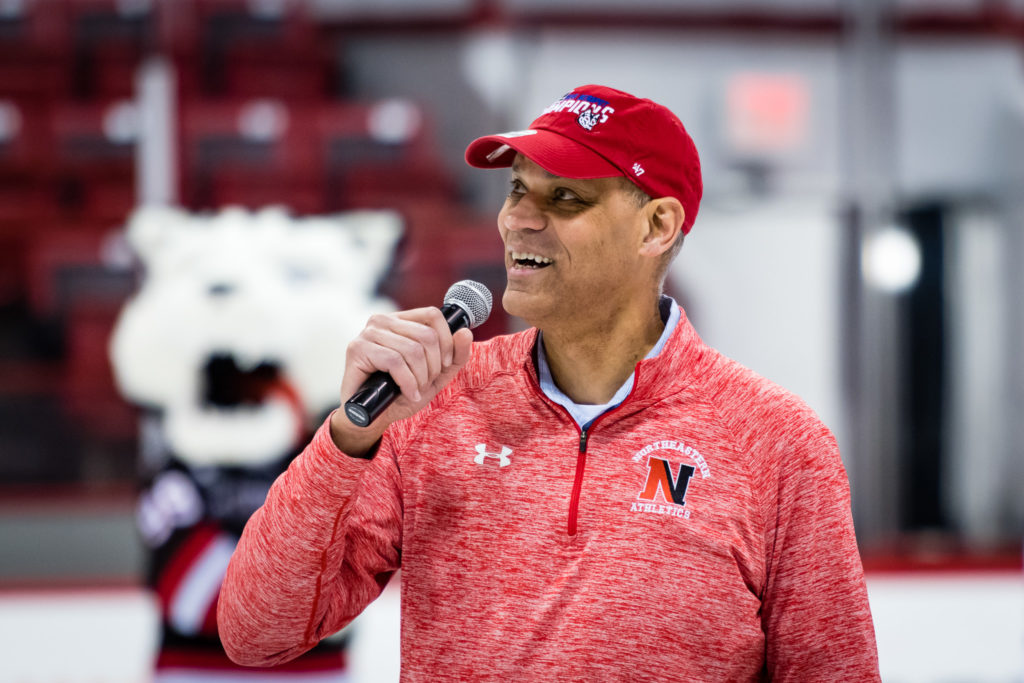 Northeastern University's recently retired athletic director Peter Roby left his office at Cabot Center a few weeks ago and moved to the second floor of the administrative wing in International Village.
His new office is bare; he's had no time to decorate. Apart from his laptop and a few notebooks, there is only a whiteboard by his desk. On it, he has written in bright red marker and all-caps, "2018 BEANPOT CHAMPS!!"
When asked about the highlight of his 10 years spent at Northeastern, he chuckled and pointed to the whiteboard with both hands excitedly. Northeastern men's hockey had defeated Boston University 5-2 at TD Garden the night before, winning the Beanpot tournament for the first time since 1988.
"I'm walking on air. It's been a long time coming," he said with a smile. "But the reality is that winning isn't the only thing that highlights my time as athletic director."
Roby, now 60, worked as Northeastern's athletic director for more than a decade beginning June 2007. Prior to his appointment, he served as the head coach of Harvard's men's basketball team, followed by a 10-year stint as marketing vice president at Reebok. Roby arrived to Northeastern's campus in 2002, when he became the director of the school's Center for Sport in Society, a program that uses athletics as a tool to engage leadership, community development and education.
Roby's tenure brought with it new competitive heights for the university's athletic department. In the past 10 years, Northeastern has won seven regular season conference championships, 17 postseason conference championships, two women's Beanpots, eight New England Championships in track and field and now, only a little after his retirement, the men's Beanpot. Fifteen teams have managed to make it to their respective NCAA tournaments under his leadership, the men's rowing team made it to the Intercollegiate Rowing Association Championships nine out of the 10 years of his incumbency and student-athletes have gone on to the Olympics and professional leagues, citing Northeastern as their starting point.
Despite the successes of the university's athletics department, Roby views the achievements of his students through a balanced lens. At the heart of all this victory lies a deep-seeded philosophy that he has kept at the forefront of his mission as director: the need for a balance between academics and sports. This is a problem not all universities know how to face.
"The Beanpot is such a nice thing to have now," Roby said. "But the feeling of pride I have as I leave this position comes from something much deeper. It comes from accompanying the baseball and volleyball teams to Cuba, from accompanying men's hockey to Belfast, it comes from using athletics as a mechanism to understand new cultures and to help expand one's academic career."
Under Roby's leadership, Northeastern student-athletes have managed to maintain a cumulative grade point average of 3.0 or above for 20 straight semesters. This success is recognized at a national level, with the university ranking "above average" in its student-athlete graduation rate, with a 93 percent success rate in 2016. Roby said this is what his greatest achievement is built on and cites it as the reason for his joy when he sees the teams that he's helped develop win.
"I would not be this happy if we were doing things the wrong way," Roby said. "If students were not given a fair balance of athletics and academics, if their education were compromised for the sake of competition, then I would not be celebrating any victory."
From the second students step on campus, Roby makes sure to communicate his values as director to them. He emphasizes the importance of getting an education and makes sure that what he says is not interpreted as a slogan, but rather as truth. He says he takes note when a student gets distracted, and understands the tunnel vision a dream can create. As director, he makes sure to speak to them, to hold them accountable and keep their priorities in check.
Bill Coen, head coach of men's basketball, highlighted Roby's values as he reacted to the athletic director's retirement. "I will forever remember him for his lofty principles, his sense of fairness, his unwavering advocacy for student-athlete welfare and his compassion for his coaches," Coen said. "He consistently tried to improve this university and, more importantly, make the world a better place."
Roby's tenure came with a few bold decisions as well. In what is considered to be his most controversial decision as director, he named Jim Madigan to replace Greg Cronin as men's hockey head coach in 2011. Cronin had been suspended for sending more text messages to a committed player than permitted, a violation of NCAA rules, and for logging them inadequately.
Cronin's eventual dismissal and Roby's replacement choice brought criticism to the athletic director. His choice was condemned by many due to Madigan's lack of experience in coaching, but Madigan has gone on to lead the Huskies to a Beanpot win in 2018, a Hockey East championship in 2016 and arguably the most successful four-year period in program history. Last semester, he was named the inaugural recipient of Northeastern's Fernie Flaman head coach endowment, making him the second coach to receive the honor in Hockey East, after Boston College in 2012.
Roby also played a critical role in the termination of the school's 74-year-old football program in 2009. Though certainly not alone in the process, many were critical of the athletic director's handling of the issue. Roby has described it as the hardest professional time of his life. But as time passed, university officials and students alike came to see how beneficial the termination of the program was and continues to be for the other teams. The football team was keeping other sports programs from receiving sufficient funding, and student turnout to games was at a record low.  
Roby's dedication to the educational welfare and balance of his students comes from his personal experience as a student and coach. A Division I basketball player for Dartmouth College from 1975 to 1979, Roby was always committed to being a leader and never compromised his academic priorities for the sake of basketball. After receiving a bachelor's degree in government, Roby went on to Stanford, back to Dartmouth and then to West Point as assistant coach of their men's basketball teams, finally ending up as head coach at Harvard. He then went on to work at Reebok from 1991 until 2002, where his professional work in pursuing social and academic justice through athletics began.
After working extensively with Northeastern's previous athletic director David O'Brien to develop the Center for Sport in Society, Roby joined the university as the program's director. Eventually, he received a master's degree in leadership from the university and became associate athletic director for student-athlete welfare during the season preceding his start as athletic director. Only a few months after his appointment, Roby was named one of the 100 Most Influential Sports Educators in America by the Institute of International Sport, and more recently completed a five-year term as a member of the NCAA committee for Division I men's basketball.
"I've got a real strong opinion on, and more importantly, a strong commitment to leadership," Roby said. "I think universities across the nation have had a lack of leadership within collegiate athletics. My job was and is to provide quality experiences and a quality education to students who want to pursue their dream."
For Roby, retirement does not mean the end of his time at Northeastern. He plans to continue to have a presence in the classroom, teaching master's programs in the summer and co-teaching an undergraduate communication studies course on sports and the media during fall and spring semesters.
"I love this school, it has done so much for me and my family," Roby said. "There is nothing better than being with students in the classroom."
Roby looks forward to seeing his successor Jeff Konya continue the accomplishments of his career and bring even more to the table. As he closed the door to his office, he smiled enthusiastically and glanced at the whiteboard as he said, "Go Huskies!"