Chinatown kicks off Lunar New Year with annual parade
By Claire Wallace, news staff
Despite the cold rain, Chinatown held its annual Lunar New Year Celebration and Lion Dance parade Sunday. Residents from all over Massachusetts showed up to partake in the festivities, see the beautiful lion costumes and eat some of Chinatown's famed traditional food.
Kathy Waldron, a resident of Hopkinton, Massachusetts, attended the celebration with her children and her three grandsons, a 6-year-old and 9-year-old identical twins.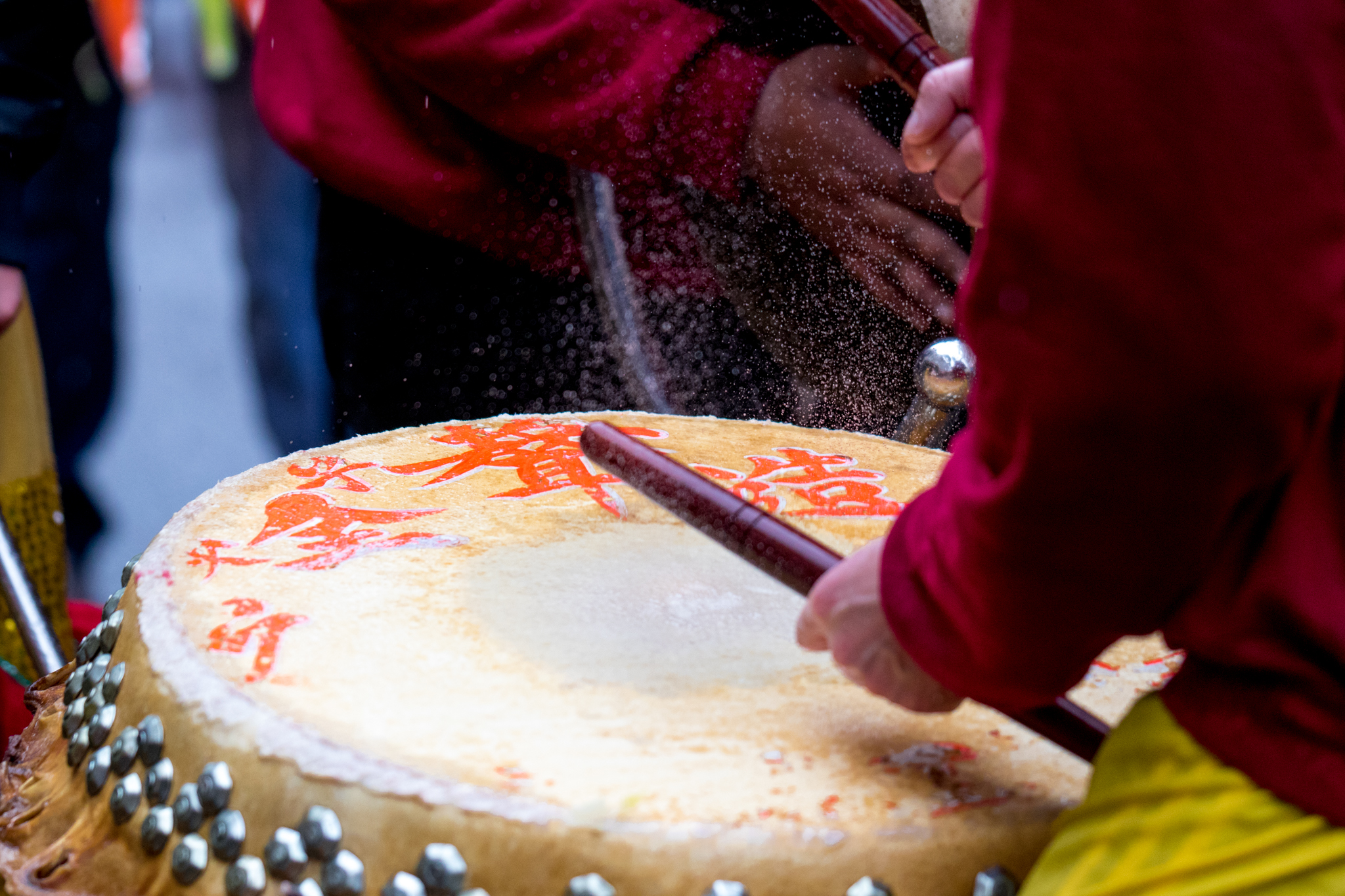 "We've been taking them in to the New Year's Celebration since they were little kids," Waldron said. "We stopped at a bakery and so they each tried a different thing and we all shared the different foods to try and get them to experience and appreciate different cultures. And they were very happy."
Ten different lion dance troupes took to the streets of Chinatown, marching through Philips square and side streets. Huge crowds huddled around the performers, many wearing bright yellow ponchos and holding umbrellas that were frequently overtaken by the wind. Crowds followed the marchers around the neighborhood while watching the lions do traditional dances.
The lion costumes were various shades of red and gold and their face masks were decorated with intricate patterns. Most of the lions had three people operating the puppet with sticks: One supports the head and two hold up the lion's rear. Frequently, those operating the puppet would throw smoke bombs on the ground that made popping noises and set off firework-like sparks.       
"The lion dances are the best part," said Antonia Nepomuceno, a festival-goer from Chicago. "We're really looking forward to the indoor lion dances later. The firecrackers are really cool too. I didn't know that was allowed!" 
Store and restaurant owners brought out trays of cabbage and oranges and the lions took the foods into their mouths and crushed them, exploding the food all over the streets using a metal bar built in the head of the costume. In Cantonese, the symbols for "gold" and "mandarin orange" are pronounced the same, therefore when the lion crushes the orange, he is spreading gold all over. He crushes the green cabbage to curse the Qing Dynasty that ruled over China until 1912. The act was a huge crowd pleaser.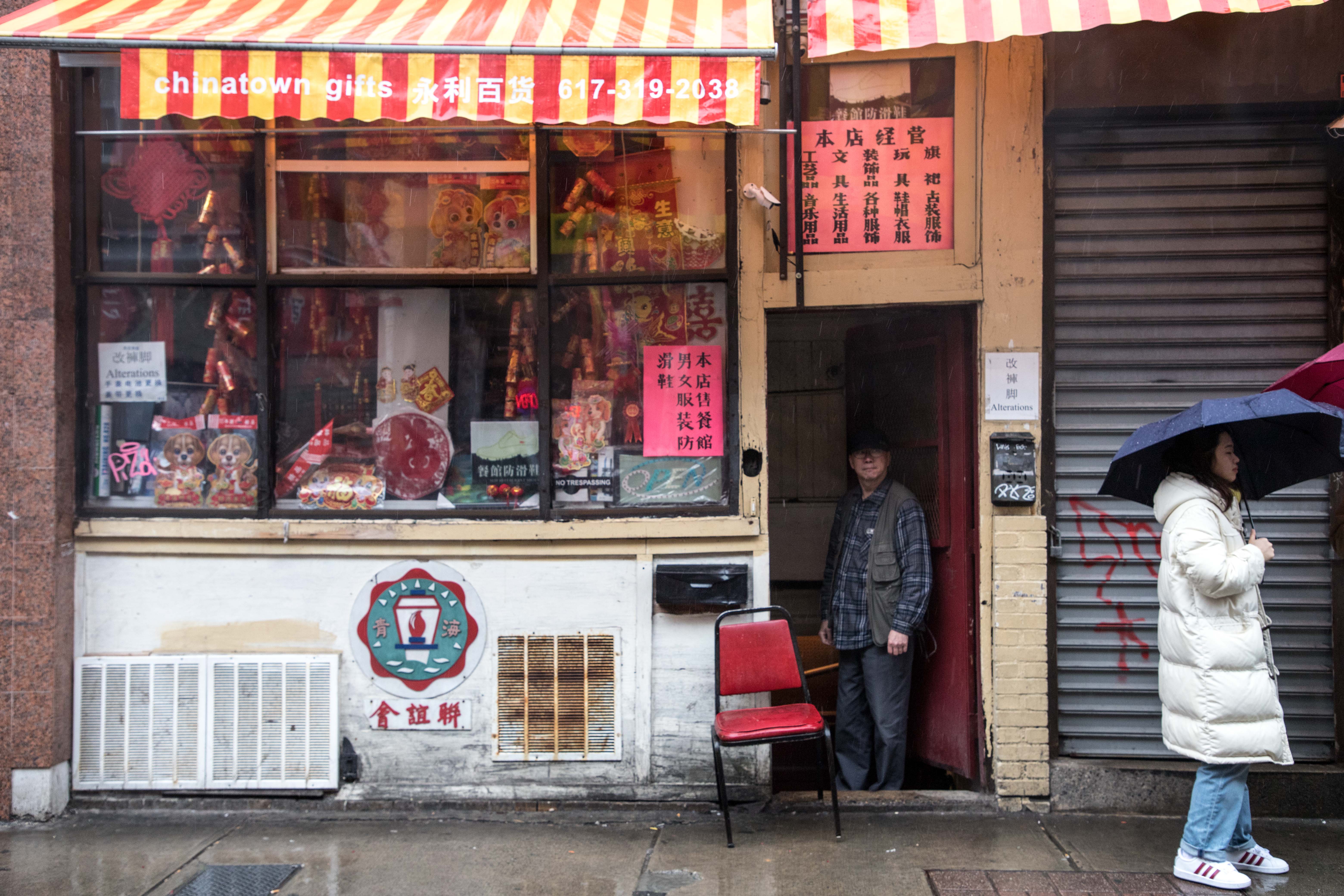 Aside from the festival-goers, a number of volunteers from the Chinese Consolidated Benevolent Association of New England, or CCBA, were also out on the streets. Aiting Schuneider, a volunteer who lives in Somerville but is originally from China, was in charge of pulling a wagon behind the lions that contained any supplies they may need for their costume or their performance.
"This is the first year I have come here to do volunteer work," Schuneider said. "My favorite part is always the lion dances, and I am supposed to be in charge of their cart. We are moving around with them throughout the day."
Just a few blocks away from the main square of dancers at 90 Tyler St., there were a number of events happening indoors for those who wanted a respite from the weather. Students and teachers from the martial arts studio Oom Yung Doe put on a performance, complete with real swords.
Four-year-old Avigail Danziger and 7-year-old Yehuda Danziger, originally from Israel, were particularly impressed by these performers.
"I've never seen a real sword. They have a lot of swords. One, two, three, four, five! Five swords!" Avigail said, excitedly. Yehuda said he was also impressed because he had never seen a lion dance or a martial arts performance in person.
"We always come to Chinatown at least twice a year for the New Year Festival and for the August Moon, which is a lot bigger," said Alex Goode, a performer with Oom Yung Doe who trains at their Somerville location. "It's always fun to watch the lion dances and get some good Chinese food."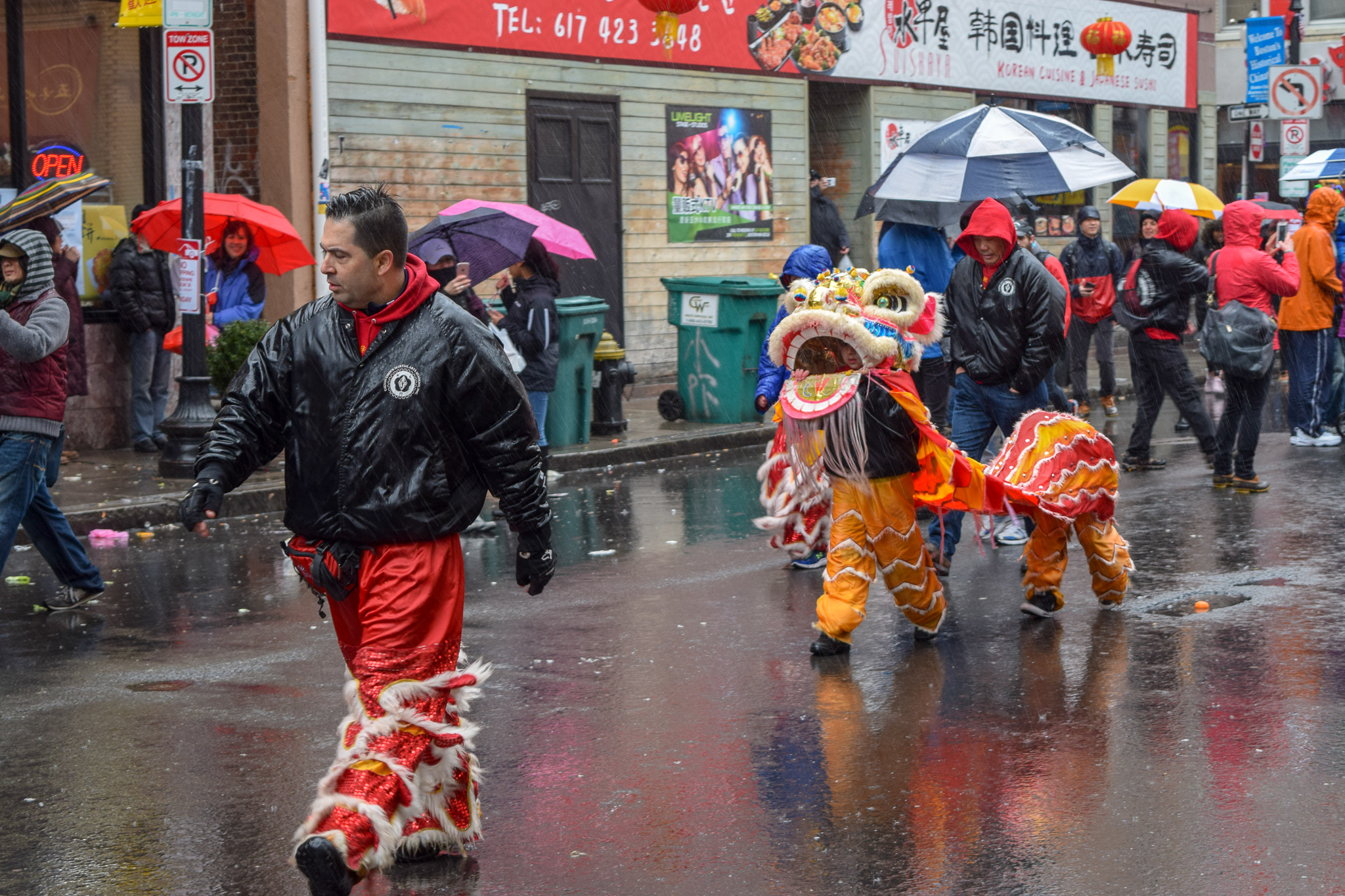 In another room, volunteers had tables set up with Chinese origami, calligraphy and a table of Chinese pastries and snacks. The room was filled with young children trying their hand at paper folding.
Joe Chiu from Tewksbury, Massachusetts, was there with his wife and two kids, ages 5 and 6.
"We like doing handcrafting with the kids, definitely it's good for this age," Chiu said.
Bad weather rarely stops the turnout at The New Year Celebration. In fact, the event has been cursed with unsuitable weather over the past few years.
"I must be cursed because for the last three years we've had terrible weather," joked Susan Chu, CCBA's English secretary and one of the main organizers of the event. "My first year it was -20 [Celsius] and we had to cancel just because it was too cold and it wasn't safe for people to be outside. Last year it snowed and sleeted. And this year obviously we have rain."
But the weather did not seem to quell turnout or energy. The streets of Chinatown were packed, as well as Chinatown's bakeries, restaurants and the community center where the indoor events were held. While the CCBA has not yet provided official numbers on turnout, nearly 2,000 people expressed their interest in attending on their Facebook event page.
Chu said it takes a lot of work to bring a parade together, from filling out city permits to contacting performers, but that in the end, it is all worth it.
"My favorite part is seeing everyone come out and enjoy themselves," Chu said.