Students fight for more accessible UHCS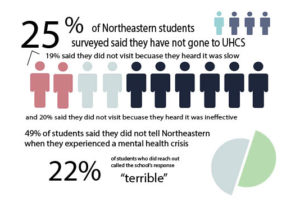 A new coalition of students hopes to quicken the pace of change within Northeastern's health center, gathering data on students' dissatisfaction with services the center provides.
Students Working for an Accessible Northeastern, or SWAN, is a group of Northeastern students hoping to form a coalition and force change within University Health and Counseling Services, or UHCS. Student groups have worked to improve UHCS all semester. But this time, they have data to back their claims.
The group's first action was to conduct a survey to gauge how students feel about various aspects of the health center and what students think are the most important changes for UHCS to make. Since opening the survey, SWAN has received more than 500 responses, a benchmark that fifth-year psychology major Sara Atlas said she was originally unsure they would reach.
"We decided to make the survey to gauge what students felt were the most serious issues, the most prevalent issues that a lot of people deal with to shape our demands, because what is the point of having demands if they don't align with what students actually want?" Atlas said.
The survey has multiple sections, asking students about their experiences with UHCS, the Disability Resource Center and We Care, among other topics. The News received a March 30 copy of the survey data.
Of those surveyed, 25 percent said they had not gone to UHCS for care. When asked why, 20 percent said it was because they heard from others the system is ineffective, and another 19 percent said it was because they had heard the system is slow.
Rourke Bywater, a third-year history major, said she was motivated to join SWAN because she never felt UHCS would be able to meet her physical or mental health needs.
"I'm a transgender student and a student with mental illness, and I've been discouraged from going to UHCS in the past because I've heard about how frustrating of an experience that is," Bywater said. "I don't anticipate that they would have someone that would be able to help me with what I need."
In a Wednesday email to The News, Northeastern's Vice President of Communications Renata Nyul said it would not be fair to comment on the survey data because she was not familiar with SWAN or the survey.
"A coalition is not needed to speak with UHCS or the administration," Nyul said. "Students can always reach out to student affairs if they have any questions or concerns."
While survey respondents said wait times for physical problems at UHCS were mixed, they reported wait times for mental health problems were incredibly long.
Twenty percent of students said that they had to wait for more than a month for their appointment, while 23 percent said they attempted to schedule an appointment but did not go because the wait was too long. Due to wait times, another 19 percent said they did not even attempt to schedule an appointment.
Meanwhile, 49 percent of students said they did not tell Northeastern when they experienced a mental health crisis. When they did inform Northeastern, 22 percent of students said the school's response was "terrible."
Both Bywater and Jessica Dampier, a third-year psychology major, said they feel this is an excellent time to start work, as UHCS is a major topic in students' lives and conversations. Both noted the passing of the SGA referendum question regarding the accreditation of UHCS.
"I think the referendum passing definitely went to show that this is something students care about because it had an overwhelming number of 'yes' votes," Dampier said. "So it's definitely empowering to see that students are going to support what we are doing and we can hopefully use that casual support and bring it into action."
Many SWAN members come from an organizing background, although the group formed only recently, Dampier said.
"SWAN got started with a group of students who were talking casually about how there's been a lot of effort to organize around the problems that we're seeing with UHCS," Dampier said. "But none of those have really come to fruition or gotten past the point of meeting with administrators once, so we really wanted to create a coalition that was really powerful and could actually demand these changes."
Atlas said that while poor care at UHCS can bond students, that really shouldn't be the topic that brings the student body together.
"Everyone jokes about how horrible UHCS is," she said. "I feel like it's a very relatable experience, at least for mental health related stuff, to wait a month for an appointment and then you only get one appointment and you don't actually get the care you need. That shouldn't be the funny, relatable thing that everyone jokes about."