Indie bands charm fans at AfterHours
AfterHours showcased a talented slate of artists Sept. 18 headlined by Hop Along in a concert organized by Green Line Records.
Hop Along began as a solo project for frontwoman Frances Quinlan before she added her brother, Mark Quinlan, on the drums and Tyler Long on bass in 2009. Seconds into the set, Quinlan's vocal talent immediately became clear. Her voice was the driving force adding an intensity to every song, ranging from a raspy whisper to the verge of shouting, but was never out of control. The songs themselves usually swelled in intensity, creating a momentum and tension that was further elevated by Quinlan's powerful vocals.
"[Quinlan] has the most unique voice of her generation," said Matt Schuler, a fourth-year marine and environmental sciences major.
The band members cracked jokes between songs, their laid-back and friendly rapport juxtaposed with the nature of their performance.
"We have fun, goddammit," Mark Quinlan said before counting in the next track.
Boston-based singer-songwriter Maggie Rosenberg opened the evening's performances, beginning her set as members of the audience filled in and sat on the ground beneath the stage. The intimate atmosphere was reflected in both Rosenberg's modest presence as well as in her lyrics, acutely personal yet intensely relatable. Her songs incorporated musings on relationships, boredom and feminism—including the commonplace posturing when it comes to those issues.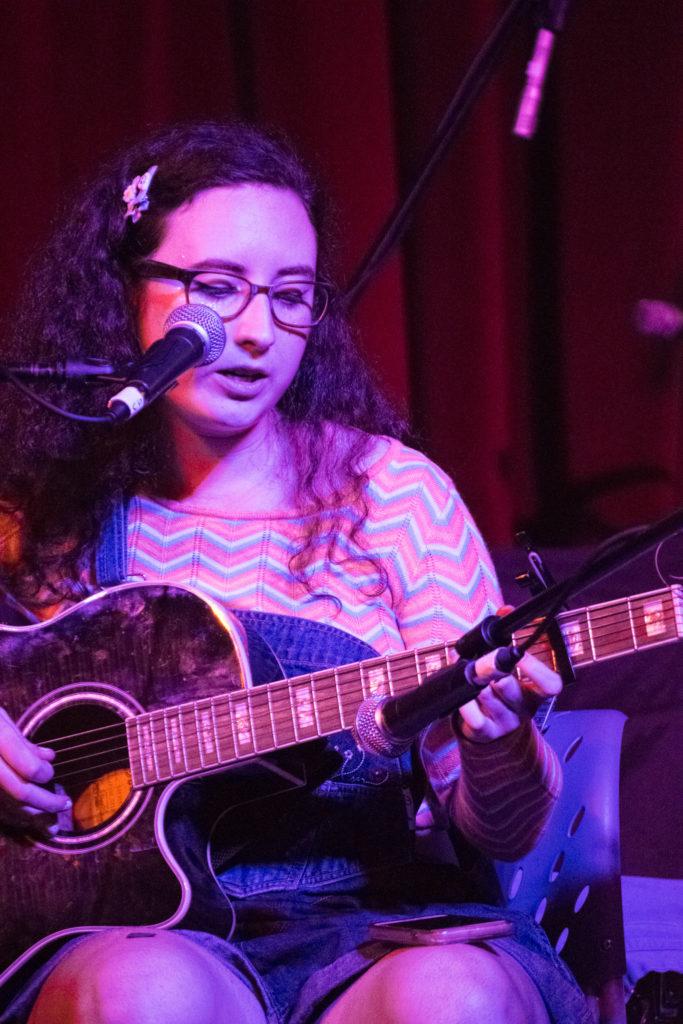 "It's so easy to say [expletive], but it's another thing to actually do it," Rosenberg said after her set, in regards to the modern popularity of faux-wokeness.
Her songwriting echoes that of fellow Brooklyn native Frankie Cosmos, an artist Rosenberg herself cites as influential on her own style.
"[Cosmos] was definitely an inspiration," she said. "I listened to her a lot in college when I was writing these songs."
However, Rosenberg believes her personal experiences contribute far more to the end product. Rosenberg accompanies her turmoil-laden songs with an endearing shyness, though she is no stranger to performing in front of large crowds (albeit of the virtual variety).
While studying abroad in high school she used Thai pop songs to teach herself the language, posting videos of her covers to the internet and eventually gaining a respectable following. One song, translating to "I Don't Speak Thai" in English, has over one million views on YouTube. As her songwriting balances anecdotes with larger social trends, the performance combined intimacy with a casual self-awareness, a closeness the audience surely appreciated with such a personal artist.
Following Rosenberg came Free Cake For Every Creature, a Philadelphia group led by Katie Bennett, backed that evening by a talented band featuring the unconventional but greatly welcomed slide guitar. Such instrumentation added a warmth to the performance that layered well with Bennett's near-whispered vocal delivery. The set varied in tempo and intensity, with the bassist and drummer  holding together even the slowest of songs with careful precision.
"I feel like everything was really wonderful," said Muhammed Ors, a recent Harvard graduate that came as a Northeastern student's plus-one. "Each band was different enough. Each artist was very distinct."
Indeed, though mostly fitting under the expansive indie-rock umbrella, the three performances differed in their specialties, strengths and places in their careers.