Tyler Madden in OT gives NU a win over top-ranked UMass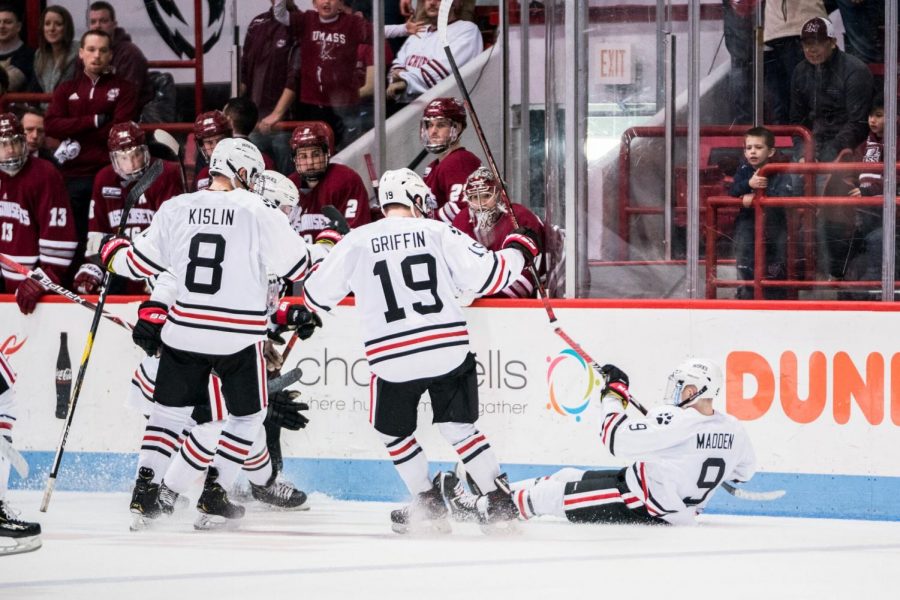 Less than 24 hours after a 6-1 demolition at the hands of No. 1 UMass, Northeastern found itself in a 1-1 stalemate in overtime against the same team. Friday night was a sloppy, listless affair for the Huskies, but they took the ice with renewed energy at Matthews on Saturday in front of a full house, and held their own despite being outshot badly.
The shot margin, 45-24 for UMass, was forgiven when Brandon Hawkins chipped a puck to Tyler Madden near his own blue line in overtime, and he skated it out on a 2-on-1, took it all the way in on goaltender Matt Murray and lifted a backhander to give NU an enormous win in front of a packed, loud Matthews Arena.
"I came down, and I saw the D kind of cheated over for the pass, and I saw a little hole in the left-hand side," said Madden as he described his winning effort, which he said "might have to be No. 1 now" among his career goals.
Sophomore goalie Cayden Primeau turned in a heroic effort and NU won, 2-1 over the top-ranked team in the land. It was a big win in a number of senses. It was important in the Hockey East standings, as the Huskies fell behind the Minutemen by three points with Friday's result. It was important for the NCAA Tournament's Pairwise rankings, which will no doubt value a win over the No. 1 team. And it was important to follow up what head coach Jim Madigan derided as a terrible effort ("One of our worst of the past five years") on Friday.
"After last night, we challenged our guys, and I just thought all 21 guys responded with a big effort here tonight," Madigan said. "We showed a lot of patience, we were opportunistic, and they had us on our heels in the third period. But this group was resilient … and going into overtime they had the confidence that we [could] win this game."
Primeau and Murray traded saves until 11:04 of the middle frame, when NU junior defender Jeremy Davies poked a puck loose at his own blue line and suddenly had nothing standing between him and the UMass net. He turned on the jets to catch up to the puck, skated in on Murray, deked to the backhand and roofed it over the lunging goaltender to send Matthews into a frenzy and to put NU up, 1-0.
UMass tied it midway through the third, when their sophomore winger John Leonard found a puck in front and cashed in. UMass dominated the rest of regulation, but Primeau was able to hold the fort until Madden's overtime magic.
With this win under their belt, the Huskies can close out a relatively soft schedule and try to secure the first or second seed in the Hockey East playoffs.
Primeau was strong all night. He had to make a quality save just six minutes into the game when the Minutemen tried to connect on a neat passing play, but the sophomore slid right to left and didn't let the puck go between his pads. At 4:10 of the second frame, Primeau made two big saves in quick succession, one on a back-handed rebound that he had to stand tall at the right post to stop.
Madigan said he had no doubts about starting Primeau after he let in five goals the night prior.
"No, he's our No. 1 goalie," Madigan said. "We took him out last night because there was no need for him to continue. We weren't playing well. He's the best goaltender in Hockey East for my money, and I think he showed that here tonight. It's a big game, and you play your best goalie."
He also saved the game with just 2o seconds left in the third; when UMass' star defender Cale Makar skated in on a breakaway, Primeau managed to get a glove on the shot and fend it off. In all he racked up 44 saves.
"We lost because of their goalie," said UMass head coach Greg Carvel. "I thought we deserved a better fate tonight. It's just unfortunate that [NU's] two best players got breakaways and finished."