Hobson and Fontaine: Women's hockey duo drives defense
Communication can be the be-all and end-all for defensive partners; even the most talented players can get blown away by swift attacks if they are not communicating. Luckily for Northeastern, Brooke Hobson and Skylar Fontaine do not have that problem.
"Every time we step on the ice, we communicate well with each other," Hobson said. "But especially when we're off the ice, we don't let each other get down and we don't let each other get too wound up. I think the communication between the two of us on the bench brings the energy positively."
Hobson and Fontaine, both sophomore defenders, have been a shutdown pair for the Huskies this season, accumulating 32 blocks apiece, enough to tie the two for first on the team.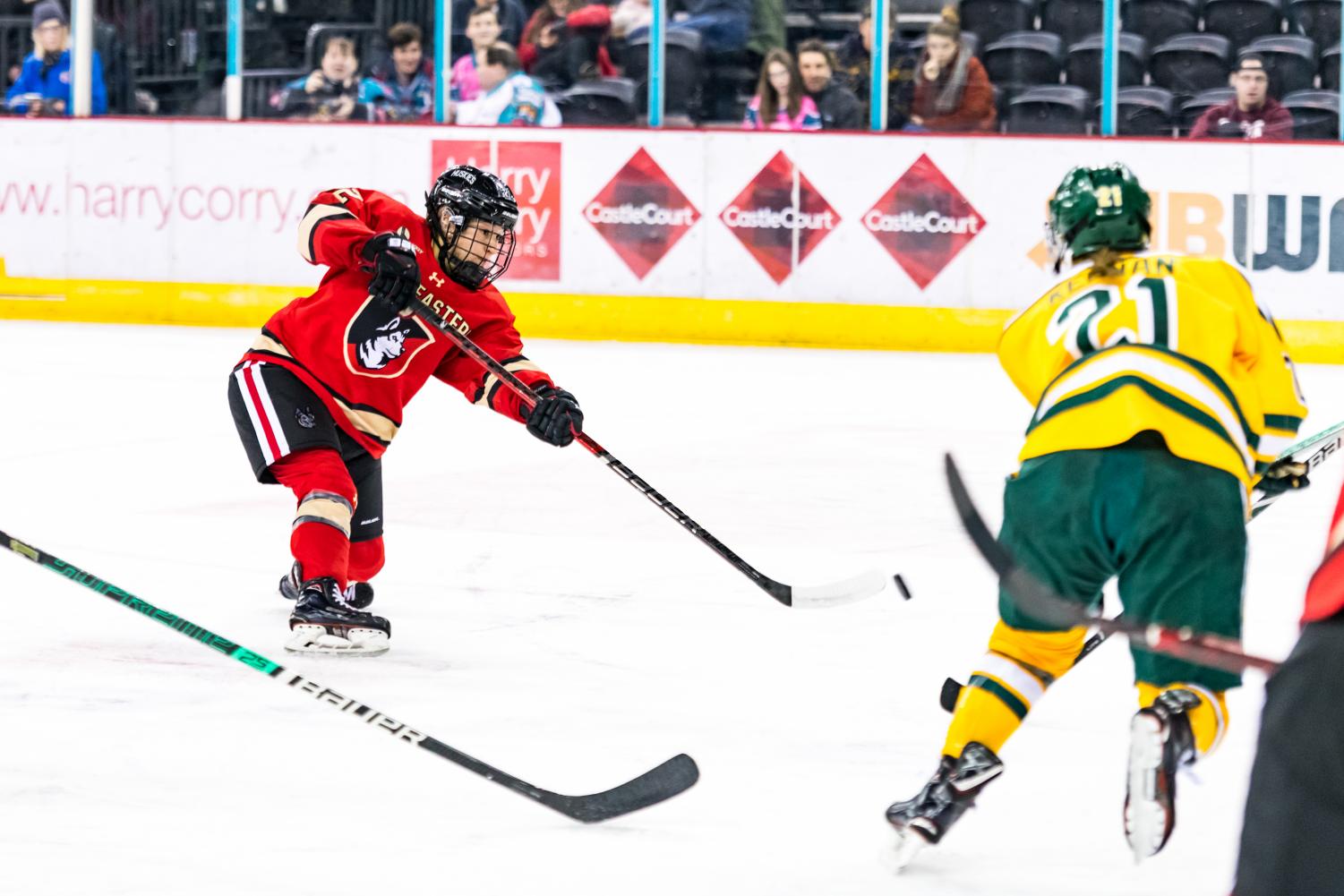 At the other end, the two defenders have supplied plenty of offense for the Huskies. Hobson has 14 assists while Fontaine has 10, which are good for second (tied) and fifth (tied) on the team. Hobson's assist total is tied for fifth in Hockey East, and second among defenders.
"I know that everybody I pass to I can trust with the puck and I think that's a big thing that our team has this year," Hobson said. "Whoever has the puck, there's going to be players supporting and players calling for the puck and I think that's what's led to everybody's success this season, and the team's success."
Head coach Dave Flint trusts the two sophomores, putting them out on the ice together for long stretches of time, but he feels that his faith has paid off.
"I think they've really developed some chemistry," Flint said. "I think the good thing with them is they feed off of each other where if one is jumping up on a play the other one knows to stay back."
A strength at both ends
The two have each scored four goals this year, and both have one game-winner. Hobson's came in NU's 3-0 win over Maine Oct. 19, a game in which she also had an assist. Fontaine struck with her winner on Oct. 21, adding an assist to go with her goal in a 3-1 win at New Hampshire.
"Hobson's playing with a lot more confidence this year," Flint said. "Her shot is harder, she's getting it on net, she's creating a lot more. Obviously Skylar creates with her speed and I think if you look, she's got more shots on net than most of our forwards."
Fontaine said a large part of their success can be credited to Hobson's skills on and off the ice.
"She's always moving the puck, always very upbeat with me, always supportive," Fontaine said of Hobson. "We just always go out there together and we're like 'Alright, let's do this.' If we make a mistake, she's like, 'Let's put it behind us' and we shift, and I think that's a big part of her and how we play together."
The pair combines for a plus/minus of plus-41. Fontaine's plus-24 is also the highest on the entire team.
"We've really tried to make a point of communicating, and part of it is when you have that good chemistry and you're comfortable with your partner, the communication comes easier," Flint said. "I think they've done a really good job of that this year."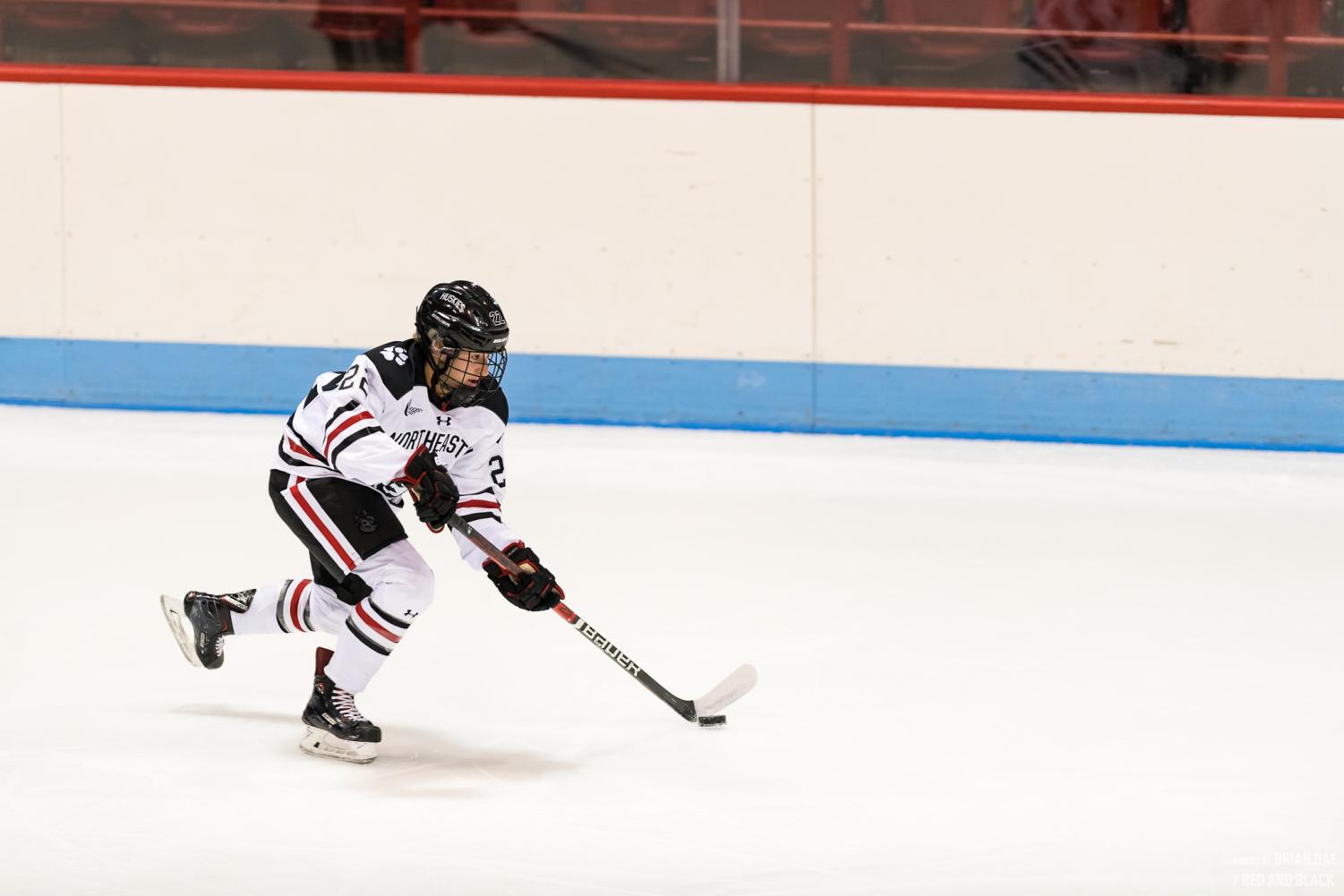 Fontaine has only had two penalties called on her all year. This mark is incredibly low considering her relatively high ice time..
"I'll use my speed instead of using my stick a lot," Fontaine said. "But honestly I think I just move my feet and keep ahead of the puck, not the player. Or it's just luck. Who knows?"
That speed is a defining part of Fontaine's game, and it was on display during a recent game against Connecticut. Fontaine latched onto a loose puck and took it down the wing herself, beating the entire defense and finishing off a fantastic unassisted goal.
"She's deceptively fast," Flint said of Fontaine. "I don't think people realize it because her legs aren't going 100 miles an hour, but she's so powerful and so smooth she can just sneak by defenders.
"But it's also probably more important that when she makes a rush, that she can get back. There have been times this year where there's been 2-on-1s and all of a sudden I just see her come sprinting back through the neutral zone and then she gets back and all of a sudden the 2-on-1 becomes a 2-on-2."
Hobson said Fontaine is "always a step ahead" of everyone else on the ice.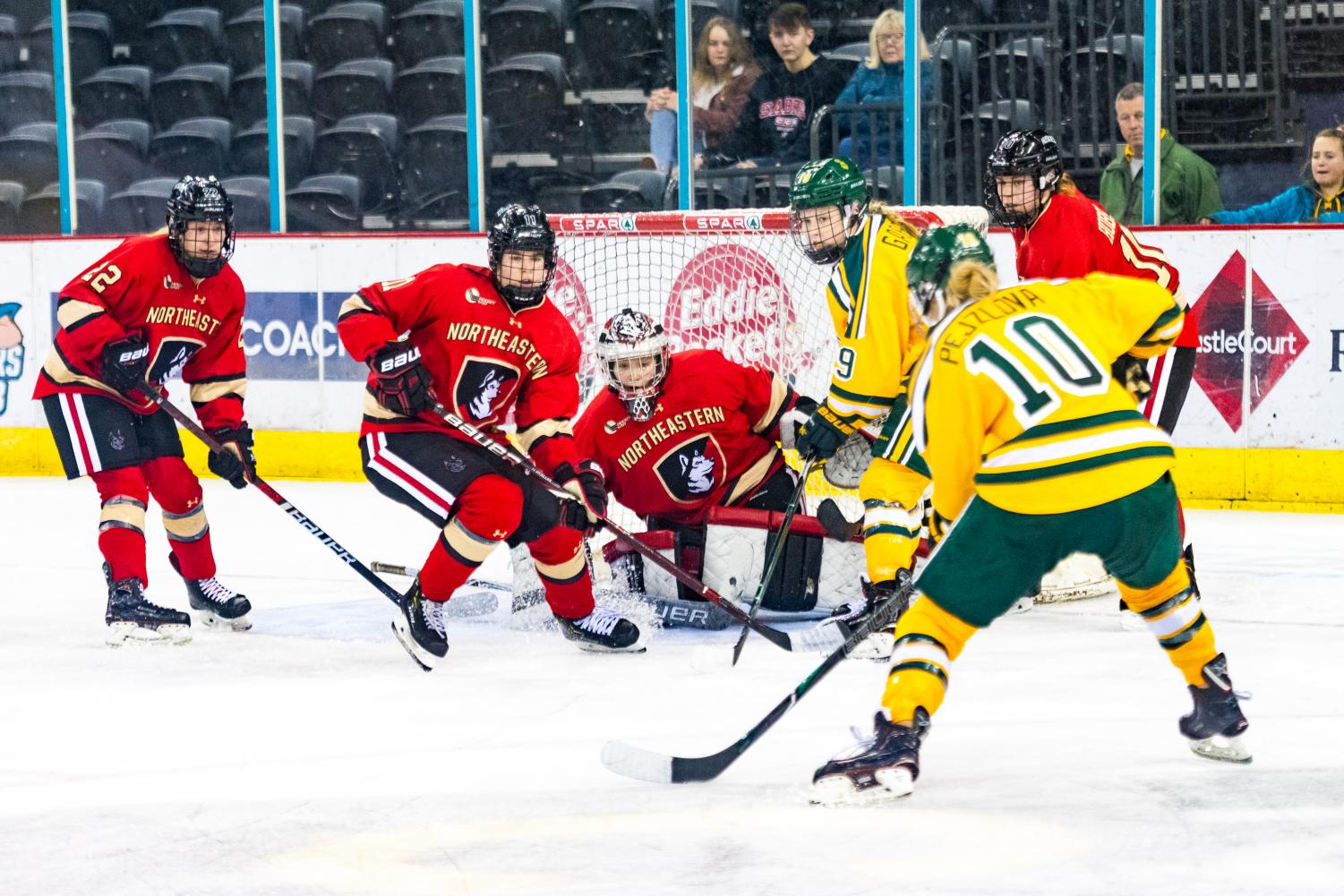 A background in hockey
Hobson, from Prince Albert, Saskatchewan, has felt comfortable in the sport for a long time.
"As I was growing up I felt that the rink's kind of been my second home," Hobson said. "Whether or not I had a great day in classes or at school or anything, I could always come to the rink. I've always had teams that I've bonded really well with, and just knowing that each day I get to spend a few hours at the rink kind of drives why I play the game."
Fontaine, who is from East Greenwich, Rhode Island, credits part of her drive toward success to her family.
"For me, it might have been my older sister, because she also went to college and played ice hockey at Union [College], so I think seeing her and seeing that I can go further with it too kind of pushed me," Fontaine said.
On a team that is full of raw natural talent, it's the two defenders' work ethics that set them apart.
"Hobson, if we didn't have days off, she would never take a day off," Flint said. "There have been a couple of times this year when I've had to tell her, 'You're taking tomorrow off, you need to dial it back a little bit.' Skylar has the same mentality."
The Huskies find themselves in a tie for first in the conference in penalty kill percentage with an impressive .905 clip. They've conceded just eight power-play goals in 85 chances.. They have also scored four short-handed goals, which is tied for first in the conference as well.
"I think our penalty kill has been pretty consistent all year," Hobson said. "We work on it a lot in practice, and everybody commits to the system that our coaches are telling us, and it shows on ice in games."
The team is firing on all cylinders at this point in the season, holding the third spot in the national rankings. They skate in first place in Hockey East, with a 15-2-2 record in-conference and a solid six-point margin between themselves and second-place Boston College.
"No matter who we're playing, we focus on the game that's ahead of us, not the next game or the game after that or the game before," Hobson said. "We come into every game with the same mindset that anyone in our league can beat anybody and we have to come and play, and when we come and play, our team has success."