MAPS provides a new approach to healthcare student organizations
The Minority Association of Pre-Health Students, or MAPS, is an on-campus organization designed to change the way pre-health students view the medical field.
Co-president and fourth-year behavioral neuroscience student Sabie Marcellus said the goal of MAPS is "trying to raise [a] culturally aware and a diverse field … whether it's through becoming a doctor, becoming a nurse, [or] a pharmacist." The club places an emphasis on not asking "how can I treat this problem?" but instead, "how can I treat this person with this problem?"
The club aims to provide real-world experience to prepare the next generation of medical professionals to cater to all members of society regardless of race or socioeconomic status.
Northeastern's MAPS chapter is one of many around New England, allowing students to network and build connections with other students and doctors. One of the chapter's biggest partners is the medical school at Boston University which collaborates with Northeastern to put together panels and events for their members.
Some events, like the suturing workshop each semester,  provide practical training for medical students. This workshop brings Northeastern and BU medical students together to practice stitching a wound on a banana.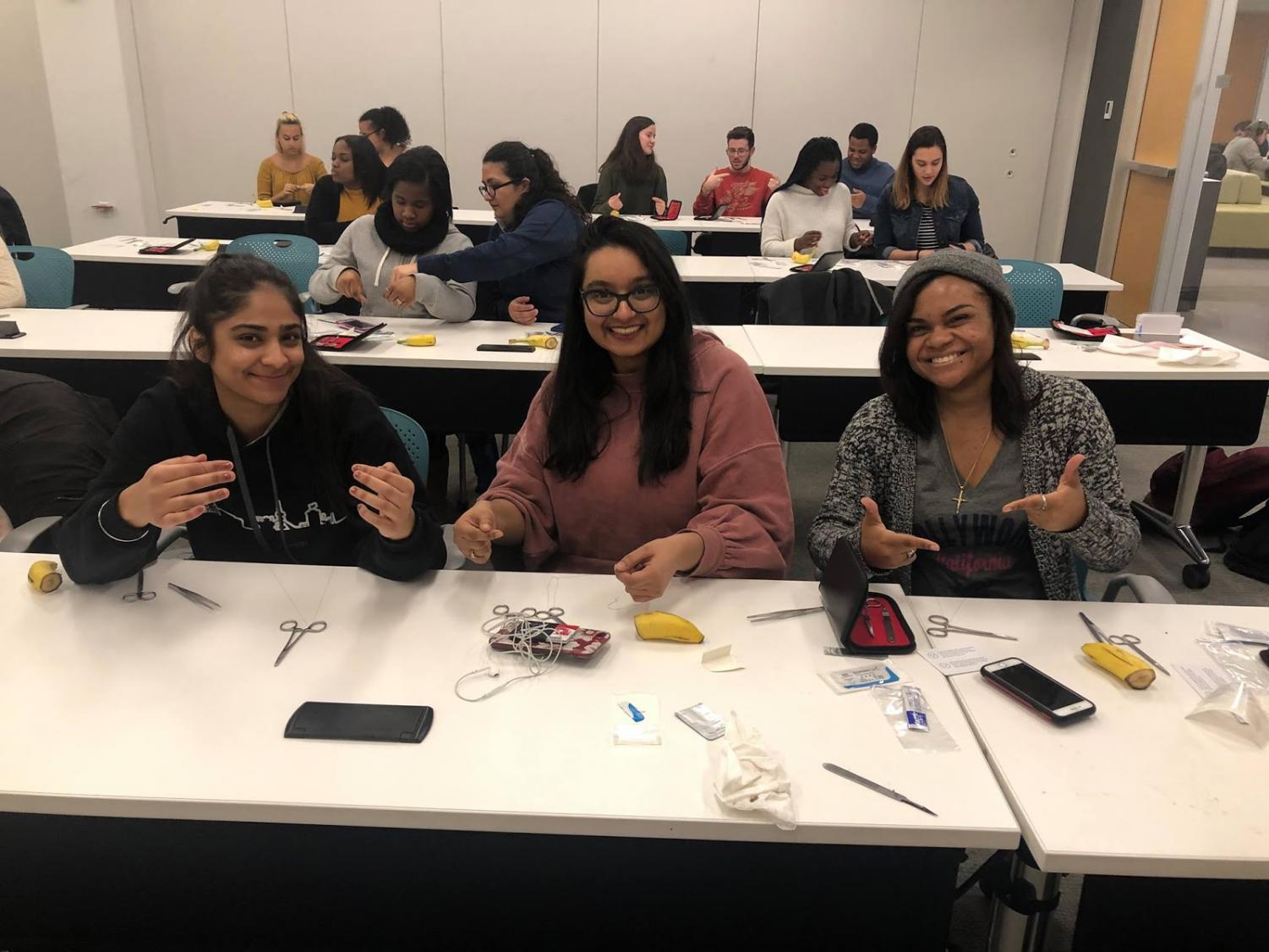 Other events connect Northeastern students to other schools or hospitals, enabling students like second-year behavioral neuroscience major Umin Jalloh to explore different career opportunities in medicine.
"I'm involved with it primarily because they have really good networking with medical students and sometimes residents at the nearby hospitals and medical schools, like BU, [Mass. General Hospital], Tufts and so on," Jalloh said.
Students in MAPS, like second-year health science student Anita Onuoha, often build professional relationships with the guest speakers and panelists. At the minority physician panel last semester, Onuoha met Vonzella Bryant, an emergency physician from Boston Medical Center, who became her mentor.
"Over the break, we talked it through and right now I was able to shadow her, and it's just because of the panel," Onuoha said.
Aside from career-focused events, MAPS chapters work together for community service events, such as the Health Professional Recruitment and Exposure Program. This program is a weekly health lesson for high school students taught by Northeastern and BU students, allowing MAPS members to connect with young people all over Boston.
MAPS also tries to create a sense of community on campus with its small size compared to Northeastern's other pre-health organizations. MAPS often hosts mixers, mental health workshops and other activities for Northeastern's pre-medical students to form connections with one another. The club's executive board encourages members to ask questions and communicate, creating a one-on-one experience that many members say isn't available in larger clubs.
"I feel like there's a lot of people that are pre-med or doctors who are very individualized and only think about themselves, and I think being able to be in a group where you have people who are in the same boat as you, going through the same experiences as you is really nice," said first-year health science student Ruth Olowoyeye.
All pre-health students are encouraged to participate in MAPS, as the club is committed to helping all students to become socially aware medical professionals. Still, the club primarily attracts underrepresented students like Olowoyeye.
"I [chose] something that combined my love for health," she said, "but also allowed me to see other people that looked like me have the same goals as I do."