Music's biggest night honors hip-hop and country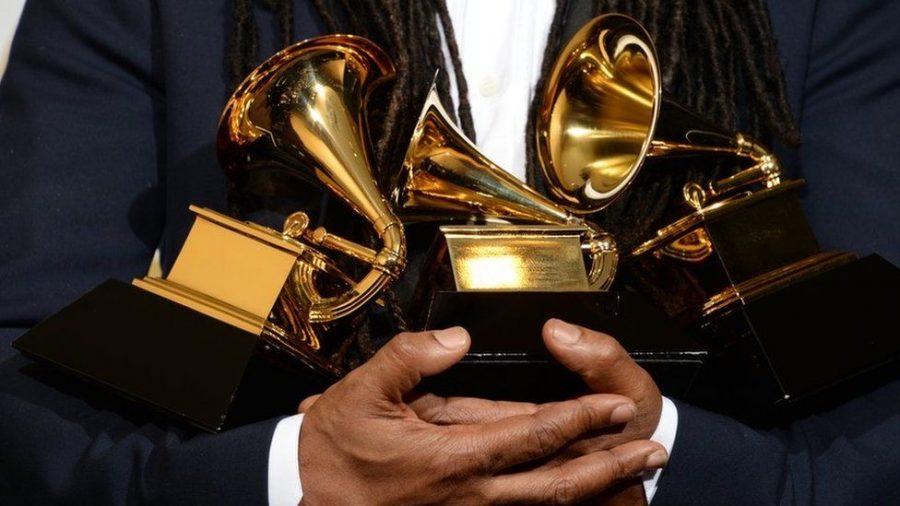 On Sunday, CBS aired the 61st annual Grammy Awards with a lineup including Diana Ross, Jennifer Lopez, Lady Gaga, Smokey Robinson, Kacey Musgraves and many more, with Alicia Keys hosting.
"I was really rooting for Lady Gaga," said Anna Rychlik, a second-year business major. "And I was proud of Kacey Musgraves, her album was beautiful."
Viewers praised Keys for honoring women, including bringing out a group of famous females including former First Lady Michelle Obama, wearing no make-up and partaking in her own special performance in which she played two pianos simultaneously.
Aside from being a star-studded evening, this years Grammys were also a night of firsts as Cardi B became the first woman to win a Grammy for Best Rap Album with her 2018 album "Invasion of Privacy."
Mastering engineer Emily Lazar became the first woman to win a Grammy for Best Engineered Album. Actor Donald Glover, known in the music industry by his pseudonym Childish Gambino, became the first ever hip-hop artist to win Song of the Year with his politically-charged single "This Is America." "This Is America" also took home the Grammy for Record of the Year and Best Music Video.
Despite his big win, Glover chose not to attend the ceremony, citing the way he, and many other hip-hop artists, feel about their unfair treatment by the awards. Artists like Glover, Jay-Z, Kanye West and Drake criticize the award selection board for not paying enough attention to their genre. During Sunday's show, Drake spoke up about some of these issues during his acceptance speech for Best Rap Song, but was cut off by producers.
"Look, if there are people who have regular jobs who are coming out in the rain and the snow, spending their hard-earned money to buy tickets to come to your shows, you don't need this [award] right here. I promise you," Drake said in his speech.
Many viewers saw this as a direct attack on the show, with a number of fans expressing their disappointment in the show online for cutting Drake off during his speech by moving the camera back to Keys.
Cardi B's Best Rap Album win also garnered a considerable amount of online attention. Fans of the late hip-hop artist Mac Miller were disappointed that the rapper's album "Swimming" did not take home the Grammy in the wake of his death in September.
"I wish they had done more of a recognition for Mac Miller," said Campbell Brown, a second-year business major.  
Many fans, including Mac Miller's ex-girlfriend pop artist Ariana Grande, expressed their anger at the show for inviting Miller's parents to fly to California for the ceremony to watch their son lose. After the show, Cardi B posted a video to her Instagram account in which she thanked Miller and said she was sharing the award with him.
Out of all of the performances at this year's ceremony, the one that viewers were perhaps the most split on was pop artist Lady Gaga's. Gaga performed the Grammy-nominated "Shallow" from the 2018 film "A Star Is Born," which took home awards for Best Song Written for Visual Media and Best Pop Duo/Group Performance.
The internet went crazy following her performance, with some saying she looked crazy and not put together or prepared, while others defended Gaga saying that it's simply her typical performance style.
"I really enjoyed Lady Gaga's performance because of the production value," said Franny Kuth, a second-year design major. "I thought she sounded incredible."
One of the biggest awards of the night, Album of the Year, went to country artist Kacey Musgraves, who performed her song "Rainbow" during the ceremony. Musgraves took home three other awards in country music categories.
"Kacey Musgraves is really talented, but I did not expect her to beat all of the other nominees," Brown said. "I was shocked but very happy for her."
This year's Person of the Year award and tribute performance also went to a country star: Dolly Parton. Parton performed in her own tribute performance alongside performers including Kacey Musgraves, Katy Perry and her goddaughter Miley Cyrus.
This year's ceremony proved to be a historic one for women, hip-hop artists and other music industry minorities.
"SZA and Kendrick [Lamar] didn't win for [their song on] "Black Panther" which is so sad because that album and song is so good," Kuth said. "But overall, the more famous [categories] such as Best New Artist, Best Album and Record of the Year were good."