Huskies kick off postseason campaign with balanced win over UNCW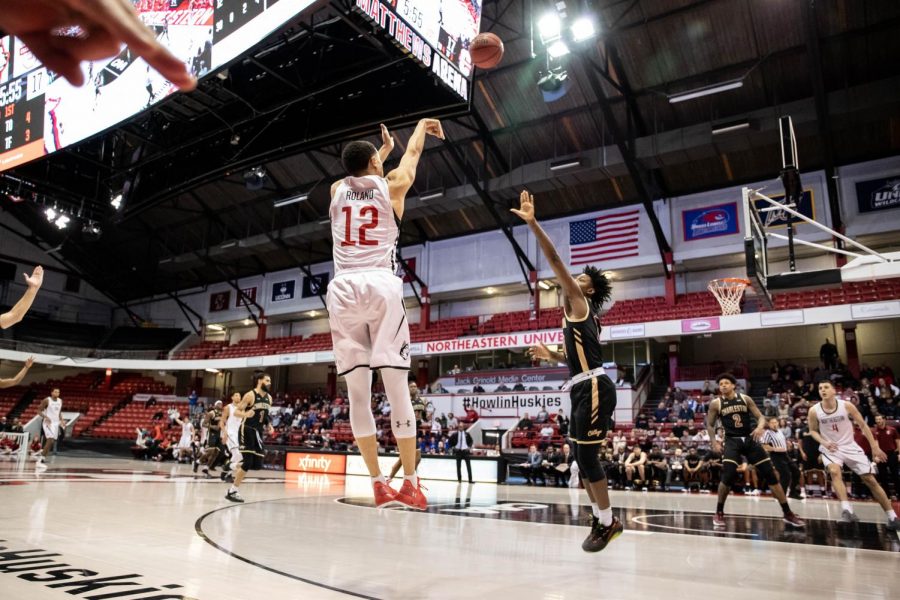 Northeastern carried its regular season momentum into the conference tournament opener against North Carolina Wilmington, dominating on both sides of the ball and collecting a fifth straight win, 80-59.
First halves haven't always been the Huskies' (21-10, 14-4 CAA) forte this season, as they've occasionally had to work out of holes early on, but tonight the conference runner-ups were electric from the start. Strong 3-point shooting out of the gates propelled Northeastern to a 15-4 lead over UNCW (10-23, 5-13 CAA) after just six minutes.
UNCW didn't fare much better the rest of the half either, failing to crack double-digits until a jumper from standout forward Devontae Cacok made it 22-11 in favor of Northeastern with 9:59 left in the half. The Seahawks managed a 6-0 run later in the period to cut the lead to six, but junior guard Jordan Roland answered with a three and helped the Huskies take a 39-28 lead into the break.
Roland had the hot hand all night, but looked particularly lethal in the first half as he racked up a team-leading 13 points on 5-9 shooting, including 3-7 from behind the arc. Senior guard Vasa Pusica followed with 10 points to go with three assists, and junior guard Bolden Brace added eight points and five rebounds.
A layup from Roland kicked off the second half for the Huskies, and back-to-back 3-pointers from Brace extended the lead to 18 within the first two minutes of the period, forcing a UNCW timeout. An and-one layup from junior guard Donnell Gresham once play resumed capped off a 9-0 run and gave Northeastern a 51-29 lead with 15:38 remaining.
The Huskies held onto their 20-point advantage tightly, leading by as many as 27. Positive minutes from freshman forward Jason Strong helped Northeastern close out the final minutes, and NU went on to pick up a decisive victory.
Northeastern also welcomed junior guard Shawn Occeus back into the rotation for the first time since January 26, and his return couldn't have come at a better time as the Huskies look to make a deep run in the conference tournament. The reigning CAA Defensive Player of the Year put up a modest five points in his limited time on the court.
Roland led the way for the Huskies, finishing the night with 21 points on 8-13 shooting and 5-10 from three. Pusica stuffed the stat sheet with 16 points, seven assists and six boards while Brace rounded out the trio's performance with 17 points and eight rebounds to go with three steals.
With the win, Northeastern advances to the CAA tournament semifinals Monday to face the winner of the game between Charleston and Drexel.