Boston Palestine Film Festival features mother-son musician duo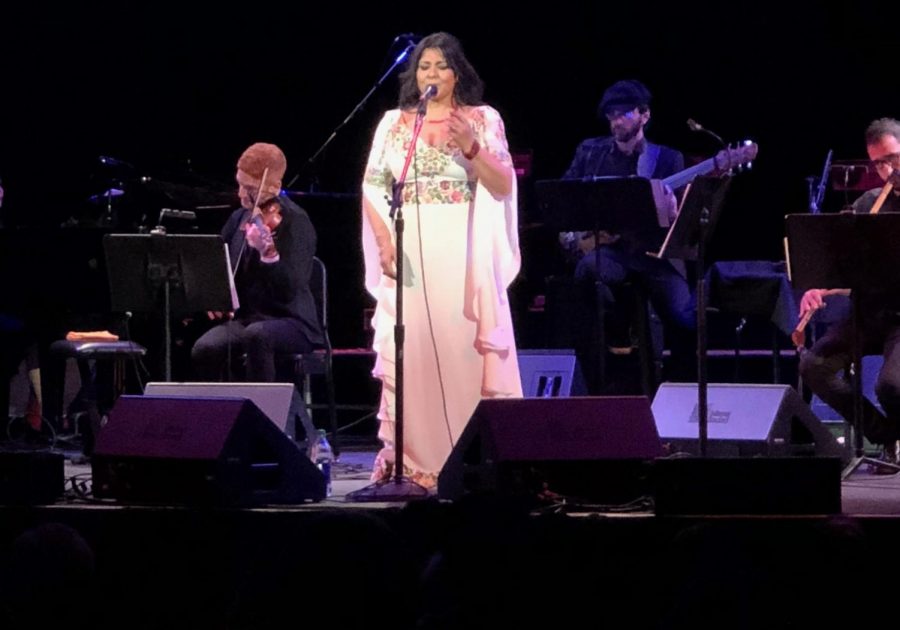 Mother-son duo Amal Murkus and Firas Zreik performed a set of traditional Palestinian music  Saturday in the Berklee Performance Center as part of the Boston Palestine Film Festival, or BPFF.
While the main festival takes place during the fall, the BPFF hosts events such as Murkus and Zreik's performance to maintain its outreach throughout the year.
"The goal of the Boston Palestine Film Festival is to promote Palestinian culture through film and cinema, art, photography, narratives and all sorts of cultural formats. Our core program is in October, but it's important that we fit in other cultural events throughout the year," said Michael Maria, the film programmer for the BPFF.
Murkus and Zreik performed a fusion of traditional Palestinian musical folklore and original musical compositions alongside the Maqam-Fusion Ensemble and the Center for Arabic Culture Children's Choir, the first Arab-American children's choir in Massachusetts. The showcase aimed to reflect the cultural and national identity of the Palestinian people.
Murkus is a Palestinian singer from the Galilee who has committed her career to promoting Palestinian culture through music influenced by Arab and Palestinian poetry and music. She has taken her talent across the globe, including performances in Italy, Germany, France, Russia, Spain, Bulgaria and Tunisia.
"I feel that I am more connected to my truth when I am reflecting the reality that I live in my village in the Galilee," Murkus said. "The most important thing is that I identify myself as a human being, as a woman — that gut universal feeling and passion for life, for love, for family, for equal rights, for justice and also to keep our world in a better way."
Zreik, a Berklee College of Music jazz composition and performance double major, is a Palestinian kanun (lap harp) player. He is also the director of the Maqam-Fusion Ensemble, which intertwines traditional and contemporary Middle Eastern styles.
Zreik has performed with artists such as Roger Waters, Simon Shaheen, Aynur Dogan and Amir Saffar. He has graced stages internationally from Boston Symphony Hall to Institut du Monde Arabe in Paris.
"As Palestinians, in today's world, our mere existence is a political statement, and I think that through our original songs and art, the lyrics and context behind it and the preserving of our traditional folkloric songs, we can definitely contribute to raising the voice of our cause, while maintaining a high level of artistry," Zreik said.
The mother-and-son duo have shared many stages together, which is a special experience to Murkus..
"It's amazing to make the process of rehearsals and to learn new songs and to talk about music, to share a lot of common feelings — but also that he has his own world and his own journey in music," Murkus said. "It's like he's continuing my thoughts, my vision … When we are playing together I feel that we are one heart. It's like we are still connected as mother and son, but we are also different."
Zreik also enjoys working with his mother.
"It's my favorite gig of all. I love sharing the stage with my mother, making music together, traveling, working on new songs and projects. I couldn't ask for anything better," Zreik said. "I learned a lot from her experience, and I'm grateful to be a part of that experience. She's an inspiration."
The festival brings to Boston a colorful and compelling fusion of artistic media that allow the community a glimpse — and a connection — to the Palestinian culture and spirit.
The BPFF features films, guest speakers and works by newly surfacing artists. The festival accepts film submissions of any length from persons of any nationality with relevancy to Palestine or the Palestinian narrative. The film showcase will occur during the festival from Oct. 18-27, and awards will be given for Best Narrative Feature and Best Documentary Feature.