Boston Calling may be losing local roots as it keeps growing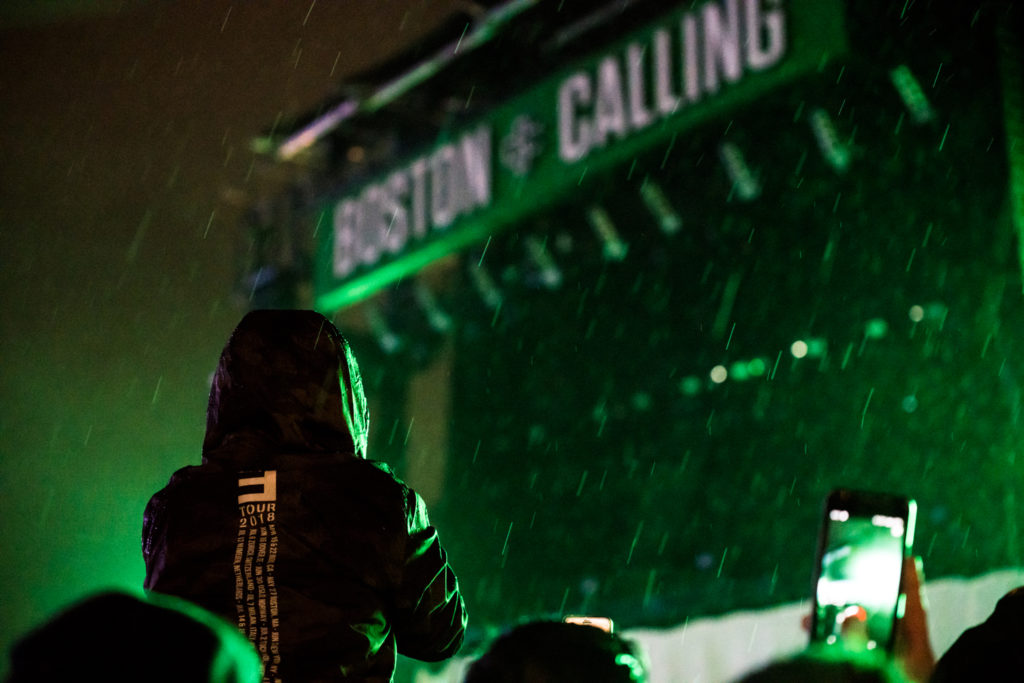 To the joy of some and dismay of others, the 10th Boston Calling Music Festival, which will be held from May 24 to May 26, boasts Twenty One Pilots, Tame Impala and Travis Scott as its headliners. The festival, which started as a showcase of local artists, will also feature smaller acts from the area, including Sidney Gish, a fifth-year music major at Northeastern.
Founded in 2013, the festival originally took place twice a year, once in the spring and once in the fall. The festival also shifted locations and grew in size, moving in 2017 from City Hall Plaza to its current venue at Harvard's Athletic Complex in Allston.
Apart from music, the festival includes a comedy portion with performers like Michael Che, Fred Armisen and Jenny Slate on deck this year. The Boston Ballet also has its own showcase. Last year, organizers even set up an Ikea section, which festival founder Brian Appel said he wanted to develop further for future festivals in a 2018 Cambridge Day article.
This year, a few Northeastern students helped craft the lineup with Trevor Solomon, who works with the festival to organize the yearly lineup. College of Arts, Media and Design co-op coordinator Craig Bettinson connected a group of four students with his Boston Calling contacts because the festival sought a "younger perspective" when booking acts. The group met once a month last year from May to December. Fifth-year music industry major Robert Steiner said the way he became involved with the process was "kind of random."
"There was a back and forth where we got to share our own influence and be reflective of our own specific music taste and actually have that reflected in the choices they were making for this year's lineup," Steiner said. "It didn't seem like they were doing it out of obligation; they actually wanted to hear from us and hear our thoughts on certain artists, acts and things we would've liked to see at the festival."
Solomon mentioned Gish in the second to last meeting, and the students immediately advocated for her to perform. Music professor David Herlihy emphasized Gish's talent and applauded her work ethic.
"She's a very good performer," Herlihy said. "It's just another stepping stone for her to keep working hard, and the fact that she got here is an indication of her talent and following. I think if they see she's got potential to a bigger audience it's just another chance for her to work her butt off."
Steiner noted that Boston Calling attempts to book local talents such as Gish and wishes they would capitalize more on that aspect. Other acts with local roots include Clairo, Guster and Pile, to name a few.
"That's still cool to see. I would like to see more of that, but I still understand why that might be difficult as they are trying to grow and become 'one of the big guys' in the festival world," Steiner said.
Through the years, the Boston Calling lineup has varied from FUN. and Young the Giant headlining the first 2013 festival to Eminem, The Killers and Jack White headlining in 2018. Music industry professor Andrew Mall, who has attended past Boston Callings, said this year's lineup is geared toward a younger audience as opposed to the festival's usual habit of gauging interests across all ages. He is not as impressed with the 2019 lineup but is still looking forward to a couple of acts like Mitski and Janelle Monáe.
"Compared to previous Boston Calling lineups, it's not as exciting," Mall said. "They had Eminem last year. He was at the peak of his career 20 years ago. That tells you something about who they're going for."
Herlihy has also attended past festivals. He said he often goes to learn more about the smaller names, not headliners.
"Truth be told, I don't know a lot of the smaller acts, which is kind of why I go in the first place," Herlihy said. "I kind of go to see what's trending or what's interesting."
Despite his desire for more local artists, Steiner is still thrilled about this year's lineup.
"You kind of have your festival mainstays like Tame Impala and stuff like that, but I think overall it has got some variety. I'm looking forward to seeing a lot of these acts either for the first time or the second or third time," Steiner said.
In addition to lineup management, Boston Calling has played around with its actual setting and execution, including changes to stage setup and crowd control. Moving from City Hall Plaza to the Harvard Athletic Complex posed its own issues, including residential complaints from sound bleed. The Boston Globe reported more than 30 noise complaints in 2018, though some may have been from repeat callers. Other concerns surrounding the festival include long lines for bathrooms and concession stands.
More and more people have attended Boston Calling each year, with a notable jump from 2016 to 2017 when the festival recorded a jump to 40,000 attendees from WBUR's reported 20,000. Mall attributes Calling's popularity to a few of these changes.
"When they invest more in a single event weekend, they can afford to bring in bigger names and spend a lot more time customizing the space," Mall said. "It's a more attractive space than a plaza that just has a bunch of metal gates set up, like it's easier to sell to people as spending a weekend in a city, taking a train in, and 'doing this.' The promoters and organizers of the event really worked to make it a destination. And at this point, it's the largest pop music festival in the northeast north of New York City."
Herlihy said Calling's logistics help contribute to its following.
"It's the beginning of the summer, and I think it's really smart," Herlihy said. "There are a lot of students who are here. It's the right thing to do, and it's an urban location with good transportation. It's pretty well-run, and every year it gets more organized."
Although some people like Steiner would like to continue to see local acts in the future, Calling's agenda of becoming a destination may diminish the number of local artists.
"Since they are trying to be a major festival destination and they are competing with the Coachellas, Bonnaroos and Outside Lands of the world, I think kind of as a result of that you kind of do have to lose your local roots," Steiner said. "You don't have to, but you have the ability to get big-name acts and talents that you know would have a massive draw."
Prices for three-day passes range from $279 to $1,139. Tickets vary from three-day general admission to VIP and platinum passes. Single-day passes are also available with the lowest starting at $114.
Herlihy said he felt Calling created a nice niche for itself, but he can not see it growing bigger than its current state. Mall said there are enough festivals to go around, but that Calling is here to stay unless they hit trouble by failing to sell out over consecutive years.
"I think Boston Calling is at a point where it would take a lot to kill it, so I think they have enough momentum to keep going," Mall said.