Review: Boston Ballet's 'Coppélia' brings cheerful performance
Rather than a night filled with tear-jerking plot twists and a tragic ending, "Coppélia" provides comic relief for dancers and theatregoers including character hissy fits, humorous love triangles and a happily ever after.
On the Boston Ballet's website, the dance company guarantees that this ballet in particular will bring "amorous perplexities and plenty of laugh-out-loud humor" through March 31.
Set in an Austro-Hungarian village, the plot is comprised of a village boy, Frantz, and his love triangle between Swanilda, a human being, and Coppélia, a doll created by toymaker Dr. Coppélius. In each act, the set resembles a drawing out of a children's book come to life. The ballet targets younger audiences with its considerably childish plot and settings but proves to be a lighthearted performance for theatregoers of all ages.
Act I sets the scene in Galicia, Spain, with tan village homes detailed with flowers, vines and sketched trees along the backdrop. As Coppélia sits on the balcony of Dr. Coppélius' workshop, Swanilda, played by principal dancer Misa Kuranaga, demonstrates a clear and communicative choreography style that is carried throughout the performance and allows the audience to easily follow the scenes as they unfold.
Moving forward, the whole village gathers for a sequence of combinations as is typical in ballet. As the ensemble performed a folk dance, they exhibited carefully crafted costumes: The villagers dressed in scarlet red attire detailed with gold seams, the men donned red-orange pants and the women flaunted dresses with orange ombre toward the hem with a chest corset.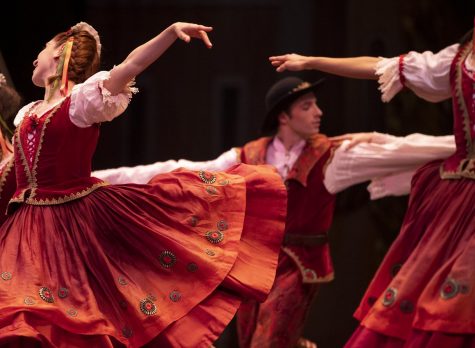 Though the ballet is named after Coppélia, the true star of the performance is Frantz, played by principal dancer Derek Dunn. The minute the character steps onstage, no audience member wants to look away as they might miss a delicately crafted jump powered by the incredible strength of his leg muscle or the impeccable spotting technique he relies on throughout his turn sequences.
On top of his undeniable talent, which he showcases throughout several solos, Dunn delivers in his performance, providing a lovable, high-spirited though slightly foolish character that the audience can't help but root for. All the while, Frantz remains the main source of comedy throughout the show.
Meanwhile, Kuranaga delivers a seamless performance as Swanilda. She executes quick footwork of consistent changements and beats while extending into an arabesque with the grace and beauty of a Japanese hand fan. Though her character is both playful and difficult — she toys with Frantz's emotions as he claims to also love Coppélia — she is also a relatable character, playing coy and hard to get when all she wants is to be loved in return.
Toward the end of Act I, a playful quarrel between Frantz and Dr. Coppélius sets the tone for their relationship. Dr. Coppélius, played by soloist Isaac Akiba, is considered the antagonist of the plot as he is targeted by villagers for being an outcast. However, Akiba clearly enjoys his role and puts forth great effort in fulfilling his role while Frantz and Dr. Coppelius continuously horse around throughout the play, drawing constant laughter from the audience.
The ballet's opening cast maintained the institution's tradition of sprucing up performances. The company's take on choreography, the impeccably designed headpieces of soloists and ensemble members, the incorporation of younger members of the Boston Ballet School — who left audience members swooning for several minutes — and the clear enjoyment the dancers express onstage all contribute to the joy with which audience members step out of the Boston Opera House.