NU online courses help students through flexibility, affordability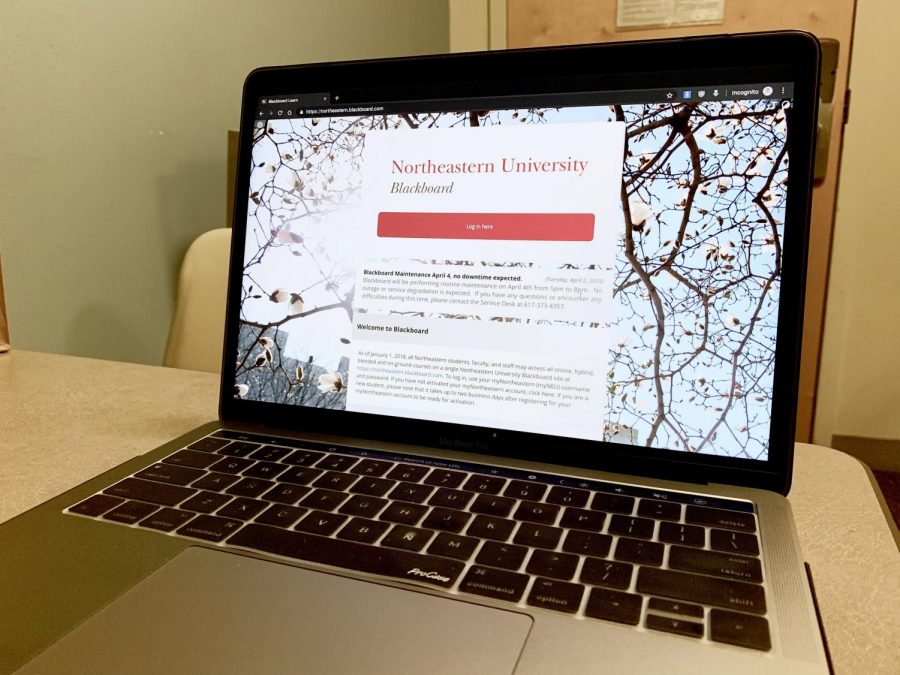 Northeastern offers more than 60 online degrees and programs with courses ranging from undergraduate Bachelor's degrees to doctorate programs, offering increased flexibility for students' busy schedules.
While some find the courses' convenience appealing, others think the experience takes away from the challenging and collaborative environment of a traditional classroom.
Second-year Navina Magesh-Kumar, a behavioral neuroscience major, is taking Advanced Writing in the Sciences online this semester in addition to being on co-op.
"There are deadlines, but you can do the work whenever you find the time. I feel like this type of writing class doesn't really require a lecture component," Magesh-Kumar said. "Going to class would probably not be the best use of my time. I'm on co-op right now so it's really convenient that I can take a class, and it helps me to graduate so I can graduate in four years."
Third-year Ishaan Tiwari, a cellular and molecular biology major, is also on co-op and taking an online course. In the past, Tiwari took Advanced Writing in the Sciences and Bioethics online. Currently, Tiwari takes Mammalian Physiology online.
"There's occasionally some discussion boards, or reading a paper or expressing our opinions about something going on in science that's relevant to the coursework," Tiwari said. "Most of the time since it's online, it's you keeping up with the materials. We have a prescribed textbook and some assignments related directly to the textbook. So every couple of days or so you read a chapter and answer questions online. It eventually culminates in a midterm."
Tiwari said he liked online courses because they lessen his workload during semesters when he is taking classes.
In addition to individual courses, Northeastern also offers full degree programs, such as the Doctor of Education degree, which was recently ranked by AffordableSchools.net as one of the most affordable doctorates in organizational leadership. The complete tuition for an education degree, based off the 60-credit workload, is $49,700 and takes three to four years to complete.
For comparison, Vanderbilt has an online Doctor of Education in Leadership and Learning Organizations 54-credit program with a tuition of $98,712. The University of Southern California offers an online Doctor of Education in Organizational Charge and Leaderships that costs $80,109. The whole program consists of 60 credits.
This degree program is not the only one to be recognized recently. Northeastern's online Master of Education degree in eLearning and Instructional Design was ranked in the top 20 online Master's in Instructional Design by topeducationdegrees.org. Online Course Report ranks Northeastern in the top 50 universities offering online courses in 2019.
Non-online programs at Northeastern are more expensive. In the 2018-2019 academic year, undergraduate tuition cost $50,450 per semester. In addition, on-campus housing costs $16,270 and additional fees are $1,072.
Deanna Raineri, vice president and vice provost for digital learning and mobility strategy, has only worked for Northeastern for two and a half months. Previously, she worked at the University of Illinois Urbana-Champaign and Coursera for three years. At Northeastern, she comes up with strategies supporting online programs and increasing the mobility of online learning. She credited Northeastern's affordable online cost to the university's dedication to the programs.
"Really it starts with a commitment from the university to make online learning affordable," Raineri said. "Northeastern has really bought into the concept of lifelong learning."
Raineri said some other programs tend to be more expensive because they require a lot of engagement with more faculty time. She also made comparisons between online courses and on-ground classes.
"There are online courses that aren't very good, and there are online courses that are superb," Raineri said. "Online courses are equivalent to some [on-ground courses], and some are even better because they take advantage of many things the internet can give them."
Lynn McNamara is a lecturer in the Corporate and Organizational Communication and Criminal Justice Leadership graduate programs, in which she teaches online classes. While McNamara enjoys online courses for many of the same reasons as the students, she believes the teacher-student relationships are not as strong as those developed in on-ground classes.
"The main drawback is that you miss that connection in-person where the student might have a quick question about formatting a paper," McNamara said. "They might be reluctant to send an email about that because they think, 'Oh, it's not a big deal.'
"If you have a question, there's a forum in the class itself to ask the instructor, so other students can see if somebody has a question about formatting a paper."
McNamara does her best to counteract this by letting students know she is available.
"I try to be quite involved in the classroom because there is no on-ground component. We don't get to see each other face-to-face, so I like to let students know that I'm there and establish that presence," McNamara said. "I also like to grade things quickly. Some of the courses I teach are only six weeks long, so I feel it's important to give that feedback right away."
Students have found they have to hold themselves more accountable than if they attended class everyday.
"You're not forced to do the work, and you have to be more responsible," Magesh-Kumar said.
"I feel like it's a little easier to procrastinate with an online class when there's a little less instruction."
It may also be harder for instructors to identify potential academic dishonesty.
"I guess the way you're assessed is a bit mundane, it's just 'answer these questions online,'" Tiwari said. "There's no real way to verify if you're cheating on not. The fact that your course instructor doesn't provide you one-on-one time, or that someone isn't explaining the material to you [means] it's just up to you whether you follow it or not. At least for this class there's no attached lecture to go with this, it's just read the textbook, answer the questions, do the midterm, repeat."
However, McNamara said online classes still allow her to feel included when she is not on campus.
"I don't live in Boston, but it allows me to participate in an academic community, but do it in a way that's convenient for me," McNamara said. "This is a great way for me to be a part of the Northeastern community."