NU baseball gives back, bonds through 19 Ways
Attendees of Northeastern baseball games may have noticed a small furry friend amid the crowd of red and black-clad fans. The dog, Fenway, belongs to Liam McGourty, who matched with NU through a non-profit group called Team IMPACT, which connects college teams with children facing chronic illnesses.
Fenway was trained by some of the young men on the diamond, but in the process, the players have learned a few things too.
"[Liam] was getting a service dog, and my roommates and I actually took [the dog] in for a couple months and we would bring the dog to the field every day and raise him," said senior first baseman and captain Jake Farrell. "It was kind of fun because the whole team got to have the experience of having a little puppy with us for the three, four months it was."
Farrell and his teammates trained Fenway as part of Northeastern's 19 Ways program, a community service initiative that challenges student-athletes to participate in at least 19 service events and campaigns throughout the year.
The program has helped the players on the team become closer to each other and their community. Perhaps not coincidentally, the Huskies have had a streak of successful seasons since the team began participating in 19 Ways.
The initiative was started by former Northeastern assistant coach Pete Hughes in honor of his mother, Alice, who passed away in 2009. Nineteen was her favorite number, leading to the logical choice of nineteen service events for the program he started while he was head coach at Virginia Tech.
Current NU head coach Mike Glavine, who played under Hughes at Northeastern from 1992-95, brought the program to the Huskies in 2015.
"[Hughes has] just been a really positive influence for me in my life as a player and as a coach and I thought it would be a great way to honor him and his mom and continue that tradition here," Glavine said.
The Huskies have completed 13 of their 19 Ways this year with more to come during their spring schedule. They host a Military Appreciation Game on May 10 and have another event scheduled for Mother's Day, May 12.
Following in a mentor's footsteps
Glavine brought the program to NU at the start of the 2015-16 academic year, and he reached out to Hughes to let him know he was adopting the initiative.
"That's the greatest compliment you could give my mom and me, to be associated with 19 Ways and to make it a part of the fabric of your program," Hughes said.
Hughes, now the head coach at Kansas State, said it was no surprise to him that Glavine chose to bring the program to Northeastern.
"Mike's that kind of person, he's a quality person, he thinks of others first," Hughes said of his former player. "He's humble, he's hardworking, all the qualities that we try to emphasize in our 19 Ways. Mike would be the perfect vehicle to continue 19 Ways at Northeastern, a school that I love and a school I have a lot of deep feelings for."
Hughes started 19 Ways at Virginia Tech during the 2009-10 season. He was Virginia Tech's head coach for seven seasons.
"It's a tool that helps mature your kids for the real world and at the same time, it helps your program because you're helping a lot of people," Hughes said. "When you do that, those people want to be a part of your program."
The two coaches had similar inspirations for their work in the community through 19 Ways.
"I did it because I was inspired by the greatest person I knew in my life, my mom, and I know Mike feels the same way about his mother," Hughes said. "To be associated with Mike, his family and Northeastern, it's just an unbelievable privilege that 19 Ways will be a part of that program, my mother's legacy, for a long, long time."
The personal side of 19 Ways
Different components of 19 Ways stand out in the minds of the players and coaches who work tirelessly to complete it.
For the NU players and coaches, that's been their work with Liam through Team IMPACT.
Team IMPACT is a "national nonprofit that connects children facing serious and chronic illnesses with local college athletic teams, forming life-long bonds and life-changing outcomes," according to its website. Liam is living with Duchenne muscular dystrophy, or DMD, a disease that weakens muscles in the body over time. He joined the Northeastern roster in 2012, taking an honorary spot.
Raising Fenway for Liam was one of the team's 19 Ways from the 2017-18 season, and it made its mark on the Huskies.
"We were helping out Liam, who's been a part of our program for many, many years now and whenever he comes around the field it's always great," Farrell said. "He brings us a lot of energy and puts smiles on our faces so the fact that we were able to do something nice for him and kind of help him, in his struggles, be part of our team was a really good feeling for us."
Liam often attends games and practices with Fenway throughout the season.
"He's a member of our team, our family," Glavine said of Liam. "The guys run in his 5K every year in Halloween costumes. Liam, you can see, is always at the field and comes to the games, he was down in Florida when we played the Red Sox. So to me, he's sort of the pinnacle of the program. He's the kid we look to, and we get as much enjoyment from him and his family as I think hopefully they get from us."
Northeastern's 19 Ways events are not always planned in advance. Sometimes, they just happen.
"There was a group of six of us probably and we saw a lady broken down on the side of the road, and we went over and helped her fix her tire," said senior pitcher and captain Tyler Brown. "It was a cool learning experience for the six of us because we had no idea what we were doing, but at the end we got to learn how to fix a tire."
For Hughes, a memorable event is the recurring Halloween ALS Awareness Night, where his team plays a scrimmage in costumes to raise awareness and money for ALS.
"The communities love it… the kids come out, it kind of drives what our fanbase is — community and kids," Hughes said. "At the same time, they get to see the personality of our players, they become connected with our guys and they start coming out in the spring. Everybody comes out of there talking about our program and talking about a disease that needs to be talked about."
Hughes has a personal connection to one of the biggest viral events of the 21st century: He coached Pete Frates, who helped launch the ALS Ice Bucket Challenge after being diagnosed with the disease while at Boston College.
"[Frates] was a player that I recruited and coached at Boston College, was a captain for me [and] instilled inspiration in me every day as a person and as a coach and as a fundraiser for ALS," Hughes said.
Another one of Hughes' former players, Chad Pinder, is now in the majors on the Oakland Athletics. Last season, Pinder was nominated for the Roberto Clemente Award, given annually to the player who best has an impact in his community through positive contributions on and off the field.
Pinder played under Hughes at Virginia Tech from 2011-13 before being taken by the A's in the second round of the 2013 MLB draft. After being nominated for the award, Pinder said he was inspired by the 19 Ways program. The comment did not go unnoticed by Hughes.
"I have greater pride in Chad being nominated for the Roberto Clemente Award than I did the day that he made his major league debut," Hughes said. "It speaks volumes of the person he is, and it speaks volumes of the way that I've approached this profession."
Hughes' Kansas State team raised money for Childhood Cancer Awareness this season, collecting about $27,000 over the course of the fundraiser.
"It's the number one fundraising effort in that specific fundraiser in the country out of every college baseball team," Hughes said. "These guys did it in two weeks."
Helping the players as much as the community
The program's impact on the way the team bonds during the course of a season is a major positive aspect.
"It's good to have guys come in and kind of see the culture of the team," said senior closer and captain Andrew Misiaszek. "We've had 19 Ways for four or five years now and coming in, we start stuff right in the fall when guys get on campus."
With the team bringing in a class of freshmen each year, it becomes vital that the new players understand the program and take part.
"Having the younger guys be able to come to events and see how everything flows and how invested us and the staff are in 19 Ways I think is really awesome," Misiaszek said. "Get those guys kind of invested in the culture of helping out the community and being a presence around Boston."
Since the program was adopted before the 2016 season, the Huskies have had a winning record each year. Prior to 19 Ways, the team had one winning season in its last six years. The Huskies made the NCAA Tournament last season after a 36-19 record in the regular season and conference tournament.
"We do a few things early in the year and right away to get the team together and get that chemistry going," Glavine said.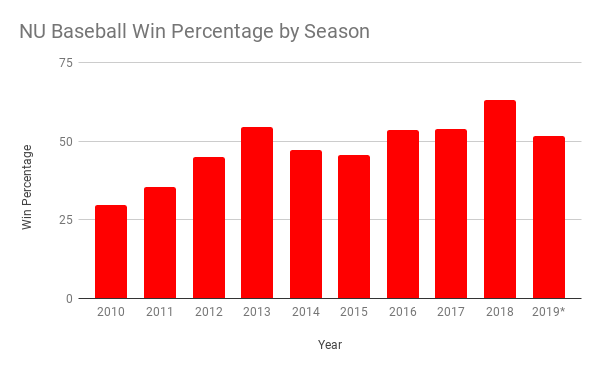 While there is nothing inherently relating the chemistry from 19 Ways and off-the-field activities to success on the field, it certainly has not hurt the Huskies, as they have achieved success in each year the program has been in place.
Although the younger players are hesitant to get involved at first, eventually it becomes a full team effort.
"Guys come up with their own events that they want to be a part of and they also all get involved," Glavine said. "It's not like six guys doing it all the time. It's 35 guys being involved in different events throughout the year."
19 Ways has enhanced the team's reputation in the Boston community and with high school players considering joining the Huskies.
"Recruits ask me about it too, that's another thing," Glavine said. "So it's taken on such a shape now that families and kids that are recruited tell me, 'Hey, tell me about that 19 Ways thing you guys do.'"
The effort is not something that the players feel is assigned to them. In fact, Glavine said the players take charge of finding and coordinating new events or campaigns.
"I just presented them the program and they took it and ran with it," Glavine said. "I got a long text the other day from Rick Burroni, I got another one from John Scheffey, I got Mike Geaslen — these are all this week without me saying anything. We're in the middle of a season, they're studying with all their classwork and they're looking to get involved in the community."
Because Northeastern has participated in 19 Ways since 2015-16, some of the freshmen that were a part of that first NU 19 Ways campaign are now seniors. More importantly, they're leaders on the team.
"They're taking control of it and [it's] being passed down to each class that comes in," Glavine said. "It's something that's not going anywhere, we're going to keep doing it."