Stop & Shop workers begin strike at Mission Hill location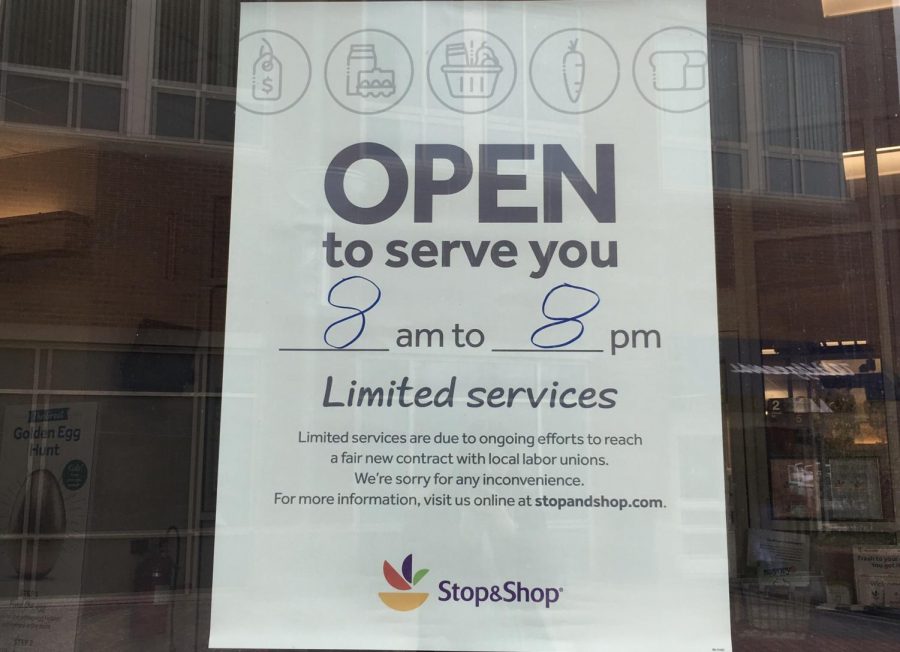 At 6 a.m. Friday, Stop & Shop employees at the Mission Hill location went on strike for better wages, pension and health care benefits. This event continues the 31,000-employee walkout across New England that began on Thursday. Workers hope this will improve their chances of cutting a better deal with the billion-dollar company.
United Food & Commercial Workers Union, or UFCW, Local 1445 organizer and steward for the store, Jose Lopes, said the strike is completely warranted given employee demands.
"We never wanted a strike, you always prepare for a strike, but that's a last resort. What we wanted was to negotiate a decent fair contract, and that's what the whole intention was," Lopes said. "Unfortunately you have to prepare for the worst, and this was the worst."
Lopes has worked at Stop & Shop since 1982 and describes the protest as a response to unfair labor practice, or ULP, which the supermarket conglomerate demonstrated with cuts in wages and job contract proposals that employees say would increase deductibles and health care premiums.
"The reason that we label it [ULP] is because they didn't want to negotiate at the table," Lopes said. "They wanted to negotiate off the table, meaning they posted our proposal right on their website, right in the store, to undermine the whole process."
Negotiations have been underway since early January with no end in sight. According to unions under UFCW, workers want their paychecks to grow larger, especially since Stop & Shop conglomerate Ahold Delhaize made more than $2.6 billion in free cash flow last year and received a tax credit of $266 million in the fourth quarter of 2018.
"Right now they want to hire people at minimum wage and don't want to increase it more than that," Lopes said. "They want to keep everything as base as possible, and we're trying to get people to give us more than that because you need one job, and not more than one job, to live."
Workers on strike say they do not know how long it will take for Delhaize to meet their demands. Crystal Shaw, a Stop & Shop employee from South Boston, said this is the first strike she has attended in the 11 years she has worked for the company. Shaw hopes the strike will only last a few days but said that she is ready for it to last weeks.
"I'll stand here until they give us what we want. I will not go back in there. I just want people to be loyal and not shop there," Shaw said.
Standing in front of the store across from the Brigham Circle Green Line T stop, Shaw pickets, yelling out for people to boycott the supermarket chain. She started at 11:30 a.m. Friday and planned to stay until 6 p.m., after which she would continue to protest at her local Stop & Shop in South Boston.
"It's my only job, 11 years in, and I'm full time. I devoted my whole life to Stop & Shop," Shaw said.
Lopes is uncertain about how long it will take before the conglomerate responds to their demands, but remains hopeful about the cause.
"I'll be out here until whatever needs to be done gets done," Lopes said. "I'll be out here, even if I have to do it alone, I'll be out here alone."
Stop & Shop did not respond to a request for comment over the phone.
Some branches of the UFCW directed members to honor picket lines while employees across New England continue to walk out. One of these branches is Teamsters Joint Council 10, which is showing solidarity for the cause by instructing members not to cross picket lines.
Stop & Shop employee Tim Joyce led a separate group of protesters by the loading dock of the Mission Hill store.
"Any of the trucks that are delivering product to the store, they're all union drivers, and they will respect the picket line, and they won't bring product into the store," Joyce said.
Joyce and the group of workers positioned themselves in front of the loading dock early Friday morning. Joyce said they believe the movement is gaining momentum from the community and beyond the New England region.
"This is every Stop & Shop in Massachusetts, Rhode Island and Connecticut, [and] we have the support of New Jersey and New York also," Joyce said. "In Mission Hill, everybody's supporting us, and everyone I know who works here is out on strike right now."
As it currently stands, the Mission Hill Stop & Shop continues to operate with a limited service time of 8 a.m. to 8 p.m. Shaw said that the strike's success will only come from community solidarity, which she hopes to see more of.
"We need everybody standing by us, and that means the shoppers, the community, the employees, the Union, everybody that stands by us is going to help us get through this," Shaw said. "We have customers that stand by us, they have kids at the high school that are actually holding the sign, going around saying 'Don't shop at Stop & Shop,' and holding signs. They're loyal. That's all we ask for, is their loyalty."
It remains unclear how long these strikes could last. What is clear is that Stop & Shop employees are determined to keep the walk out going until demands are met, and they aren't the only ones. State lawmakers and other politicians, such as 2020 Democratic presidential candidate Sen. Elizabeth Warren, stated that they are allies to the employees on strike.
"I just ask everybody to stand by us as we go through this. It's not only for us, it's our families too," Shaw said. "They're trying to take everything away from us and it's just not fair. So I'm going to stand here until they make it fair."