Op-ed: Marginalized at NU – My Experiences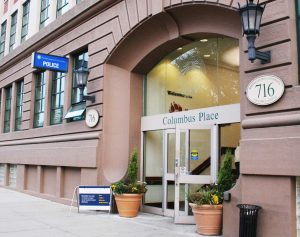 As a gay, disabled, racially ambiguous, African American man currently experiencing poverty, I am struggling to access the full range of resources Northeastern University offers its students. The institutional bias I have experienced toward my intersecting marginalized groups make me feel unheard when I speak against injustice – it's as if nobody knows my name.
Undeterred, I follow in the footsteps of my Alpha Phi Alpha Fraternity, Inc. brother, Dr. Martin Luther King, Jr. by continuing the legacy of a generation of movement scientists committed to approaching social change systematically. 
I am a 2011 alumnus and have returned to Northeastern as a MLK Fellow to pursue a masters in urban policy and eventually earn a doctorate in network science. During my undergraduate tenure, I was president of the Black Student Association, an orientation leader and homecoming king. I currently serve as the secretary of records for the Northeastern Student of Color Caucus, or NSCC. As a student who has always been active in the NU community, it saddens me that my experience has been marked with several acts of discrimination and microaggressive behaviors. 
For example, last year my classes were "purged" due to an avoidable misunderstanding involving my student loans. The university's actions effectively removed my student status, thus denying me access to financial aid and leaving me homeless. This demeaning process occurred after my assigned Student Financial Services adviser called the Northeastern University Police Department, or NUPD, because she felt my "close proximity" and "word choice" were threatening. The situation reminded me of the infamous viral videos including BBQ Becky, Permit Patty and Cornerstore Caroline, where white women weaponize the police against persons of color. An NUPD officer summoned me to an interrogation room where he attempted to coerce me into a false confession. The stress of the experience triggered my post-traumatic stress disorder and resulted in a subconscious state where I was constantly anticipating danger. The situation could've been avoided had the officers known how to better interact with students who have psychiatric disorders.  
Fortunately, I have been blessed with a strong mental health team outside of NU, which is necessary when a student has a history of negative encounters with the campus police. Last semester, as part of my narrative psychotherapy, I expressed the emotions I felt in my dreams and reality on Twitter, only to have them misconstrued by NUPD. As a result, they initiated Section 12 of Chapter 123 Massachusetts law, which mandates an "emergency restraint and hospitalization of [a person] posing risk of serious harm by reason of mental illness." The university's standard protocol is to conduct a wellness check to determine if this policy needs to be enacted. While the protocol is well intentioned, the way in which it was conducted was traumatizing for me. NUPD called to inform me that they sent seven police officers to my off-campus home so they could have me committed to a psychiatric ward because I "have a history of mental health treatment." I am struggling to understand how a UCHS psychiatrist, who I had never met, is justified in signing away hours of my freedom during finals, simply because I tweeted about a dream. 
In order to protect and serve, campus police are entrusted with the power to take away life and liberty. As students, we place an extraordinary level of trust in the people policing our campus, yet it appears as if Northeastern's policies are designed to absolve officers of any accountability. I've had several meetings with NUPD, but they are unwilling to share their policies or procedures surrounding mental health training. In response, I am advocating for a safety plan with the Disability Resource Center that details how officers should be trained to avoid triggering situations. My goal is to implement this policy under the Americans with Disabilities Act, or ADA, as I require the protections it grants to myself and others with disabilities, to circumvent the unintended health effects resulting from their behavior. Otherwise, how can we protect students from campus police when the institution fails to do so? 
President Joseph E. Aoun provides the answer in his book "Robot-Proof: Higher Education in the Age of Artificial Intelligence," in which he describes NU as a model for higher education. I believe in Northeastern University's 2025 vision, yet I am struggling to see how we get there. NUPD's behavior does not align with President Aoun's humanics curriculum, and if we don't wish to automate inequality, the university must acknowledge the humanity of those who are made targets by this institutional bias. Northeastern is proclaiming to be "leading an evolution of the profession" and I fear, if unaddressed, the bias in our university model will reproduce the same problems Aoun proclaims to have solved. 
To fill this gap, members of the NSCC are developing algorithms capable of measuring unconscious bias using Human Perception AI. In order to meet the personalized needs of our global network, we must evolve the university's ecosystem by shifting institutional power to create equitable transformations. We are advocating for the reform of university policies to ensure that no other student is put into my position –– like they are trapped in an episode of the Netflix series "When They See Us." We remain committed to holding Northeastern accountable by speaking our uncomfortable truths and welcome students to join our town halls as we actualize our collective liberation in this Age of Humanics.
Jordan E. Clark is a graduate student and Secretary of Records for the NSCC.