Men's hockey beats No. 4 UMass to open Hockey East play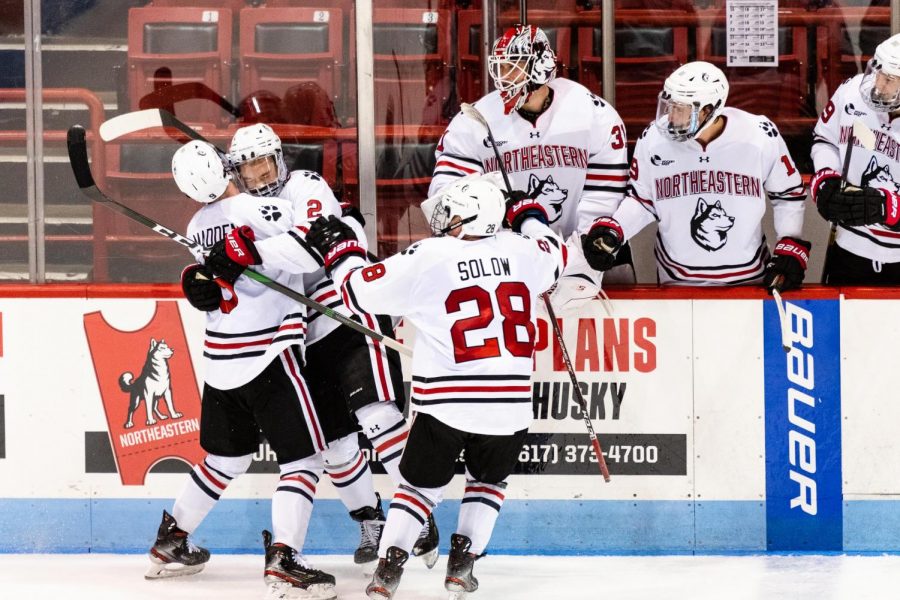 A three-minute span in the second period was all it took to turn the game upside down Tuesday night. After a lackluster first period, Northeastern seized on one dominant shift and minutes later, a penalty shot to grab a stunning 2-0 lead over fourth-ranked UMass-Amherst. Craig Pantano, the team's new starting goaltender, was steady in stopping 34 of 35 shots as NU held on to win 3-1 in their home opener.
"I think the game had a little bit of everything," said NU coach Jim Madigan. "Up and down, special teams, both teams had a 5-on-3 for two minutes. I think we're all trying to work out the kinks … end of the day, I was really proud of our guys and how they battled and competed."
The game was defined in part by penalty killing. Neither team scored on the man advantage. NU killed off five UMass power plays, and the game's final pivot point came with three minutes left in the third when NU forward Brendan van Riemsdyk took a five-minute major penalty with NU leading by just one. A PK unit led by sophomore center Tyler Madden limited the Minutemen's chances, and Pantano did the rest to seal an impressive final kill capped by an empty-netter from junior Zach Solow.
Madigan said the penalty kill unit has forged an "identify within the unit" this season.
"They take pride in it," he said. "We're up a goal and they're on the power play for the next three minutes, and then if they score, into overtime … I mean, they took it upon themselves and I don't think [UMass] got many good looks in those last three minutes."
The first period was a slow affair for both sides. The game saw a combined six shots in the first 10 minutes, and the frame ended with UMass up in shots, 9-4. None were terribly high-quality, though, and neither team skated off with any momentum.
When UMass took the ice for the second period, they brought some serious penalty trouble with them. First they had to kill the remainder of a late first-period penalty, which they managed to complete. But two penalties at 2:51 and 2:59 of the second (by Jack Suter and Zac Jones) dealt the Huskies almost a full two minutes of 5-on-3 advantage. NU didn't score, but they built some momentum and kept it.
NU evened out the shot counter and controlled play. After a stretch of more than a minute of cycled possession in the UMass zone, NU freshman forward Matt DeMelis finally broke UMass goalie Matt Murray's dam. The goaltender was sprawled on the ice after making a save and all the Hingham native had to do was lift it into the net.
The higher-ranked Minutemen were on their heels, and it showed. About three minutes after DeMelis' tally, sophomore defender Jordan Harris took a pass going up the middle and got behind the defense. He was tripped on his way to the net and drew a rare penalty shot. He skated to the right of the goal and slipped a changeup of a shot past Murray to double the NU lead.
One moment UMass was amped up after killing a 5-on-3 disadvantage, and three minutes later NU held a 2-0 advantage.
"We looked immature on the back end tonight," said UMass coach Greg Carvel, noting the three freshmen featured in Tuesday's defensive group.
UMass turned the tide back in the third and outshot NU 17-6 in the period. They made a game of it at 6:48 of the frame when freshman Matthew Kessel scored his first collegiate goal on a slap shot through a screen of NU defenders. The shots kept coming, but Pantano managed to stop the rest of them.
At 16:57, van Riemsdyk took a spearing penalty and after a review he was sent off. NU faced the prospect of killing a five-minute, non-expiring penalty. Even if they managed to hold the Minutemen to one goal, UMass would have two minutes of advantage in the ensuing overtime.
None of that came to pass, though, because Madden's kill unit pressured UMass for much of the three minutes and Pantano came up with a few final timely saves. Solow made a nice play to outskate defenders and deposit the puck into an empty net with 12 seconds left to end it.
Post-game notes
—NU has yet to score a power-play goal this season on 16 attempts. Tuesday they had 1:52 of 5-on-3 time in the second period with the game tied, and couldn't convert — though on a couple chances they were truly robbed by UMass goalie Matt Murray.
Madigan quipped after the game when asked how he liked his team's power-play operation: "Our power play? Did you watch it today?" But in further remarks, he didn't sound particularly worried about the unit.
"We had some good looks on the 5-on-3, we couldn't score but we had some good looks," he said. "We just need to play together a little bit more and look for the best option."
—Last year's home win over UMass was in large part due to the heroics of goalie Cayden Primeau, who stopped 43 of 44 shots. Tuesday, the 2019-20 Huskies' goaltending questions were answered, at least for one night. Pantano did all that could have been asked of him in fending off a third-period onslaught.
He's stopped 83 of 86 shots to open the season with three wins — two on the road, and one over the No. 4 team in the country.
—Madigan said freshman defender Jayden Struble, who has yet to debut after sustaining an injury in the preseason, is "close" and "day-to-day." He said the same of freshman forward Aidan McDonough.