Baker's proposed healthcare bill highlights primary care, mental health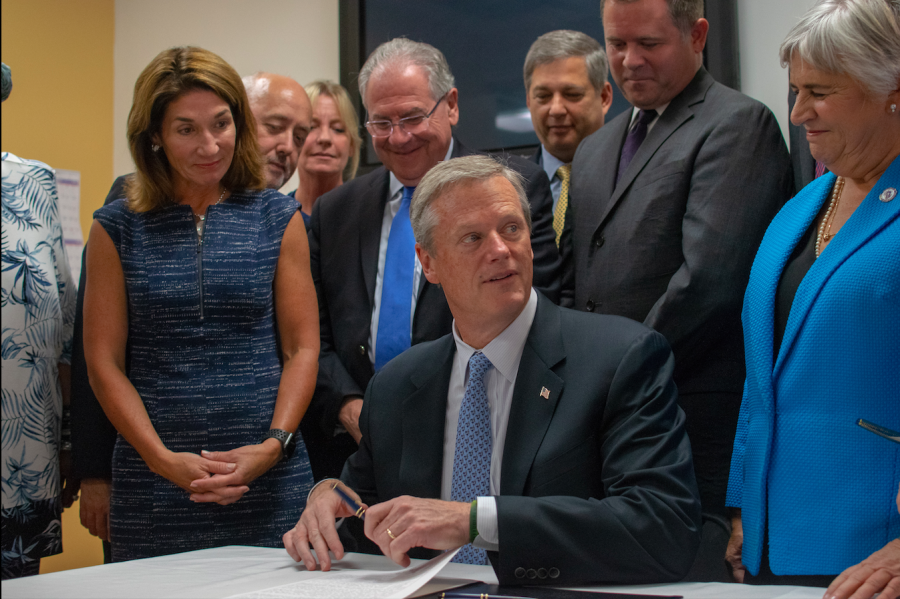 A proposed bill seeks to reform the healthcare system in Massachusetts by forcing providers to invest more money into primary care and behavioral health and regulating healthcare companies to ensure their prices are fair to consumers. However, critics worry the bill overlooks the complexity of the current healthcare system. 
The H.4134 bill was introduced earlier this month by Gov. Charlie Baker. It includes initiatives to reduce healthcare costs and physician wait times. If it passes, hospitals, physician groups and insurance companies would be required to increase primary care and behavioral health spending by 30 percent by 2023 without increasing their overall costs. 
The bill also restricts the use of certain hospital billing practices that can add thousands of dollars onto a patient's medical bill. For example, many providers charge facility fees for patients who are treated at a clinic the doctor doesn't own, such as a hospital. These bills can range from hundreds to tens of thousands of dollars and are not covered by most insurance companies. 
While H.4134 does not ban facility fees altogether, it does require that providers do more to inform their patients about the fees by posting signage and providing cost estimates before admitting and treating patients. The bill also bans surprise fees altogether, forcing providers and insurers to cut down spending in other areas to meet the new requirements. Providers will be required to submit annual progress reports and state regulators will implement an "improvement plan" for those who fail to meet the new standards.
"For the most part, national payors, including Medicare, use payment policies that favor technology and transactional medicine at the expense of primary care, mental and behavioral health and addiction services," Baker said in a statement to the Massachusetts Senate and House of Representatives. "This makes any decision to deviate from that model — for example, to offer more mental health services — extremely hard to do."
Long wait times have been a persistent obstacle for those seeking mental health treatment, often due to lack of providers. A 2018 survey from the Blue Cross Blue Shield of Massachusetts Foundation found that half of Massachusetts adults who sought behavioral health services had difficulty accessing care. 
Reimbursement rates for mental health services are generally lower than rates for other forms of care, making behavioral healthcare far less profitable. Those who work in mental health are hopeful that the influx of funding for behavioral healthcare will help reduce barriers to treatment.
"A lot of the money [in healthcare] has been siphoned away to services that are specialized or technology-based, so a lot of money is going to dermatologists or MRIs instead of preventative care," said Monica Garlick, vice president of quality management at Riverside Community Care, a behavioral health community-based organization in Massachusetts. "So the idea of putting money into behavioral health care and primary care, and such a significant amount, is a huge step in the right direction."
Garlick says most mental health professionals in Massachusetts work in private practices and can charge high rates, so behavioral healthcare is often inaccessible to low-income patients. Community-based behavioral health providers like Riverside Community Care often struggle to find psychiatrists and psychologists to work in a community-based setting due to the comparatively lower salaries. 
"There's not a lot of people who are available to do the work," Garlick said. "And then maybe they come in the door and they say, 'Yes, I'm interested.' And we tell them what we are capable of paying, and they say, 'No thanks,' and they walk away because we can't pay them enough."
The bill also addresses the high cost of medication, calling for a panel to evaluate drugs that cost more than $50,000 and ensure that the manufacturing companies have fairly priced the drug. Companies that hyper-inflate the cost of their medication or raise the cost too quickly will be fined for each unit of overpriced medication sold.
While the cost of healthcare is a growing problem for most Americans, some are skeptical about whether or not the bill will effectively address the issues.
"One of the things that legislation like this assumes is that healthcare is generic enough that you can regulate it with generic regulations," said Associate Director of the Health Informatics program at Northeastern Jay Spitulnik. "I think that a lot of the providers are going to take a step back and look at this and say, 'this can't apply to us because…' and they will have various reasons about how their practice can't fit into the mold that the governor is trying to create."
Baker, who spent a decade as the C.E.O. of Harvard Pilgrim Health Care before entering politics, already has a long legacy of healthcare and public health reform. In September, he classified vaping as a public health emergency and issued a temporary ban on all vaping products. If his new bill passes, it will force healthcare providers to invest in preventative care and make healthcare more accessible for everyone. 
Critics worry that it may be an overly simplistic solution to a much deeper set of problems within the American healthcare system. Garlick pointed out that one of the biggest drivers of healthcare costs is legal fees from insurance companies and healthcare providers negotiating contracts, which the bill does not address.
"There is just this massive amount of money that goes to lawyers in health care that doesn't go to providers at all," Garlick said. "That's where I'd like to see money go away."