Reach(OUT) Conference explores LGBTQ+ experiences in internships, co-ops, jobs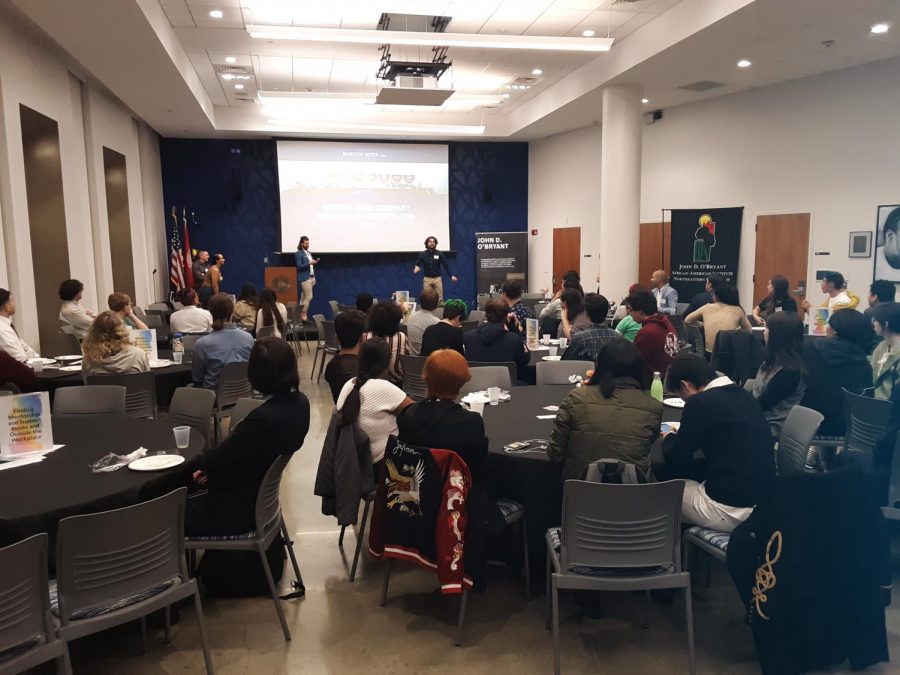 At the sixth annual Reach(Out) LGBTQA+ Career Conference on Oct. 26, professionals and students convened to discuss workplace empowerment, inclusion and other professional development topics. 
The day-long event, held at the John D. O'Bryant African American Institute, included  three breakout sessions throughout the day that showcased professionals from a variety of fields, with big-name companies like Google and Fidelity represented on the panels. 
Winson Wang, an associate at TD Bank, was among the panelists.
"I think it is important that the next generation sees people that look like themselves in the workplace and in leadership positions so they can know that it is attainable for people in our community," Wang said. "Whether it be women, whether it be LGBTQ, people of color, I think it is important to have visibility out there. Showing people that there is someone like you that has achieved these great things and you can too."
Brenda Cole, the content creation and social media manager for Fenway Health and a Northeastern alumna, was also a panelist at the event. She expressed her happiness in seeing so many young people in the LGBTQ+ community coming to a conference like this one. 
"This is my fourth year as a speaker, and I look forward to it every year because it is a great opportunity to connect with students," Cole said. "I would have loved this when I was a student here. I would have lived for this. I don't have a lot of money to give back, but I do give back time, and Northeastern was a big part of my career."
The panels were geared toward strategies people in the LGBTQ+ community can use to handle common struggles like microaggressions, corporate culture and gender presentation when they explore co-op, internship and career opportunities in the future. Many of the accounts shared were personal and perspective-driven to give audience members ways of thinking and problem solving. 
"It is good to know, especially since I am a senior, and I am going into a full-time job search soon and definitely need to pay more attention to certain workshops that apply more to me than they did in the past," said Maeve O'Sullivan, a fourth-year communication studies major. "I attended them in the past and thought, 'Oh, this is something I'll have to think more about.'"
The event had two networking sessions that gave students and professionals an opportunity to fully digest the material presented in the panels. 
Audrey Grace, director of Northeastern's Office of Institutional Diversity and Inclusion, moderated the 'Know Your Rights' panel. She said the panel helped inform students on their rights as employees, especially those in minority groups. 
"One of our speakers were talking about how the businesses, communities and employers are recognizing that the next generation of LGBTQ professionals know about their rights, talk about their rights and they know how to research the state laws around their rights. They know the state laws are not enough," Grace said. "I think the next generation that will enter the workforce is going to make a lot of change in terms of culture shift."
The major takeaway from the event relayed by many panelists was for students to be their "true authentic self" when applying to jobs and internships.
"It's incredibly valuable. I remember when I was entering the workforce … I was terrified about being a queer person at work and I remember, I went to my first interview wearing a woman's suit because I didn't feel comfortable dressing the way I wanted to," Cole said. 
Cole emphasized the snowballing effect of representation in creating comfortable, safe work environments.
"If I had seen other professionals, I could've seen a future for myself that I didn't at the time. So, I just think you cannot just survive, but thrive in your careers as an out queer person," Cole said. "It is so valuable to the morale of students entering the workforce."