From NCAA scoring leader to Pittsburgh depth player: Zach Aston-Reese has found an NHL home
December 4, 2019
Zach Aston-Reese and Adam Gaudette are very different hockey players, but they do have a few things in common. They're both former stars of Northeastern men's hockey. They are both in the small group of players most responsible for the program's upswing in the 2010s. They both reside on NHL rosters now.
The two forwards took different paths to the NHL, but those roads met on Nov. 27 when Gaudette (who left NU after 2017-18) and Aston-Reese (2016-17) faced off in NHL play for the first time. Aston-Reese's Pittsburgh Penguins defeated Gaudette's Vancouver Canucks, 8-6 in Pittsburgh.
Both players had a big impact in that game, and they likely will remember it less as a reunion and more as a rollercoaster with eight goals in the third period. In fact, Aston-Reese said the day before the game that he hadn't even realized it would mark his first on-ice meeting with Gaudette since their Northeastern days.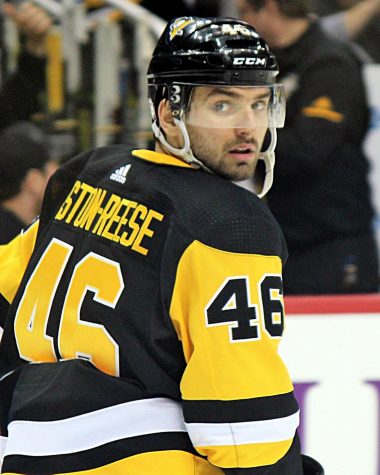 "We're taking it one day at a time, so I wasn't thinking too far ahead," Aston-Reese said the day before the game. "But it'll be exciting to play against him for sure. I think he's doing pretty well. I'll send him a text."
He said he and his former teammates keep in touch through a group text, though he doesn't tend to keep track of their statistics. Northeastern head coach Jim Madigan said the coaching staff is sure to keep tabs on its alumni in the pros, as well.
"We're happy for their success whether at the NHL or the AHL level, and we watch the results every time they're playing," said Madigan, who is in his 9th year coaching the Huskies. "You know, we're proud of them. And they follow us, on top of it. As we follow them, they're responding back about our team."
Madigan said the communication doesn't get too technical. Sometimes, the point of a text message is to offer encouragement to a player when the results on the stat sheet aren't quite there.
The stats certainly haven't always been there for Aston-Reese in the NHL. Since he signed with Pittsburgh shortly after the 2016-17 NCAA season, he's been hampered by injuries, bottom-six deployment and AHL assignments. But the Staten Island native finds himself in his third full professional season with a secure NHL roster spot.
Top-scorer to fourth-liner
For Aston-Reese, the transition from Northeastern to the NHL meant going from being the NCAA's leading scorer to being a bottom-six forward while struggling to stay healthy.
In his senior year at NU in 2016-17, he piled up 31 goals and 32 assists in 38 games. In his first full professional season in 2017-18, he posted six points in 16 games with the Penguins, and 29 points in 41 games with the Penguins' minor league affiliate in Wilkes Barre/Scranton. He went from playing on the top line and scoring more than 1.5 points per game to skating as a depth forward and scoring well under one point per game.
"It almost feels like you lose your touch to score a little bit," he said. "That's part of being a pro."
Aston-Reese said he was able to get through the first stretch by drawing from his experience making the jump from prep hockey to Northeastern.
"When I started at Northeastern I was on the fourth line playing bottom six. I was there pretty much my first two years," he said.
Even now that he has 86 NHL games under his belt and isn't in danger of being sent down to the minor leagues, it's unlikely that he'll see extended time on the top two lines. The Penguins are an offense-heavy team, and they have been since before Aston-Reese was born. Their top-six is filled by the likes of Sidney Crosby and Evgeni Malkin (two sure-fire Hall of Famers), Jake Guentzel (a current top-10 goal scorer), Patric Hornqvist, Bryan Rust and others.
"There's a lot of good guys on this team and even though we're playing fourth line, we're playing 12 to 16 minutes a night," Aston-Reese said. "Most NHL teams, a fourth line is lucky to see eight. So coach trusts us and he puts us out there in key situations."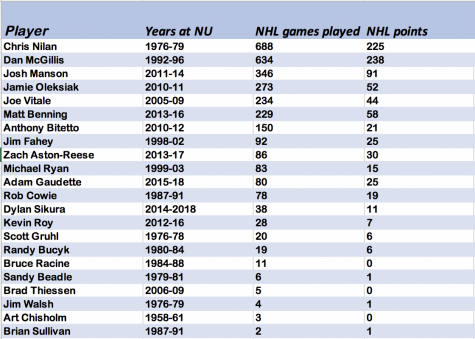 Madigan said Aston-Reese has been able to hang onto an NHL roster spot despite not scoring in high quantities thanks to his attention to detail.
"When you have great details like that, from a coaching perspective you use players like that in all situations," Madigan said. "Because they're deep offensively, they put him into a — I don't want to say defensive forward role — a player who's a thorough bottom-six player and killing penalties.
"Certainly I think he has the ability to be a 20-goal-scorer in the NHL. He hasn't been given those opportunities because of the depth of their team, and you can understand it when you see the players. Right now as he's continuing to carve out his role in the NHL, and I think that will increase over time."
Aston-Reese said he appreciates the trust that Penguins head coach Mike Sullivan has placed in him and his linemates.
"We play a lot of special teams like penalty kill, five-on-threes, four-on-threes in overtime. I've been given the opportunity to go out there and get the job done," Aston-Reese said. "It's a little bit different, but it's not a particularly difficult transition."
Etched in NU hockey history
Aston-Reese and Gaudette are two of the most prominent players that figured into the program's rise from a long period of irrelevance to winning two Beanpot championships and two Hockey East championships in the late 2010s.
Aston-Reese was an alternate captain in 2015-16 when Northeastern won its first Hockey East title since 1988. He scored 43 points in 41 games that year. Gaudette won the Hobey Baker Award as the NCAA's top player in 2017-18, the year NU ended its 30-year Beanpot drought. He went 30-30–60 that season and tallied a hat trick in the Beanpot championship game against Boston University, of all teams.
Looking back on the program's run through the 2010s, that Beanpot breakthrough likely stands out more in the minds of most of the team's fans. It may have felt more cathartic. But the Hockey East title paved the way for the success to follow, and that title is the biggest team accomplishment on Aston-Reese's resume.
"I don't think Punter's Pub is still there anymore. We had a good night there and that was probably my best memory there," Aston-Reese said of the March 21, 2016 championship win.
He said he watched the 2018 Beanpot on his laptop, a year after he played in the tournament and NU failed to win it for the 29th straight year. The 2018 championship was won on Feb. 12, and Aston-Reese's Wilkes Barre team had an off-day.
"I was really excited for all the guys, and then to see them do it again [in 2019] that was pretty awesome," he said. "It kind of sucks that I wasn't able to get [a Beanpot win], but I think our senior class, myself, Johnny Stevens, all the guys are pretty happy because they left behind a good mark and a good legacy and those guys picked it up."
Looking back
Young hockey players have numerous options when it comes to prepping for the NHL. Unlike basketball, there's no mandate to play in the NCAA. Players can play in junior leagues or play internationally. Aston-Reese said college hockey has unique benefits, and that started with the supportive coaching staff at NU.
"They believed in me a lot," he said. " [Associate head coach] Jerry Keefe, I had the best relationship with him hockey-wise. Just what they expected of us was so high. They wanted to turn things around.
"And Jim Madigan was always there. There was one time I had some issues off the ice and he had his door open for me to come in and talk to him. He cares so much about the players beyond hockey. You have all three areas covered. It helps with hockey, it helps with school, it helps with your life in general."
He said playing college hockey gives players a backup plan of sorts, in case the NHL doesn't work out. So far, and for the foreseeable future, the NHL is working out for Aston-Reese and Gaudette.
That game Nov. 27 at PPG Paints Arena in Pittsburgh, Gaudette scored twice as the Canucks built a 6-3 lead in the third period. But the Penguins came all the way back, putting up six goals in the third period to win, 8-6.
The tying goal to make it 6-6: Aston-Reese picked up a rebound in the slot and wristed it past Vancouver goalie Thatcher Demko. Penguins defender Kris Letang got the game-winner a few minutes later.
Back in their college days, Gaudette one-upped Aston-Reese by winning the Hobey Baker (Aston-Reese was a finalist and didn't win, despite leading the country in scoring).
In their first NHL meeting, "ZAR" got his old teammate back with the tying goal and the win. There's a decent chance this came up in the former teammates' group text.