Beanpot final preview: BU stands between NU and third-straight trophy
February 9, 2020
In 2018, Adam Gaudette's hat trick and game-sealing rifle into the empty BU net ended thirty years of misery at the Garden (both old and new) for NU fans and alumni alike. In 2019, Tyler Madden shot through the BU D-line and scored the overtime winner for Northeastern en route to the Huskies' second title in a row. And in 2020, after besting Harvard 3-1 in the first round, Northeastern will see a familiar dog across the ice when starting lineups are announced Monday evening.
For the third straight year, archrivals Northeastern and BU will meet in the Beanpot. As Northeastern looks to win its third straight trophy, the Terriers are looking to win their first since 2015.
Both teams come back to TD Garden limping after taking big losses to inferior teams: BU lost 5-1 at home to Merrimack and NU took a 4-2 loss at Maine. It's easy to write off these performances as fatigue or a lack of focus, but the real answer is that both teams are very inconsistent: for each big win the teams have managed, there is a poor performance against a team they should've beat.
Nevertheless, one of these two teams will raise a trophy Monday night. Let's see how they got here.
Beanpot performances
Northeastern played well in their first round date with Harvard — definitely above a good portion of their performances this year. The Huskies netted once in each frame, effectively utilized their power-play chances and had their penalty kill put to the test against the nation's No. 1 power-play unit. Special teams held strong, including killing off a nearly two-minute 5-on-3 at the start of the third period, to give the Huskies not only a big win in the Beanpot, but also for their national ranking over No. 17 Harvard.
The same can't be said about BU. For 54 of the game's 60 minutes in regulation, BU was put to the sword by the Eagles. Freshman Ashton Abel made some big saves to keep the Terriers in the game, but ultimately the only reason BU is through to the final is a six-minute stretch in the third where they scored thrice, coming back from 3-1 down to take a 4-3 lead. BC inevitably scored in the final minute of the third to send the game to OT. This did not look like the same BU that beat UMass Lowell 5-0 just over a week prior.
Still, the Terriers are through to the final with a win over the No. 4 Eagles. Freshman Wilmer Skoog lashed in a rebound in the second overtime period late Monday night, and now the Terriers have a chance for some hardware and a banner in the rafters.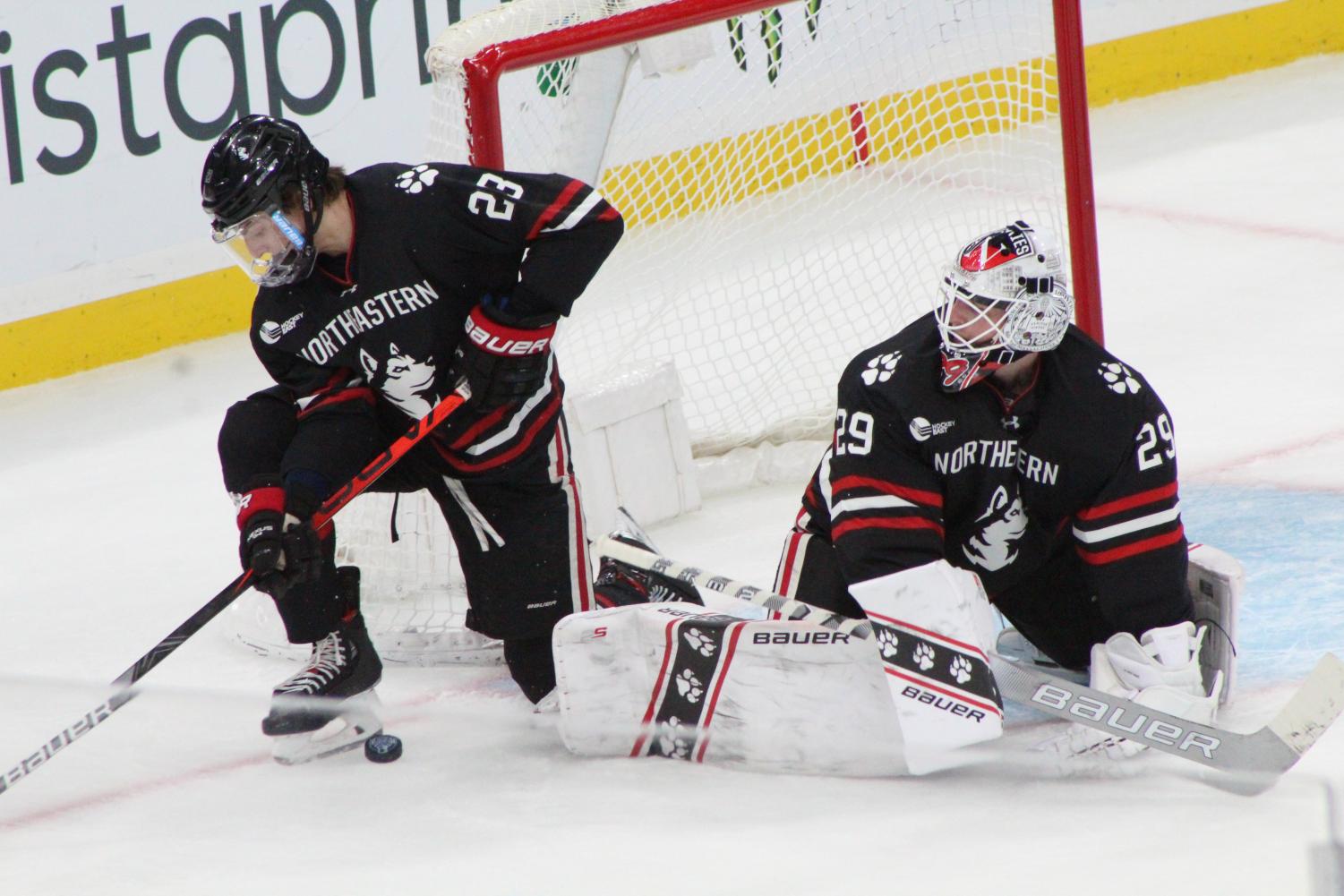 A closer look at Northeastern
This is Tyler Madden's team. The sophomore has 35 points (17 goals, 18 assists) this year and has a good shot at being named a top-10 Hobey Baker finalist by the end of the year. Junior Zach Solow (12-15-27) is stepping into an even larger role this year and has commanded the second line well for the Huskies. Solow has scored in each of the last three games, including the first goal against Harvard.
Senior captain Ryan Shea is scoring points at a much better clip than he was last year. He has 25 (four goals and 21 assists) through 25 games, compared to 3-13-16 in 39 contests in 2018-19. He has done a commendable job leading a blue line featuring at least three freshmen most nights.
Early-season wins over No. 4 UMass and No. 14 St. Cloud State (on the road in one of the hardest home environments in the country) stick out, as does a 2-1 record against Providence, currently ranked 10th in the USCHO poll. Still, the slate features a lot of single points where two were up for grabs, and a lot of zeroes where the team was expected to perform better. UConn and UNH both beat NU in overtime recently.
The freshman with the biggest impact on the team is forward Aidan McDonough. Eight of his nine goals this year have come on the power play, which is tied for third in the nation. He has also added 12 assists.
Fifth-year transfer Craig Pantano is a mainstay in the Northeastern lineup — he's started every game this season. And he's been good: a .915 save percentage and 2.42 GAA certainly aren't astounding numbers, but they're enough for Northeastern to be consistently ranked in the top-20 nationally, darting up a spot this week to No. 12. His experience in net is helping the young NU D-corps punch above their weight or, more accurately, their age.
Northeastern's PK unit is tops in Hockey East, killing at a 87.9 percent rate. They've taken 125 penalties for an average of 13.8 minutes in the box per game (including 33 PIM against Maine). That number is not ideal. While BU's power-play conversion isn't elite at 22.1 percent, they will still need to watch their time in the box in order to have control.
Does Northeastern have the composure to keep BU off the power play? Questionable decisions by two freshmen defensemen led to the long 5-on-3 that Harvard failed to capitalize on. While NU is remarkably good on the PK, NU head coach Jim Madigan will likely want his team to avoid the penalties, as any coach would.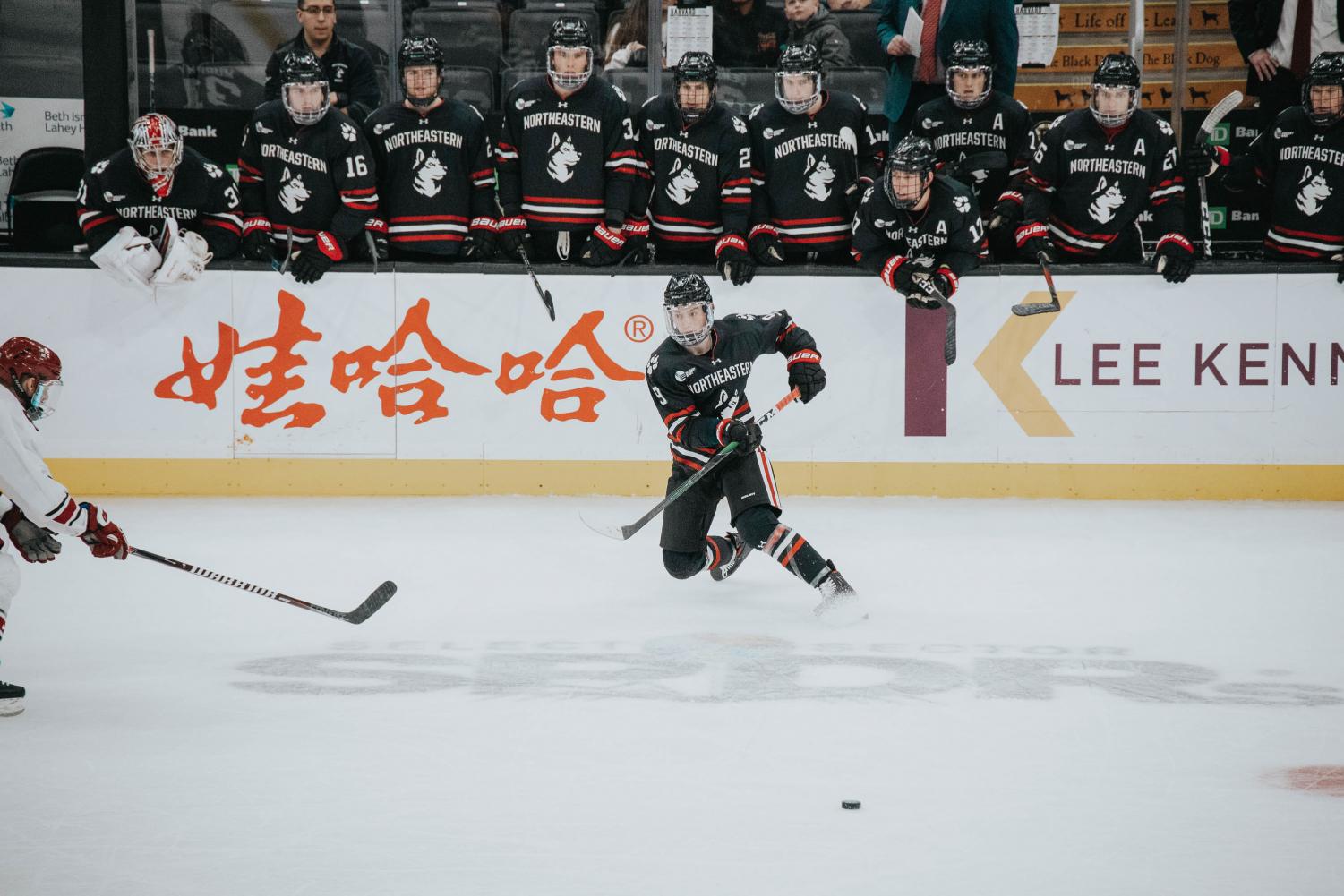 BU under the lens
A look at BU reveals a team that fiercely defends its home ice and has been boosted by the addition of two freshmen during the holiday period, but still shows that same inconsistency that has plagued Northeastern.
The Terriers stand with an impressive 7-3-3 home record but a poor 3-5-3 record on the road. The scalps they've taken at home are equally impressive — a 4-3 win over No. 5 UMass, a 5-2 win over No. 12 Harvard and a Dec. 7 6-3 victory over NU in their only meeting so far this season. But the most impressive of all is a dominant 5-0 Jan. 24 win over No. 12 UMass Lowell with Abel making only his second start.
Northeastern has improved since the last time the two teams tangled, but so has BU. The addition of freshmen Skoog and Abel, who joined the team in December after starting the year in junior leagues (the North American Hockey League and Alberta Junior Hockey League respectively), has sparked this team to a string of strong results.
They took three points from a weekend set with UMass Lowell, drawing 2-2 on the road in addition to the aforementioned home win. They lost one-goal road games to Dartmouth and No. 5 BC, beat Brown in OT (with Skoog scoring the winner) and travelled to Vermont, coming home with a strong 4-2 win.
Of course, any mention of BU's freshmen is incomplete without bringing up Trevor Zegras. The forward has scored eight goals and supplied 19 assists so far this season. His 27 points are third on the team.
BU's top five scorers are junior blueliner David Farrance (12-20-32), senior forward Patrick Harper (12-19-31), Zegras, senior forward Patrick Curry (15-10-25) and freshman forward Robert Mastrosimone (7-9-16). Abel will likely get the start in goal.
Farrance is the power-play maestro. His eight PPG, like McDonough, are tied for third in the country, and his 17 points are third in Hockey East.
The kill isn't the best (81.2%) and BU is only a net +2 on special teams (for context, NU is net +13).
Since BU last won the tournament, an entire graduating class has come and gone. Surely these BU seniors, namely Curry and Harper, will do what they can to give their class a trophy before they move on.
Which BU will show up Monday night? Will it be the unit that put UMass Lowell to the sword? Will it be the team that gave up five at home against lowly Merrimack? Or will it be the high-flying BU that scored three times in six minutes against BC?
At the same time, which Northeastern will take the ice? Will it be the team that beat No. 8 Providence and No. 17 Harvard in back-to-back games? Or will it be the side that took two straight overtime losses to UNH and UConn?