Without virtual commencement, students fill the void with at-home celebrations
Toyin Yusuf graduated from Northeastern last week, but there was no cap and gown, no ceremony in TD Garden and no parties with her family and fellow graduates. Instead, Friday was just a normal day, though her parents did buy a cake.
"At least I know I graduated," she said with a laugh. 
High school and college graduates worldwide have reached a long-awaited milestone this spring without the fanfare they were expecting. The COVID-19 pandemic forced schools to cancel planned events, and efforts to replace them with online alternatives have varied.
Northeastern did not have a university-wide virtual ceremony, and some colleges and departments didn't hold one either, leaving many students to create their own graduation day festivities.
Angela Bersani, who graduated with a degree in communications studies and media and screen studies, bought her own cap and gown on Amazon and posed for photos in her front yard. 
"My family and I made the best of a less-than-ideal situation by celebrating as much as we could," Bersani wrote in an email to The News.
Jen Zhang, a new owner of a degree in political science and supply chain management, couldn't celebrate with her family at all because she didn't want to risk transmitting the disease by traveling home to Delaware. She's staying in a Somerville apartment with roommates. 
Some students had interactive virtual celebrations via video conference with their academic department or school, but many others only received a pre-recorded speech and a list of graduates. Many students were confused about what events were offered, and some found out about them after they occurred. 
NU causes confusion among graduates
Originally, graduating students were told Northeastern would put on a full, university-wide commencement ceremony online. In fact, the university announced such an event in an email to students on March 17. The email, signed by President Joseph E. Aoun, indicated that NU would try to schedule in-person celebrations in the future, but an interactive virtual gathering would take place on May 1, which was the original date for the ceremony. 
"Consistent with the university's rich tradition, we will feature an inspiring address from a pioneering individual who has expanded the frontiers of human knowledge, possibility, and achievement," Aoun wrote on March 17. "And we also plan to offer new opportunities for interconnecting the Northeastern family in ways that further enrich this virtual event."
Three days later, Provost James C. Bean sent a followup email on March 20, responding to a wave of community feedback about the March 17 announcement. This message reiterated the administration's commitment to planning in-person celebrations once it's safe to do so.
"We are buoyed by your responses, that you would be willing to rejoin us at a later date," Bean wrote. 
The message did not explicitly state that the May 1 virtual commencement ceremony was cancelled, though it later became apparent that that was the case. Students came to realize at different times and through different channels that there wouldn't be a commencement ceremony at all.
Kathryn Garcia, who graduated with a degree in cultural anthropology, found out from a post in the "NEU Polls" Facebook group just three days before the ceremony would have taken place. Zhang had a similar experience with the university's messaging.
"I was really confused," Zhang said, "because we got the initial email that we were going to have a virtual commencement and I thought, 'Okay, that sucks, but it's better than nothing.'"
Some colleges and departments planned their own festivities. Garcia said the College of Social Sciences and Humanities didn't have a virtual ceremony — students were sent a pre-recorded video from the dean. 
"It's really sad and disappointing. I worked really hard at Northeastern and it's very frustrating that we haven't had a lot of communication," Garcia said. "I think they've tried … But it's just really sad."
Yusuf, who earned a degree in computer engineering, said the College of Engineering created a website to acknowledge graduates, with a video message from the dean as well as a list of the graduates.
"That's when I actually recognized my graduation, looking through the list and seeing my name there," Yusuf said.
Zhang finished her degree in December but was planning on taking a personal day from her new job as a market researcher to celebrate on May 1. 
She said she received an email informing her of the political science department's virtual ceremony the day after it occurred. She said the D'Amore McKim School of Business only offered a webpage with a list of graduates. 
"Since I graduated in December, it was always like, 'Oh, that's just a thing that ended,'" Zhang said. "So I guess I was maybe more prepared than the spring graduates. But it sucked nonetheless."
Bersani said she felt lucky she took part in two virtual ceremonies, and while she wished they were in-person, the week was still special. She joined a video call for the Explore Program for undeclared students, and with only 16 graduates, it felt intimate and personal.
She also took part in the College of Arts, Media, and Design's virtual ceremony, which featured award and honors presentations and alumni speeches. She said the communications department held a virtual happy hour afterward, which allowed her to chat with faculty she didn't get a chance to thank.
"I thought CAMD did a good job of highlighting the talent and achievements of students, staff, and faculty," Bersani wrote to The News. "It was also so nice to be able to send the livestream link to my family so that they could all watch."
Celebration at home 
Instead of the parties and brunches that usually fill a graduate's spring schedule, Zoom calls and modest home celebrations had to suffice this spring.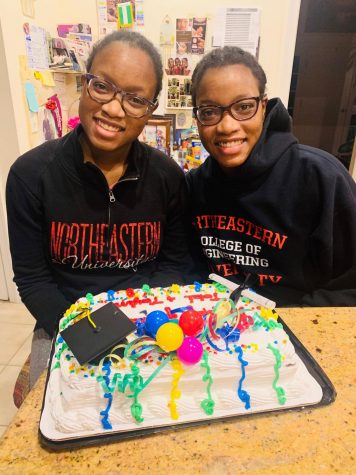 Garcia tried to make the day special by getting takeout from her favorite vegan restaurant in San Diego. She enjoyed it with her partner and her mother, but other than that, Friday was a pretty normal day.
Zhang and her friends organized their own commencement ceremony on Zoom and took turns announcing their degrees.
"We said any accomplishments from our undergraduate careers we wanted to highlight, and then we clapped for each other and drank for each other and had fun," Zhang said.
Bersani posed for cap-and-gown photos in her front yard. She held an empty frame, which will someday hold her diploma. Diplomas will be mailed to graduates "this year," according to Provost Bean's email. 
It's unclear when the class of 2020 will be able to celebrate together in one place. Asked how she felt as her college career ended on the internet, Zhang said, "I'm really looking forward to when we can finally all be together."