Viral TikTokers at Northeastern: LexLyfe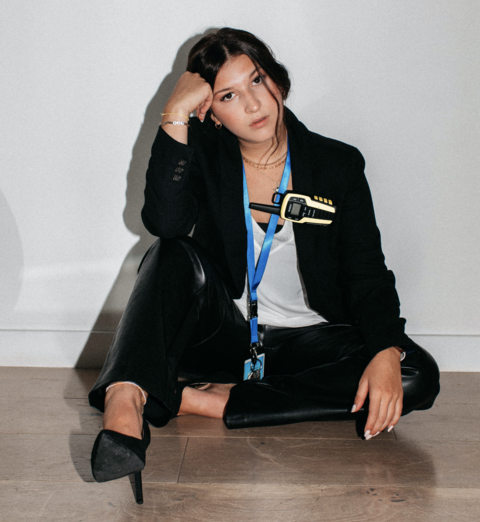 As TikTok users scroll through the "For You Page," they may see videos of Principal Janet with her in a white blouse, a clipped yellow walkie-talkie on her blazer, blue lanyard and loud chewing gum. In these popular point-of-view videos, or POVs, content creators act as if they are speaking to the viewer face-to-face. One of TikTok's most popular POV creators, and the face of Principal Janet, happens to be right on Northeastern's campus. 
Lex Morales, a second-year business administration and design double major known as @lexlyfe on TikTok, has amassed 1.2 million followers for her POV videos, where she plays the role of school employees like Principal Janet, guidance counselor Sarah and coach Tim. Morales said roles like Principal Janet are inspired by her mom, who is an elementary school teacher. 
"[My mom would always] tell stories about what happened at school," she said. "My mom is this crazy mean teacher, and so I was kind of like, 'Let me channel my inner mom and make her a principal character,' and that's where I kind of got the idea for Principal Janet."
Her first video as Principal Janet, captioned "POV: the principal at your school comes in to do her monthly evaluation without disrupting the class," has received 11.7 million views and 3 million likes since it was posted on June 26. 
The overwhelmingly positive reception to her videos has been "crazy" and "surreal," she said.
"[That video] completely blew up," Morales said. "My followers started increasing [on] Instagram, and people started reaching out –– that was about two months ago. These past few months have just been insane."
Morales now lives in Los Angeles part time, where she recently joined a content house, known as the Factory, where fellow TikTokers band together and create videos with each other. The Factory posted its first video on TikTok on Sept. 10, showcasing Morales and other members of the house like Duke Depp, who went viral for his impersonations of Willy Wonka. 
"The Factory was originally a joke," Morales said. "We went to this house and we were like, 'We just want to spend a week in L.A. and we just want to collaborate with a bunch of creators.'"
By the time the group was in L.A. and began to collaborate with each other, they realized the idea of forming a content house wasn't as crazy as it seemed. 
Following the creation of The Hype House last year, one of the first content houses established by creators on TikTok, many creators on the app have followed suit. Since then, the app has seen the formation of several other content houses, ultimately establishing a sense of community. 
As a creator thus far, Morales notes that she has felt nothing but welcome not only from TikTokers in her own house, but also other creators in other content houses. 
"Everyone kind of knows everyone in the TikTok community," she said. "They're all so welcoming. Everyone wants to collaborate, and everyone wants to hang out." 
Discussing her plans with the app, Morales said she is unsure of what the future will hold for her as a creator on TikTok. 
"I'm still at that [point] where I don't know what I want to do," Morales said. "Do I want to move to L.A. full time and be a content creator? Or do I want to slow down with TikTok, stay in school and just wait it out?" 
While her plans as a creator are still uncertain, Morales intends to make the most of her platform for as long as possible — one call to the principal's office and a shaken salad at a time.  
"It all genuinely just started as such a joke — I was just bored," she said. "I didn't expect anything to come out of it, and now it's changed my whole life."
This article is the first in a series covering viral TikTokers and influencers at Northeastern. Matt Yan and Nolan Piccola can be reached at [email protected].