Review: Virtual play 'Downtown Crossing' highlights voices of undocumented immigrants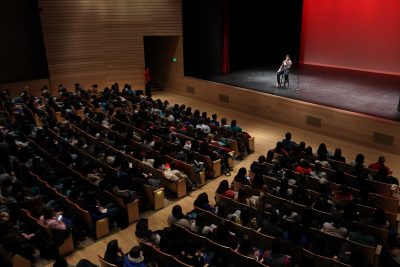 "Downtown Crossing," a play presented by Company One Theatre in partnership with the Boston Public Library and Northeastern University, tested the bounds of theater in a digital format. 
Streamed via a private YouTube link Oct. 22 to Oct. 25 as a digital world premiere, "Downtown Crossing" focuses on seven undocumented immigrants traveling on the Orange Line on Marathon Monday. Written by David Valdes, the play is the result of Company One's two-year long (un)Documented Project. Valdes talked to current and former undocumented immigrants, Deferred Action for Childhood Arrivals recipients, immigrants' rights advocates and others involved in the lives of immigrants in the Greater Boston area. 
Due to COVID-19 guidelines, the show was rehearsed and performed entirely online, with performers tuning in on Zoom. Tickets were pay-what-you-can, so audience members could stream the performances for free or make a donation. 
The production, directed by Summer L. Williams, featured seven actors performing live in their own virtual settings, with a variety of backgrounds, such as the moving Orange Line train or a basketball court drawing. In addition to the digital backdrops, other design choices, such as the actors' clothing, drew the audience into each character's personality and the world of the play, even with its digital limitations. 
Each character had their own story to tell, but they were connected by the common thread of being undocumented immigrants. For example, when their train stopped due to police action on Marathon Monday, each character expressed the fear of having to interact with the police. 
One of the most memorable moments was when Sarom (Eiko Yamamoto), the mother of a cheerleader, said that she wanted to attend her daughter's national competition but could not due to her undocumented status and fear of being deported. Stories like this one, which emphasized how the privileges that many take for granted are not always available to everyone, made the play successful. 
Another character, Bolade (Jean Philippe Darang), described being laughed at as a child because he did not know what a social security number was. Many people do not think twice about their social security number or other documentation, but this could be a worry for undocumented people. 
A group of Northeastern students had a hand in the creation of this piece. Darang and Ben Harris (who played Declan) made their acting debuts with Company One. Tarik Jones, who is graduating this semester, was the assistant director. Other students involved were assistant dramaturg Anna Birnholz, design assistant Victoria Rojo, props manager Bianca Estensen-Tijerino and stage manager Emma Nafz. 
In addition to the performances, a variety of supplemental events were offered. At the Who's in the Fight event, audiences could meet some of Company One's partner organizations working for social justice in Boston. Multiple pre-show conversations occurred, during which audience members could discuss how to take action and responsibility in Boston for racial, social and economic justice issues. 
Company One used its platform to highlight the voices of those who are frequently silenced. "Downtown Crossing" was a glimpse into the life of an undocumented Bostonian and proof that theater is still impactful and possible, despite the pandemic. 
The end of the play was the most haunting and effective. Each immigrant had a particular phrase to repeat. 
"Leave me alone for now."
"I want to be safe."
"On guard all day, every day." 
As the scene went on, the characters switched to saying each other's phrases, and gradually, they all began to overlap. It felt as though the audience was bombarded with pleas for peace from these characters, and it left viewers with a sense of how undocumented immigrants feel here in Boston, a sanctuary city. 
"One day you're illegal, one day you're not." 
Rachel Erwin can be reached at [email protected].