NU women's swimming and diving team recognizes seniors at intrasquad meet
The Northeastern women's swimming and diving team upheld their senior recognition tradition Saturday at their intrasquad meet when they celebrated the 11 seniors graduating from the team this year. Despite a tough overall season and a lack of competition against other schools, the Huskies were able to once again compete against one another.
"Usually, they are as fit and sharp as we can be at this time of the year. … But there was a month or more that our team wasn't able to train so it was almost like starting over again in September. So swimming wise, we weren't sharp," said head coach Roy Coates. "But it's always a great opportunity to get up there and compete, and more importantly, was great to have the opportunity to honor the seniors." 
The virtual invitational meet, which took place at Barletta Natatorium, served mostly as a time trial for the team, who are only three weeks into training after a long hiatus over December. By January, the team would have usually competed in several meets during the fall and had training camp over winter break in Puerto Rico. However, with COVID-19, much of that was cancelled. 
Three divers, sophomore Lauren O'Sullivan, junior Elly Morrison and redshirt junior Jadyn Koss, kicked off the meet, beginning with the 3m dives, followed by the 1m. For Koss, this season will be her last, despite being unable to compete in the 2019-2020 season due to an injury.
The beginning of the swim portion also marked the last meet for captain and senior Kristina Kirchoff and senior Megan Kelley. 
"It definitely wasn't a year any of us were really expecting, with COVID and everything," said Kirchoff. "But we made the most of it, we were able to have a lot more meets than a lot of other teams were and it was just really great. And I think it brought us closer as a team having to adjust and adapt to the circumstances that were going on around us."
Among the other graduating seniors are IM and freestyle specialist Matilda Weiler, currently holding the school record for the 200 IM with a time of 2:00.83 that won the title at the 2018 CAA championships. Weiler was also part of the 2018 CAA championships team that holds the school record for the 200 and 400 yard freestyle relays. 
In this meet, Weiler swam the 200 IM medley relay along with the 50 and 100 freestyle, before ending by competing in the 200 IM. 
Breaststroke specialist and senior Klara Juliusson will also be graduating from the team. She holds the school record of the 100 breaststroke with a time of 1:01.94, as well as the CAA title for the 200 IM medley relay and won the 400 IM medley relay at the 2018 CAA championships. 
"This day is special to us as seniors in general and it's something that we've been looking forward to since freshman year. So I want to say there's a lot of pressure, but there's a lot of expectations coming into this, and with the pandemic going on, we didn't really know what to expect" Juliusson said. "But I really do think athletics, and the coaches and the rest of the team did a really good job just celebrating our seniors. And it was also nice to get up a race with the rest of the team."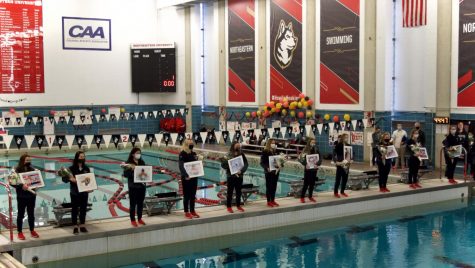 The team saw this virtual meet as a way for the whole team to get together, have fun and celebrate the graduating seniors, who chose their own events to race. Coates says 11 seniors may be the largest graduating class the team has ever had. 
"It's good and bad [they're all graduating] because it means that we have a really talented, dedicated class that did great things for four years, but we're also losing a lot of talent and ability," Coates said. 
The Huskies also saw a fresh face on the team this meet, freshman Jamie Koo, a Singapore-native. She was unable to travel to the U.S. last semester like many other international students but was able to join the team in-person this spring. 
Koo, who represented the Singapore national team at the 2019 Southeast Asian games, competed in the 50 and 100 freestyle before coming first in the 100 butterfly, her preferred stroke.
In the upcoming months, the team expects to swim in another time trial as well as a virtual invitational meet in February, but will most likely continue to only compete against their own team due to COVID-19. They now look toward an uncertain finish to their season, as the CAA championship date, usually held in February, has yet to be announced.