Lieutenant Michael Dwyer remembered as devoted, loving
Lieutenant Michael J. Dwyer, a veteran officer of the Northeastern University Police Department, or NUPD, who served 44 years on the force, died Jan. 25. He was 67. 
According to a statement by NUPD, Dwyer started on the force in 1976 as a patrol officer. After 10 years, he was promoted to the rank of detective and then to sergeant shortly thereafter. He was promoted to lieutenant in 1994 and continued his long and distinguished career in the department in a variety of roles and leadership positions. 
Dwyer's service included the mentoring of many young trainees, some of whom are still on the force today. 
"I had a chance to work with him quite closely and get to know him as a person too," said Sgt. John Farrell, an NUPD officer who began on a patrol unit under Dwyer in 2000. "Rarely anymore do you hear of that kind of tenure or dedicated service." 
Dwyer was on active duty through the terms of four Northeastern University presidents, beginning with Kenneth Gilmore Ryder who came into office 1975. President Joseph E. Aoun recognized him specifically in his State of the University speech in 2013. 
"[He's] been such a long part of the history of Northeastern. He really did love it — he was a Husky," Farrell said.
Farrell posted on Facebook honoring Dwyer's service and was astonished at the extent of the support from the community. There are over 100 comments on the post honoring his memory and service. 
"Rest easy [Lieutenant] We have your watch," wrote Michael LePage, who was broken in as a cadet by Dwyer in 1996, in a Facebook comment. 
"Thanks for the teaching," wrote Lloyd Kev, a dispatcher who worked across the hall from Dwyer, in a Facebook comment. 
"It was amazing to see the flood of people and those comments are still coming in," Farrell said. "It's touching to see just how many people he served and protected over the years: students, staff, faculty." 
Lt. Adam Keeling began work at the NUPD with Dwyer as his shift commander two decades ago. He spoke about Dwyer's method of teaching and how it challenged him as an officer. 
"The thing I remember about him mostly was the fact that he was very firm," Keeling said. "He wanted you to do your job, he had high expectations…but he was also the kind of guy who had a way to deliver that to you where it didn't seem firm."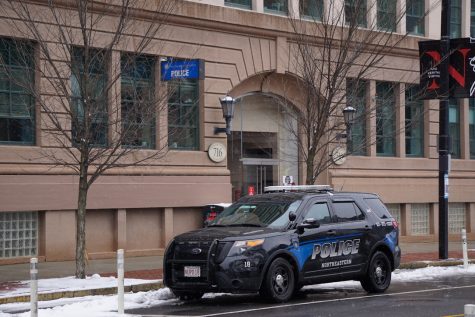 Keeling explained that Dwyer was affectionately known by his call sign: "2-6." 
"He had a very specific way of saying his unit number," Keeling said. "It'd almost be like if you watched an old detective's movie where you have that rough way of talking … he would do that." 
After two decades on the job with Dwyer as his mentor, Keeling said he was consistently amazed by the passion Dwyer put into relationships. 
"He got his job done through making connections and friendships with people," Keeling said. "He dedicated his life to this place … He was the kind of guy who was here late into the night and early in the morning. This was a huge part of who he was as a person … He didn't look at it as a job, he looked at it like he would his own family."
Throughout his career, Dwyer developed bonds with institutions on campus like the Center for Student Involvement, or CSI. 
"He was always really down to earth and really patient when working with me and when working with the students directly," said Kylie Bowen, a student engagement specialist at CSI. 
Bowen worked with Dwyer extensively to organize security for large student events. 
"He was like … a friendly grandfather figure to me," Bowen said. "To have somebody in his role have faith in me — it meant a lot." 
Farrell, who worked under Dwyer for the NUPD for over two decades, said that he was a family man above all else. 
"[He was] tough as nails but once you asked him about his family, you could see the twinkle in his eye," said James Ca, who met Dwyer in 1990, in a Facebook comment. 
Seeing the support from the Northeastern community, members of Dwyer's family left a comment as well. 
"I can't express how much our family appreciates this beautiful tribute and all your wonderful comments. My father loved his work at Northeastern and the friendships he made there," read the comment."Thank you all so much for your kind words, you will never know how much they mean to us. With love, Elaine, Kristen, Kate and family." 
According to an obituary published by John J. O'Connor & Son Funeral Home, Dwyer lived his whole life in Quincy, Massachusetts and attended St. Mary's University in Halifax, Nova Scotia. He was a loving father, brother and "Daideo," the Irish word for grandfather. 
He is survived by his wife, Elaine Dwyer; his daughters Kristen Marie Dwyer and Katelyn Kelly; their respective husbands Greg Nowill and Ryan Kelly; his grandchildren Stella, Harrison and Nora; his brother, William Dwyer and his wife Jan and their daughter Kerry.
In lieu of flowers, donations in memory of Lieutenant Michael J. Dwyer may be made to St. Jude Children's Research Hospital.