Northeastern's #2 spot in a liberal colleges ranking isn't the whole story
Niche.com ranked Northeastern No. 2 in its 2021 list of the most liberal colleges in the United States, but leaders of on-campus political organizations say this fails to accurately reflect the diverse political opinions held by many Northeastern students.
The ranking is calculated by surveying students on their own political preferences and those they observe on campus. Niche.com lists Northeastern behind only American University, but students say that Northeastern's campus political scene is not so easily characterized.
"Saying that Northeastern is one of the most liberal universities doesn't accurately describe the diversity of political thought on campus because it's really easy to boil down people's ideologies into liberal and conservative, but really it's a lot more complex," said Joshua Sisman, a second-year political science and economics major and the communications director of Young Democratic Socialists of America, or YDSA. 
Massachusetts has voted Democrat in each presidential election since 1984. Boston is no exception. According to recent enrollment history, over 1.5 million Bostonians were registered Democrats last October. At Northeastern, one of the city's largest educational institutions, students are met with a more dominant population of liberal students. Nevertheless, conservative students across campus have still found ways to connect and express their views. 
Benjamin Smith, a third-year political science major and vice president of Northeastern University College Republicans, or NUCR, found an especially strong community in the club and isn't bothered by the university's Niche.com ranking. 
"I think what was cool about College Republicans — and I don't know if it's true about other political clubs — but, you can tell that we're really tight-knit," he said. 
Smith said he enjoys the opportunity to strengthen his arguments in discussions with left-leaning students both in and out of classes.
"There's no real animosity that goes on if me or any other member of NUCR tries to have an argument with the political left," he said.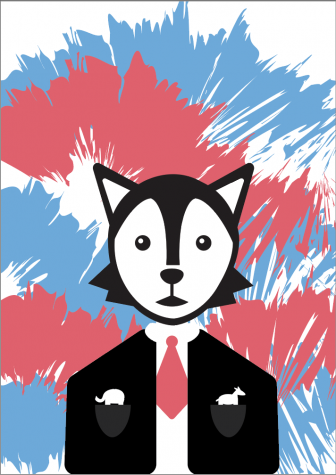 Natalie Hill, president of Northeastern University College Democrats, or NUCD, has had a different experience when it comes to political discourse at Northeastern. Hill said she had a wake-up call at a debate hosted by NUCD and NUCR last semester, which was widely attended by students on both sides of the aisle. She said that it was the first time she realized the prevalence of conservative ideas on campus. 
"The chat box in that Zoom debate was quite active with people, frankly, spewing conspiracy theories, repeating terminology that you hear from the alt-right in our country, things that are not true, different tropes about Democrats, and similar things were happening from the people on the left, too," Hill said. "I think we are in a place where we're so polarized and things are so extreme for some valid reasons. There's just so much demonization of the other side that we've kind of lost it."
Hill went on to say that the debate was not something the groups were ready for, despite their hopes of productive political discourse.
Organizations that go beyond discussions and make attempts to organize for change, like YDSA, are often shut down by the university, said Sisman. In fall 2020, YDSA fought for a universal pass/fail option for the semester, which the university refused to implement despite a unanimous Senate resolution by the Student Government Association, or SGA. 
Sisman, a co-author of the pass/fail resolution, said, "It doesn't really matter how liberal your students are if the university is not receptive." 
"
I think college students would, on every side of the spectrum, do well to listen to the opposite side, to conflicting viewpoints, to really critically view the media that they consume and the messaging that they consume, because I think everybody has blind spots."
— Natalie Hill
YDSA has also been met with resistance from the university on issues like increasing funding for University Health and Counseling Services, or UHCS, prioritizing affordable student housing or lowering the price of meal plans.  
"If you want to make a parallel of Northeastern to being a government, rather than increasing its social welfare programs on campus — you can imagine like the meal plan and UHCS being social welfare programs — they put it towards things that are flashy instead," Sisman said. 
Hill has seen for herself the way the university tends to shut down changes that liberal student organizers hope to implement when NUCD has signed onto YDSA referenda.
"I think the administration is so careful and touchy about anything that could be perceived as political that it really does get in the way of things that shouldn't be political," Hill said. 
Despite challenges, students have been able to make some real changes on the Northeastern campus. Both Sisman and Hill cited the success of the Coalition for Affordability, Responsibility, and Equity, or NUCARE, in influencing the university's pandemic response.
Students find that a neat categorization of Northeastern as among the most liberal universities in the country does not account for the many complexities that come with being politically active on a college campus, especially in a time as polarizing as today.  
"I think college students would, on every side of the spectrum, do well to listen to the opposite side, to conflicting viewpoints, to really critically view the media that they consume and the messaging that they consume, because I think everybody has blind spots," Hill said.