Op-ed: Northeastern Hillel's Statement on Angela Davis Further Divides Jewish Students
On Monday, Feb. 15, NU Students Advancing Intersectional Dreams hosted a talk with Dr. Angela Davis, renowned activist and philosopher, as a part of Black History Month. The next day, Northeastern Hillel released a statement condemning Dr. Davis, citing her support of the Boycott, Divest and Sanctions, or BDS, movement. Instead of acknowledging Dr. Davis's important racial equity work, Northeastern Hillel solely focused on her views regarding Israel-Palestine in order to discredit her.
We, a collective of Jewish students at higher education institutions in the Greater Boston area, including Brandeis University, Boston University, Harvard University, Northeastern University and Tufts University, honor and thank Dr. Angela Davis for her long history of activism, and reject NU Hillel's statement as an inaccurate and problematic mischaracterization. 
This statement is the latest in a series of attempts by Hillel International to drive a wedge between Jewish students and communities of color by falsely conflating criticism of Israel with antisemitism. Northeastern Hillel follows Hillel International's Standards of Partnership on Israel Activities, which forbids campuses from hosting speakers or events that engage in the so-called "Three Ds of antisemitism" — delegitimization, demonization and applying double standards — against Israel. This vague language has been used to silence both Jewish and non-Jewish students, professors and activists and to stifle important conversations about Israel-Palestine on campus. As Jewish university students, we reject the notion that criticizing Israel and/or supporting the BDS movement is inherently antisemitic. 
Northeastern Hillel cannot claim to create a "safe and welcoming environment for all students" while following Hillel International's policy of silencing and mischaracterizing activists. By labeling Dr. Angela Davis's criticism of Israel and support for BDS as antisemitic, Northeastern Hillel erased the voices of many Jewish students, such as Nicole Cohen, a recent Northeastern alum who wrote an open letter to Northeastern Hillel Executive Director Gilad Skolnick.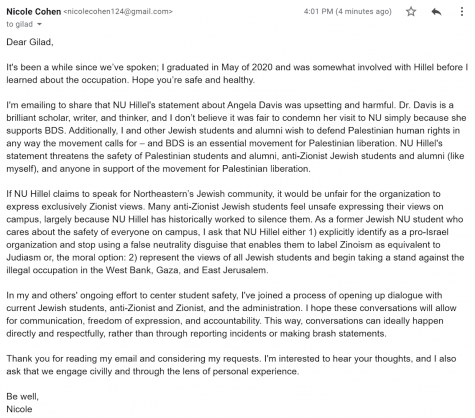 Litmus tests on Israel, such as Hillel's Standards of Partnership, disproportionately target people of color and can bar racial equity work. For example, in 2016, the Boston Jewish Community Relations Council categorically rejected partnerships and coalition work with organizations that endorsed the Movement for Black Lives platform due to the platform's language on Israel-Palestine. Similarly, in 2015, Hillel International banned a Civil Rights Movement Veterans tour from speaking at Hillels because former Student Nonviolent Coordinating Committee activists spoke out in support of Palestinian human rights. This tendency extends to other marginalized communities. For instance, in 2017, Ohio State Hillel kicked out its queer Jewish student group, B'nai Keshet, after they co-hosted a fundraiser for refugees with Jewish Voice for Peace.
By condemning a Black History Month event about activism because the speaker in question supports BDS, Hillel is driving a wedge between Jewish campus communities and Black student organizations, an especially harmful practice to Jews of Color. 
Jewish students who are committed to inclusion and social justice are finding they no longer have a home at Hillel. Northeastern Hillel's actions last February are one of the many reasons we have decided to create a Boston-area network of Judaism On Our Own Terms, or JOOOT, a national movement of independent campus Jewish organizations committed to promoting student self-governance and radical inclusivity — both on our individual campuses and in the wider Jewish community. Our collective holds diverse ideologies and politics regarding Israel and Palestine, but we share a commitment to pluralism, inclusivity and social and racial justice. We commit to advocating for the safety and human rights of everyone, including Palestinians and Israelis. 
We urge you to fill out this form if you are interested in getting involved with our group and to sign this petition to tell Northeastern University to drop the Standards of Partnership.
Signed,
Greater Boston Area Judaism On Our Own Terms (JOOOT)
The organization can be reached by email at [email protected]