The COVID-19 pandemic impacts disordered eating
Content warning: discussion of eating disorders
Editor's note: The Huntington News wants students to know Northeastern University and elsewhere provide mental health resources for students.
There were two days during the quarantine of 2020 in which Molly Winship didn't eat at all.
"It wasn't even a conscious choice; I didn't do it on purpose," said Winship, a second-year writing, publishing and editing major at Emmanuel College. "And I remember I just had never felt that way before."
Winship has had problems with her body image and mental health her whole life, but it wasn't until the pandemic that these issues developed into an eating disorder. Winship is one of many college students who dealt with a debilitating relationship with food in an attempt to regain control in their lives. Between isolation, pressure from social media and a litany of other issues, the mental health of college students worldwide has suffered greatly since the beginning of the quarantine.   
During this crisis, healthcare professionals and researchers have seen a spike in eating disorders and disordered eating, which includes some behaviors that are symptoms of eating disorders, unlike any before. Last September, according to the National Eating Disorders Association, calls for help had increased 78% compared to the year before. 
"A common thing that we see with eating disorders is that sense of needing to feel in control of something," said Brianna Donahue, a clinician at the Multi-Service Eating Disorders Association, or MEDA. Donahue explained eating disorders often emerge out of trauma or events that cause people to feel a loss of control. The pandemic did just that. 
The isolation of the quarantine was also a huge contributing factor. 
"Being sent home and being in that environment with my family all over again was definitely really stressful," Winship said. "I was very alone with my own thoughts a lot of the time."
The control aspect of eating disorders and disordered eating, Donahue said, can go hand-in-hand with isolation. 
"It's a way to feel safe; it's comfortable for a lot of people," she said. "And people were isolated for so many different reasons given the pandemic, whether they were choosing to isolate because of fear of the virus or because they were living alone."
Not only did some college students develop new eating disorders and disordered eating habits during the pandemic, but also students who believed they had recovered found their old eating behaviors reemerging in isolation.
Caroline Swenson, a third-year psychology and health science combined major at Northeastern University, suffered from disordered eating when she was in middle school. Through high school and college, she felt she had control over it. But when the pandemic hit, it resurfaced.
"I think that it just brought back a lot of depression," Swenson said. "It was a spiral of not having anything to keep my mind occupied, and I was like, 'Okay, maybe I'm not actually over all of these thoughts — it's just that I've been distracting myself for a really long time.'"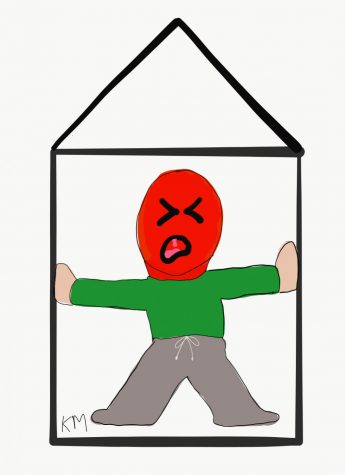 Social media has been a growing risk for people with eating disorders, Lin said. Even before the pandemic, social media was causing body image issues for adolescents across the country. 
"There's a study that reveals that adolescents will, out of 50 photos they've taken, only post one of them," said Dr. Linda Lin, a professor of psychology at Emmanuel College. "And the idea is that they are really curating what's being put out there." 
The culture on social media has created very skewed portraits of people's lives, where people scrolling on apps will see edited photos of people on their best days. 
"The social media culture before was not great," said Monika Ostroff, executive director of MEDA. "There's plenty of fitspo influencers out there telling you to eat a certain way, work out a certain amount to achieve a certain body type, and there were equal if not more folks that were out there promoting diets that don't work." 
College students like Swenson were trying to distract themselves with social media. They had no choice but to scroll past the constant flurry of diet and workout posts, and Swenson believes this absolutely had an effect on why her disordered eating returned. 
"My entire Instagram feed was just people doing at-home workouts, and it was terrible because I was just lying in bed, thinking that I should be doing something," she said. 
As was the case with Swenson, social media refocused people's attention toward toxic productivity, bringing attention toward working on one's body as an ongoing, never-ending project, a definitive trait in the thinking behind disordered eating.
"People started thinking about how they might be left behind if they didn't start work on their bodies immediately, which increased risk of eating disorders greatly," said Dr. Rachel Rodgers, a professor of psychology at Northeastern University. "We know that one of the personality risk factors is perfectionism. The high stakes way of framing life at the time also increased risk."
Simran Arora was already in a late stage of recovery from her eating disorder by the time the pandemic began. During the quarantine, some of her food anxiety, a common symptom of eating disorders that causes intrusive thoughts and extreme worry around meals, came back and she was worried that she was slipping into an exercise addiction. 
"I was at a stage where I was in pseudo-recovery, as I like to call it," said Arora, a third-year psychology major at Northeastern University. "It's when you are at a healthy weight and you eat throughout the day, but you still have certain rules and limitations."
With a dietician, she worked to overcome her unhealthy eating habits and get back to where she was before the pandemic. She suggests that others fighting similar battles do the same.
"My advice would generally just be to be more self-aware," Arora said. "Recognize when you're starting to fall into old habits again, and then once you recognize you can follow appropriately. The second step is actually gathering the will to do something about it. There are people who will help you, and you are not alone."
Donahue hopes that with the country reopening, there will be more help available to people who need it and that they won't be afraid to reach out despite the stigma surrounding mental health. 
"It's okay if you feel this way," Donahue said. "There is help out there. You don't need to feel this way forever."
Rodgers believes that making resources and opportunities available to those who need it and paying a significant amount of attention to the trauma that the pandemic caused will help struggling people to recover.
"I think the future is a conversation," Rodgers said. "I am optimistic in humanity's resilience, our capacity to foster connections and find support and engage in post-traumatic growth."