Column: The best NU coffee shops to visit, ranked
Looking to satisfy your daily coffee fix with something other than a latte from the Curry Starbucks? Well, look no further! Here's a guide to Northeastern's coffee shop and café scene — find out which spots are worth it and which ones will make you go for Dunkin' iced coffee instead.
1. Farmer's Horse Coffee
From the drinks, to the food, to the vibes, Farmer's Horse does not miss! Farmer's Horse's warm and homey atmosphere combined with its unique art and décor creates a one-of-a-kind environment perfect for studying or catching up with a friend over coffee. In addition to drinks, its menu features savory breakfast sandwiches, lunch options and a small selection of delicious pastries. For my fellow cold or iced coffee drinkers out there, know that you'll never deal with flavorless, watered-down iced coffee here. Their cold brew plus "The Basic" breakfast sandwich is my favorite way to start off any morning! 
374 Massachusetts Ave., (617) 372-0428
Tatte's sleek, elegant and bright interior is a familiar sight to Boston college students who pass by one of their many locations around the city. They serve up a solid cup of coffee and have a good selection of food options to go along with your daily caffeine fix. Tatte gains major points for its mouth-watering pastries that excel in both aesthetics and taste. However, due to its popularity, it is common to experience long lines and slow service.
369 Huntington Ave., (617) 263-8989
Pavement prides itself in the freshness of its products. Their coffee is locally roasted in Boston and as a result, customers are left with quality coffee and espresso-based drinks. Their breakfast sandwich game is also strong, not only because of their homemade bagels but also because of their special selection of breakfast sandwiches — a personal favorite is the Tequila Sunrise which includes eggs, bacon, diablo cream cheese and pico de gallo. Beware, though, it's not uncommon for Pavement to run out of bagels by the end of the day, so the earlier you go the better!
44 Gainsborough St., (617) 859-7080
4. Caffè Nero
Caffè Nero is another coffee shop that does cold coffee well — cold coffee fanatics will greatly appreciate their flavorful and refreshing cold brew. For those of us who study in coffee shops for the "main character" vibes, Caffè Nero is my top choice for a coffee shop study session. It doesn't get as crowded as a place like Tatte, and aesthetically, Caffè Nero is a favorite. It features mildly moody lighting, rustic décor and its iconic shade of blue that permeates everything from the walls to the coffee cups.
114 New Edgerly Road, (617) 209-6202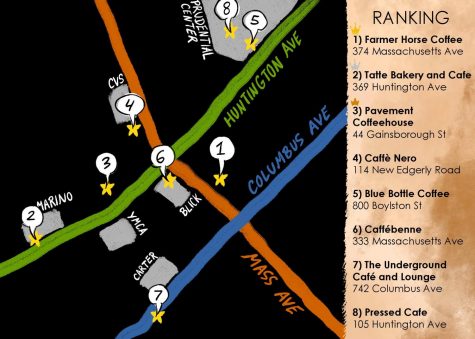 If you're into iced coffee and have not tried this place out, you are implored to take a trip to the Prudential Center as soon as possible, find the Blue Bottle stand and order yourself a New Orleans Cold Brew. This is definitely my favorite cup of coffee, and it's made with milk, cane sugar and roasted chicory which gives it its unique flavor. The location, however, is unideal, especially during the week when students are running between their dorm, classes and various meetings, but if you do have the time, Blue Bottle's coffee is worth the walk. 
800 Boylston St., (510) 653-3394
6. Caffé Bene
This coffee shop chain is based in South Korea and has the most unique drink and food options out of all the places on this list. Notable coffee options are their Vietnamese-style coffee, their maple latte and their hazelnut latte, which is a personal favorite. Besides coffee, Caffè Bene has lots of different items on their menu including parfaits, sandwiches, gelato and more. Another plus about this place is that it is open pretty late compared to other local coffee shops and cafes, closing at 9:30 p.m. Monday through Wednesday, and 10 p.m. Thursday through Sunday. For those moments when you need a late night coffee fix, Caffé Bene is a perfect option. 
333 Massachusetts Ave., (617) 982-6688
7. The Underground Cafe and Lounge
The Underground is the newest addition to the Northeastern University coffee shop and cafe scene and had its grand opening Sept. 20. It falls short in the iced coffee department but does a better job with its hot drinks and its small food menu. When compared to the other coffee spots in the area, the Underground is not quite special. For those living on Columbus Avenue, though, it is the closest place to get coffee on that side of campus. 
742 Columbus Ave.
8. Pressed Cafe
Pressed Cafe is a relatively new cafe that opened this year. While you will definitely see some people sitting with their laptops and a cup of coffee, just as you would in a typical coffee shop, you will also see people enjoying full meals and being tended to by a waiter. Combined with their bar, loud pop music and a large food selection, Pressed leans more towards a standard restaurant, as opposed to a cafe. So if you're looking for good coffee or a place to study, this is not the place to go.
105 Huntington Ave., (857) 233-5427
Everyone has their own vision of what the perfect cup of coffee tastes like and what the ideal coffee shop experience should feel like, so go out, go explore and find the place that satisfies your coffee cravings!