Mary Hickey leaves legacy for NU physical therapy program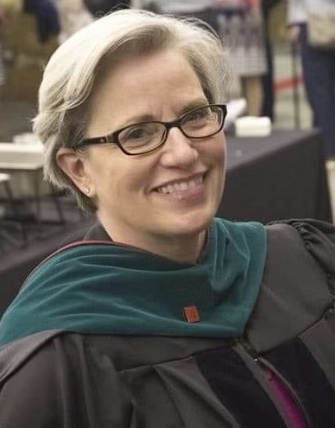 After almost 25 years of teaching in Northeastern's physical therapy program, Mary Hickey left a legacy. Students and colleagues alike remember her for her presence in the classroom, her one-liners guaranteed to coax a laugh out of even the most stressed students and her incredible wealth of knowledge.
Hickey died June 17 at 59 years old after a seven-year battle with breast cancer. She has undoubtedly left an immeasurable impact and legacy on the Northeastern community. 
"Someone's going to replace Mary Hickey at some point, but I will say the person that is replacing her is never going to really replace her. Mary was kind of the center of our program, she could kind of basically touch all facets of our program and she was the epicenter," said Adam Thomas, a friend and colleague of Hickey's. "It's going to be hard to replace Mary Hickey."
Thomas, the director of the transitional doctorate in physical therapy program at NU, said that in Hickey's absence the department will have to band together to assume the extra tasks and responsibilities that aren't in anyone's job description that Hickey had a habit of picking up. 
In the wake of her death, the Mary J. Hickey Endowed Scholarship was born. 
"Basically our goal is to raise $100,000 to get a scholarship fund in her name, the Dr. Mary J. Hickey Scholarship Fund," Thomas said. "I don't think $100,000 will be hard to get with her impact, and I think it's gonna take a little bit of getting the word out."
As of Dec. 27, the fund has raised $8,811 of the $100,000 goal. The fund will be used to financially help students who study physical therapy at Northeastern.
In her almost 25 years of teaching, Hickey interacted with thousands of students and imparted lasting lessons and knowledge that many carry through their professional careers. 
"She's been part of thousands of students lives and those students all take a piece of you when they're out there and I know that they really always think so highly and fondly of Mary and how she's helped them to kind of have their direction for their professional path," said Diane Fitzpatrick, director of graduate affairs and associate clinical professor for the physical therapy department. 
Fitzpatrick worked with Hickey for over 20 years, starting when Hickey sat on Fitzpatrick's hiring committee. From day one, Fitzpatrick said Hickey was always helpful and immediately made her feel at ease. 
Hickey's positive impact on everyone around her was echoed by everyone who spoke with The News. For Juliet Hoinkis, a fifth-year student in NU's doctor of physical therapy program, Hickey was more than just a great physical therapist; she was also a mentor. Hoinkis said Hickey always had good information and a smile to share with students. 
"The thing I'm going to miss most is just her happy presence. She walks into a room and she's always got a smile on her face, she always says something wonderful to bring to the table," Hoinkis said. "She really is just the kind of person that walks into a room and makes it brighter.
Hickey played an instrumental role in Thomas's decision to become a physical therapist. When they met, he was teaching in the athletic training program, but Hickey pulled him towards physical therapy about two years in. There were times he would be co-teaching a class with Hickey one day and the next taking a class from her. 
"
The thing I'm going to miss most is just her happy presence. She walks into a room and she's always got a smile on her face, she always says something wonderful to bring to the table. She really is just the kind of person that walks into a room and makes it brighter.
— Juliet Hoinkis
"Her relationship with students was second to none. The way that she could impact the student, the way that she could get something out of them that you're like, 'man, how did that person open up to you like that,'" Thomas said. 
Colleagues say her magnetic way of engaging with students translated to more than just personal relationships, it made her a great teacher. 
"She had a great presence in the classroom. She had a tremendous amount of knowledge and the students respected that but it was more how she managed the classroom and managed the environment and facilitated active engagement," Fitzpatrick said. "She was masterful. It's reaching out to [students] and having them pull it forward — she was really able to do that in a real expert way."
For Jada Meadows, a fifth-year in the doctor of physical therapy program, Hickey's unfailing faith in her students helped Meadows be confident in her abilities.  
"She was just always someone who exuded a lot of confidence and so it was so easy to just trust anything she said," Meadows said. "She always taught us to treat patients well and always believed that all of us are capable of being physical therapists. … Her confidence in us as students I think makes us all, way more confident in ourselves."
Niyati Parikh, a fourth-year in the doctor of physical therapy program, had Hickey for Foundations of Physical Therapy, a class that every student in the program has to take. She took the class in spring 2020 and was sent home along with her peers as the pandemic hit. Even in her short in-person experience with Hickey, she said she was a very special professor. 
"She's honestly the only reason I'm still in the PT program as of right now. I'm a good student, I just don't do well with exams, and she has helped me try to figure out the best way to tackle that," Parikh said. "It felt like I was heard, it was more like I wasn't just a number, I was actually like a name to her." 
Thomas echoed Parikh's takeaway from her experience with Hickey. He said Hickey had a way of pushing all the right buttons with someone who was struggling to help them get back on track. 
"First and foremost, she was caring," Thomas said. "There's a lot of teachers at every university that don't know people's names and don't know about the students — she knew about the students, cared about students and she cared specifically about the students who needed help."
Trevor Winnege, an adjunct faculty member of the physical therapy program, had a unique relationship with Hickey, one that started as her student and ended as one of her colleagues. He attributed his love of orthopedics to Hickey's influence. 
"She inspired me, she taught me, she made me the teacher that I am today, honestly. That sounds cliché but it's true," Winnegge said. "I have a wonderful experience of being her student, being a mentee and then now colleagues and friend."
Hickey's classes were always engaging and Parikh said students wouldn't dream of messing around in the back of the room because she was such a well-respected teacher. 
"She wasn't just a teacher, she was like a life coach in a way," Parikh said. "Everything that she said had meaning in and out of the classroom and you could put so much value into her words and take it a long way."
Hickey will not be forgotten at Northeastern — almost 25 years of instruction will ripple out through practicing physical therapists, professors and students for many years to come. 
"There's a quote from the musical Hamilton that I thought of when we were driving home [from Hickey's funeral]. … The quote is like 'legacy, what is a legacy, it's planting seeds in a garden that you never get to see' and that really sums her up and what she was to the Northeastern community," Hoinkis said. "Her legacy is going to go on for so long."