Students, residents voice concerns over Northeastern's dorm upsizing
At a meeting hosted by the Boston Planning and Development Agency Feb. 16, members of the public were able to ask questions and voice their concerns about Northeastern's plan to add approximately 900 beds to rooms in the East Village, or EV, and International Village, or IV, residence halls. 
Northeastern released the plan in October 2021 to address an ongoing housing shortage on campus after an over acceptance of students resulted in a record breaking freshman class of 4,504 students, not including those in the N.U.in and NU Bound programs. Previous classes have not exceeded 3,300 in recent years.
"Last year's admissions yield was unplanned and unexpected, resulting in an additional 1,000 first-year students," said Viktorija Abolina, the associate vice president of Campus Planning and Real Estate at Northeastern. "Pent-up demand due to COVID deferrals and withdrawals resulted in what we call a 'bulge year.'" 
After the proposal was made public, it was subject to a public comment period, which ended Nov. 4, 2021. Following the Feb. 16 public meeting, Northeastern will seek approval from the Boston Planning and Development Agency, or BPDA, board March 10, and according to the plan, the beds would be added to residence buildings over the summer in preparation for the Fall 2022 semester. 
Many students have raised concerns regarding the feasibility of this plan in regards to physical space, especially as it may impact the mental health of student occupants. 
"I understand that it is a very tight housing situation, and it's important to get students out of the surrounding neighborhoods, but it seems like a very poor choice to have that many students sharing that space," Luke Saville, a 2020 Northeastern graduate and former resident of IV, said at the meeting.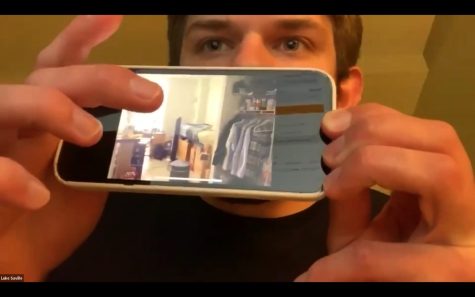 Saville showed meeting attendees photos of a single dorm room in IV. The furniture as well as belongings of one resident filled most of the space, and there was little extra room. 
"How can you expect students to have an environment that is conducive to their ability to study and maintain their sanity, especially first-year students who aren't going to have any idea what to expect going into this?" he said. 
Parents at the meeting also raised similar concerns, given that the reduced living space is not what they expected when their students committed to Northeastern. 
"Kids all feel that they're being jammed in. The sense from families really feels like a bit of a bait and switch," Vanessa Ignacio, a parent of a first-year student living in Hastings Hall, said during the meeting. "I get that dorms are not supposed to be luxury giant accommodations, … but this pushes the bounds of what really should be acceptable. I don't know how these kids will have enough space to study, enough space to put their things, never mind a modicum of privacy every once in a while."
Northeastern representatives explained that many of the rooms were initially built to accommodate doubles or triples, but have been used as singles or doubles while the student population was lower. 
"We did send the facilities people who spend the most time working in the residential dorms through these buildings to look at the rooms to figure out which ones actually were sized to be able to become a single to a double," said Kathy Spiegelman, the vice president and chief of Campus Planning and Development at Northeastern. "Some of them are too small to [add extra beds], which is why this isn't every single single becoming a double and every double becoming a triple." 
Beyond the issues raised about capacity and mental health, students employed as resident assistants, or RAs, are concerned that housing more than 200 additional students in EV and 500 additional students in IV will increase their workload beyond their capacity. 
University representatives were quick to confirm that their plan is to hire additional employees to maintain the current ratio of RAs to students. 
"We do assess the ratios every year just to make sure the students are getting the support and attention the programming needs," said Chong Kim-Wong, the vice chancellor and dean of students at Northeastern. "We're not going to be changing that. If we need to add more RAs to make sure that we're able to support our students, we will do that, and we do assess that yearly."
Many members of the surrounding Boston community, alongside Boston city council members, raised concerns that the increase in students would result in more students living off-campus. 
"We're very aware both that Northeastern students are our neighbors and members of our community, and I'm proud to represent many of them in Mission Hill and Fenway, and also that, as we know and has been established over a long time, there's a direct housing pressure on our neighborhoods," said Kenzie Bok, the city councilor for District 8. "This is a very important meeting to our office. We've been following with concern this unexpected uptick, and are trying to understand how to think about the impacts on the neighborhood for not just the coming year, but the coming set of years, given the swell in this class." 
University representatives emphasized that this approach to the housing issue would help mitigate the negative impact on the surrounding neighborhoods. By adding beds to existing buildings, no construction would occur. Community members also expressed hope the extra living space would reduce the number of students leaving university housing to live in off-campus buildings.
"I think we all have to acknowledge that we're between a rock and a hard place here," said Richard Giordano, director of policy and community planning at Fenway Community Development Corporation. "I appreciate and hear all of the concerns and issues raised by students in the dorms and by the parents. On the other hand, I think we unfortunately have no good alternatives. … I understand the issues about safety and dorm capacity, but your alternative is to have overcrowding and craziness in the neighborhoods." 
University representatives explained that Northeastern is committed to returning to a normal class size as soon as possible to minimize overcrowding on campus and prevent the migration of more students than usual into surrounding neighborhoods. 
"For next year, we are targeting 2,500 because we want to respond to what happened this past year and the additional students. This fall, there were about 4,300 freshmen that ended up with us in the fall, and next year, we're hoping that number is 2,500, and going forward, we're hoping to go back to 3,500," Spiegelman said. 
Northeastern is seeking approval for these additional beds by March 10, and community members and students remain hopeful that they will make sure the final plan addresses the comments and concerns brought up at this public meeting. 
"This is probably one of the more difficult, but honest, and more helpful meetings that we've had," Giordano said. "Not an easy solution here, but I really do appreciate all the things that have been put out. I hope people address the comments. There have been a lot of good ideas."