Northeastern dining workers join with student organizations to advocate for better pay, working conditions
Inequitable pay and fraught working conditions have stressed Northeastern's dining staff to the breaking point.
"Northeastern is burning the candle from both ends," said Oliver Green, a second-year data science major and a lead organizer for Northeastern Young Democratic Socialists of America, or YDSA. "They're underpaying and overworking their workers, as well as overcharging and under-serving their students."
Dining workers anonymously shared stories with The News expressing their frustration with the university. 
One food service worker told The News that she spent one afternoon in January in the hospital, getting treated for first degree burns after a coworker tripped in the congested dining hall at Levine Marketplace and spilled a cup of boiling water on her back.
One prep cook is 26 years old and said he dreams of one day opening his own restaurant, but said has lost the passion for his work that used to get him out of bed every morning. 
Another said he worries about sending two of his five children to college soon on a salary of just $35,000 a year. 
When Northeastern dining workers began a campaign to unionize in 2012, Northeastern University initially opposed unionization. Although they successfully unionized in 2012, workers said they are still feeling unsupported by the university. And as they did 10 years ago, they now have turned to student organizations for help. 
Northeastern food service workers and representatives from Boston's UNITE HERE Local 26 Union recently began meeting with a coalition of student organizations, reviving a student-labor collaboration in hopes of achieving better working conditions and pay for the dining staff in their upcoming contract negotiations. Organizations like YDSA have recently been focusing on issues with dining on campus, specifically advocating for lower meal plan prices for Northeastern students. According to the Education Data Initiative, an average campus meal plan costs $563 per month. Northeastern's 17-swipe meal plan, comparatively, totals around $930 per month.
"What really resonated with me was that simultaneously, students at Northeastern are paying exorbitant amounts for meal plans, and some of them are going hungry … because of how expensive it is," said first-year political science and history combined major Jesse Fusco, another lead organizer for YDSA. "While at the same time, dining hall workers are told that they can't get raises because the university can't afford to pay them more than $35,000 a year because the students are the main priority."
Dining workers' contract with Chartwells, the company contracted by Northeastern for food services, is up for renegotiation and will expire on Aug. 31, according to a person involved in the union. Union organizers are beginning to survey workers to ask what changes they would like to see in an updated contract. The last contract renegotiation in October 2017 ended tensely after dining staff reached an agreement with Chartwells and narrowly avoided a strike that they had voted to authorize just days prior. 
If contract demands are not met before Aug. 31, a labor strike is a very real possibility, according to a union representative for Local 26. 
Under their current contract, Northeastern's dining workers make $35,000 per year with built-in raises, according to the Local 26 Union. Many workers say this salary is not a sustainable source of income in Boston, where rent prices are at an all-time high.
"Everything is … higher now," said a dining worker, who spoke anonymously in fear of professional retaliation. "Even with the pandemic. It's not enough money. … Sometimes I need to apply for food stamps, and they decided to deny it to me, so it's hard. I have three kids. And it's not enough money for me. Even if I work overtime, it's not enough."
A workweek for Northeastern dining workers is capped at 37.5 hours, as opposed to the 40-hour workweek that workers are paid for at neighboring schools, including Harvard and Massachusetts Institute of Technology, according to a member of the union. Additionally, Northeastern prep cooks have a minimum hourly rate of $20.25, six dollars less per hour than workers at the aforementioned colleges, despite all being contracted by Chartwells, according to a member of the union.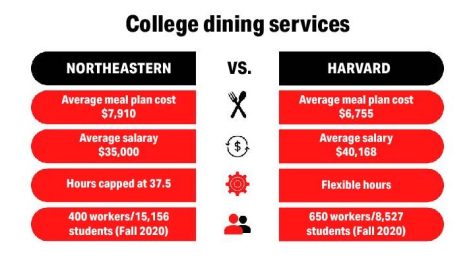 After YDSA's second general meeting of the spring semester, during which they reviewed their ongoing campaign to reduce Northeastern's meal plan prices, a representative from Local 26 introduced himself to club leadership and proposed that they coordinate a student effort to support dining workers in their contract negotiations with Northeastern.
"If we were to just run our campaign on our own, and we were to successfully get a cheaper meal plan, that means … increasing the demand of the workers," said Joshua Sisman, chair of YDSA and a third-year political science and economics combined major. "By working with the union, we can both help reduce food insecurity on campus and help alleviate the issues that are facing dining hall workers."
On Feb. 2, YDSA held a steering committee meeting jointly with NU Mutual Aid, during which two dining workers expressed to students their plights with the university. On Feb. 10, another club, Progressive Student Alliance, or PSA, hosted a similar meeting. Claire Wang, president of PSA and third-year computer science and math combined major, said she knew that having a forum where dining workers could interact with students would be helpful. 
"Hearing people's stories about how their working conditions are affecting them personally is very moving," Wang said. "You can tell that … they like their job. They want to make sure that students are being well fed."
The coalition of student organizations is reviving a defunct student group called Huskies Organized With Labor, or HOWL, which had a membership of over 50 student organizations at its peak in 2017 and helped dining workers unionize 10 years ago.
"We have an awareness campaign where we're flyering, we're canvassing, we're getting students aware of the issue that we are facing," Sisman said. "We're going to be gathering petition signatures throughout this process, and then we'll deliver the petition to Northeastern. If they say no [to our demands], we'll just intensify our awareness campaign."
YDSA leaders also hope the joint campaign will help build students' relationships with the dining hall staff. 
"For the most part, they're two very separate groups that don't really interact very much," said Green, lead organizer for YDSA. "Most service workers and working-class people in Boston keep the city running. Versus the college transplant elites that we all are. Another issue is how dehumanized the dining hall workers end up being. They're little robots that serve you your food, and you just say 'hi' and 'thank you.' I don't imagine that's good for your mental health, having those same interactions all day, every single day."
Though they interact every day, there is no significant relationship between those that staff the dining halls and those that eat there.
"With this present campaign that we're running, there's a bigger possibility for dining hall workers and students to connect more, given that there's a general feeling of both students and dining hall workers being screwed over," said YDSA lead organizer and second-year business administration and economics combined major Jay Patel. "Students are paying more for workers to earn less … so that Northeastern admin and Chartwells can increase their profits." 
The influx of students on campus this year, exacerbated by a record-breaking freshman class, has added to the pressure that dining workers continue to face, such as the reopening of dining halls like Stetson West as well as expanded hours of Churchill's, which Northeastern announced in a Jan. 26 email.
"The common theme is that there's a lot of students – a lot more than before," said a person involved in Local 26. "There's a lot more people to feed. …There are times when the cafeteria is so crowded that there's no place to sit for the workers and the students." 
As a result of layoffs caused by the COVID-19 pandemic, the dining staff is spread thin, according to Local 26 union representatives. Workers say they assume more responsibilities than they are equipped to handle and feel underappreciated by the university. 
"My company has let me down by putting me through what they're putting us through," said a lead cook who wished to remain anonymous for fear of professional consequences. "It's not about one of us, it's about the whole unit. And to experience support — I'm not asking for it. I'm almost begging for it."
In an email statement to The News, Northeastern emphasized that Chartwells is responsible for negotiating contract conditions with the union. 
"Northeastern does not employ any unionized dining staff. The dining hall workers … are employees of Chartwells, our food service vendor," said Northeastern spokesperson Shannon Nargi. "Their staffing levels and shifts are subject to the contract negotiated by their union … and Chartwells several years ago. Any changes would be for Chartwells and the union to determine consistent with their contract."
As of Thursday, Feb. 24, Chartwells has not responded to multiple requests for comment.
YDSA club leadership expressed hope that the university would be open to the requests of the union, but said they are prepared to demonstrate that students won't tolerate the mistreatment of dining workers. 
"We are going to struggle together, we are going to fight together, we're going to bond together, and we're going to win together," Sisman said. "That's the idea."
Editor's note: Claire Wang, president of PSA, is a former copy chief on the editorial board The News.