Dance Team takes the national stage in Daytona for the first time in five years
In the foyer atop the stairs of the Godfrey Lowell Cabot center, 20 students and their coach sat chatting and donning hundreds of silver rhinestones on long black jumpsuits last week. 
"I can't wait to see Navarro," says one. While it may just seem like any other club meeting for a student project, this project stretches beyond sequins and glue. 
The Northeastern University Dance Team will take the nationals stage April 7 and 8 in Daytona, Florida, performing pom, jazz and hip-hop styles for the first time in five years. 
The Daytona NCA & NDA Collegiate National Championship competition, or the Daytona Nationals, became well known in recent years due to the Netflix docuseries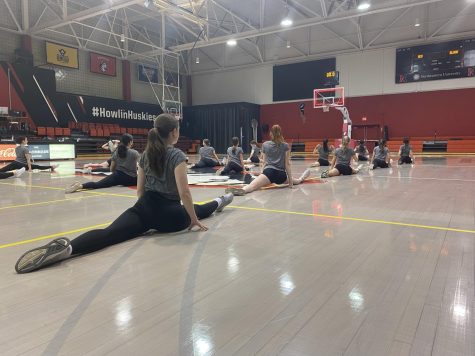 Cheer, which featured the partner competition, the National Cheer Alliance and the college cheer team from Navarro College. As dance and cheer are gaining recognition for the athleticism it takes to compete, teams are gaining notoriety. 
The only person from the team headed to Daytona who has seen the nationals stage before is the team's coach Nicole Vicino. She danced for Northeastern from 2011 to 2016 and professionally for the Boston Celtics Dancers from 2017 to 2019. 
"I'm really happy to see that dance is finally being recognized as a sport in many places and I think it's important to keep highlighting the stories of these women because they work just as hard as every athlete does to compete and train at a high level," Vicino said.
After two years of cancellations due to COVID-19, the team started its road to Daytona in August 2021 at National Dance Alliance Camp in-person for the first time. The team received a gold bid for its performance, earning the team a spot in the nationals arena.
In the team's history, it has only ever performed hip-hop pieces at nationals. It is a historic step to now compete an extra "game day" piece which involves a performance of jazz, pom and hip-hop styles. Because teams are split up by their NCAA Division, the Northeastern team will be going up against other D1 dance teams. 
"I think that the team has really grown in the past three years since I started coaching," Vicino said. "I'm really proud of all the progress that they've made and I'm excited for them to see what happens when you work really hard and come together as a team … And also to see that they are at the same level as those teams like [Louisiana State University] and Ohio State that we all idolize and when you put in enough hard work, you can get there too."
In 2003, the Northeastern Dance Team started with 10 girls performing at a mix of women's and men's basketball games. It was composed of students interested in performing and continuing their passion for dance in college. Kara Gibson, a 2007 mechanical engineering alum, founded the student club in her first year at Northeastern and led the team to be an official club sport. By the time she graduated, the team was attending its first competitions. 
"I feel amazed to see it continue because when I graduated, I was never really certain that it would continue or go anywhere. I had younger teammates that took over after me and it was still student-led quite a while after I graduated," Gibson said. 
In order to take the step of becoming a club sport and receiving funding, there had to be some form of a competition. This led the team to enter in small local competitions where it could fit in the oldest categories.
"I love dance and to see so many people have that same love and carry that forward and take it up a notch. The bar has been raised over the years and I think it speaks a lot to the quality of students that are at Northeastern," Gibson said.
In Daytona, the team will first have two minutes to show its jazz, pom and hip-hop combined piece. The next day the team will compete the hip-hop piece in a separate preliminary competition to hopefully make finals the following day.
While the team receives some funding from Northeastern as a club sport, the team does most of its own fundraising to raise the $20,000 it takes to go to Daytona. 
"I know that the work will pay off because we are putting in an extreme amount of energy into this," said Marlena Stanton, a fourth-year chemical engineering major and co-captain of the team. "But honestly just being able to go is enough for me because this entire team has been waiting. I've been on the team for three years and nationals had been canceled twice."
With the two year break due to COVID-19, the captains and coach say they feel ready and more excited than ever to get back to competing. 
"I think it's going to be a good bonding experience," said Angelina Huang, a third-year criminal justice major and the team treasurer. "I think that nationals is going to test our limits and I think we're going to have to rely on each other in terms of that. I think it's gonna bring us closer. We are in the best place that we can be going to nationals. I think we've done all the preparation we can."
After nationals, most of the seven graduating dancers plan to go into full-time work in their major or field. Nevertheless, many of them, including fourth-year economics major and co-captain Katelyn Andrade, say they still want to keep dance a part of their life through coaching and inspiring the next generation of dancers. 
"Even if my dance career might be over, I want to help younger kids do something that I didn't really know was possible but turned out to be the best thing that I could've done after high school," Andrade said.
The team will start their preparation for the 2022-23 season directly following their return from Daytona. Auditions will be held April 20 in the Cabot Center gym.