Dining workers share struggles, hopes for new contract at rally
May 11, 2022
Madaras, along with several other HOWL members, organized a rally April 16 at 11 a.m. at Centennial Common. Several dining hall workers, student activists and community members spoke at the rally.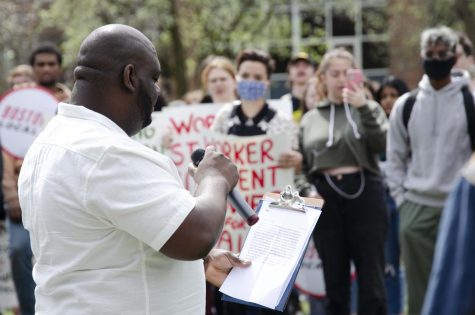 "It's very hard to live in Boston with my paycheck. Everything is going up: rent, food, gas. I have to work two jobs right now so that I can take care of my family. A lot of my co-workers live outside of Boston because they can't afford to live in the city," said Beludchy Pierre Louis, a cook at Stetson Hall for seven years, at the rally. "We are fighting for a higher wage, better health insurance and more sick time." 
Another speaker at the rally included City Councilor-at-Large Ruthzee Louijeune, whose father has worked at the dining halls at Northeastern for the last 20 years. 
"This is a personal cause here. I look at Beludchy, we heard from Jay, I see Jean-Claude … I see so many people who I've known my entire life who deserve a living wage, a job with dignity, to have breaks…" Louijeune said at the rally. "We are in unprecedented times right now. Our families are dealing with inflation and rising costs of housing. They are being pushed out. We need to make sure we are putting people before profit. We need to make sure our residents who are holding up the universities, that we let them know they are essential in their paychecks."            
Sofia Perez, a graduate student studying journalism and a HOWL organizer, explained at the rally that each dining hall worker they talked to spoke about their inability to afford to live in the Boston area due to extremely high rents, which are forcing many dining workers to move out of the city and creating increased transportation costs. 
Boston's rental market has reached all-time high prices — the median monthly rent for a one-bedroom apartment is around $2,720, according to the Boston Globe. This is a $500 increase from the median cost in 2017, which was $2,270, but the dining hall workers' base wages have not increased in that time, since their current wages were set by the 2017 contract.
"I take the bus and the T to go to work. I work only five hours a day, but it takes me almost three hours to get to work and back. I'm fighting for a full-time schedule of eight hours of work a day," said XiuQiong He, a dining hall worker who has worked in  International Village for seven years, at the rally. "I think we should get a discount on transportation because the monthly T pass is $90." 
As the workers at the rally shared the struggles they have faced due to low wages and limited benefits, the sounds of chants including, "When we fight, we win!" and "¡Escucha, estamos en la lucha!" which translates to "Listen, we are in the struggle!"  spread throughout Centennial. Solidarity remained in the air around campus as HOWL prepared for the march the next Friday.