In effort for new Mission Hill arboretum, community celebrates green space, partnership with Northeastern
Volunteers helped push Mission Hill's Fitzgerald Park over the threshold of 25 plant species April 29, one more step in the park's path to becoming an arboretum.
At an Arbor Day event, organized by Mission Hill Neighborhood Housing Services, or Mission Hill NHS, community members and volunteers from partner organizations Speak for the Trees Boston, American Forests and Bank of America gathered to plant trees.
Through their work, the park now hosts an estimated 30 species of trees and woody shrubs, up from the 21 it had previously.
Jessica Johnson, a Northeastern co-op at Mission Hill NHS, said breaking the threshold of 25 species is an important step to achieving official recognition of the park as a level one arboretum.
That diversity is important for the resilience of the space, said Sue Paist, coordinator for the ArbNet program, the international organization that accredits arboretums. Having an array of species can help maintain greenery in the face of diseases and pests that harm certain tree species, like the emerald ash borer, or in the face of impacts from climate change.
Additionally, the Arbor Day event itself brought the space closer to official status. The requirements under ArbNet call for one annual event focused on trees.
Johnson, who serves as community engagement coordinator at Mission Hill NHS, said she was excited to see the Arbor Day event happen.
"I've been working on this specific event for weeks or months now, so seeing it all culminate together has been really exciting," Johnson said.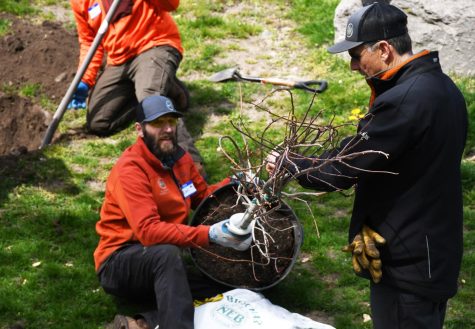 Working to get the park accredited as an arboretum was first proposed by Chuck Doughty, who at the time served as Northeastern University's program director for landscaping, grounds and arboretum and has since retired. The university got its own designation as a level two arboretum in 2019 — one level higher, with increased requirements, than what Mission Hill NHS is aiming for with Fitzgerald Park.
"It's just a good way of creating a succession plan for property and land and valuable trees to become an accredited arboretum," Doughty said.
Paist said the educational requirements, like labeling all the species of trees, are what set arboretums apart from other green spaces.
"They do have to have their arboretum trees tagged, somehow, or registered so that the community, as they're walking through the arboretum, can be educated on the trees, which really makes the difference between being a park versus an arboretum and arboretum," Paist said. "An arboretum is really a museum of woody plants."
Members of Mission Hill NHS hope the push for official status as an arboretum will help them continue a mission of sustainability at the park. The organization is one of two owners of the space.
"[Within Mission Hill NHS,] we have a phrase called 'bees to trees,'" said Ellen Moore, a board member at Mission Hill NHS, in a speech at the event. "It's our shorthand for how this project got started. It started out with a decision by the board to add bees to the park as a sustainability measure. And then, once we had the bees, we needed to have plants that would support the pollinators, the pollinating insects, so we had a meeting to think about what kind of plants would support the bees and also survive in this particular topography." 
That was the push that brought Doughty to the park and led to the suggestion they work to get it accredited as an arboretum.
With Johnson and two other co-op students working at the university's arboretum leading the charge, Mission Hill community members celebrated the partnership with Northeastern University, a break from relationships that can be tense, said Moore, who has lived in the neighborhood since 1984.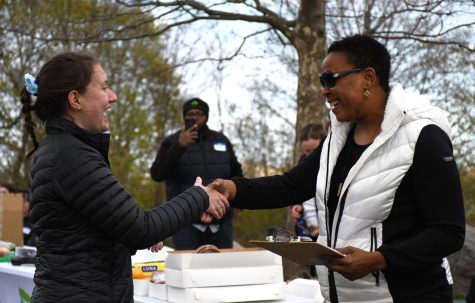 "Well, you know, obviously, Mission Hill has suffered — not just because of Northeastern, but because developers have bought up a lot of the existing housing stock and changed it into rental property, and the folks who have chosen to rent are largely Northeastern students," Moore said.
She said efforts like the work towards an arboretum are good opportunities to build connections.
"We do think this is a very important step towards getting students involved in the neighborhood," said Moore. Previously, Mission Hill NHS worked with volunteers from Northeastern on their Mission Hill Road Race in October.
Doughty, who held multiple roles during his time at NU, also said Northeastern's relationship with the neighborhood has at times been strained.
"It's so wonderful to hear 'Northeastern' and the words 'helping Mission Hill' in the same sentence," Doughty said during a speech at the event. "Times haven't always been this good, so this is wonderful."
With the Arbor Day event and more than 25 tree species, not much is left before the application can be submitted for official designation. Mission Hill NHS must draft a master plan for the space, which Moore said will focus on education about sustainable landscaping practices and native plants. Johnson said she does not expect to submit the application herself but thinks the next co-op in her role will.
Paist said it is important to remember that the level one designation Mission Hill NHS is striving for is not less of an accreditation under the ArbNet program. Higher levels of arboretums only describe a broader variety of trees — at level two, arboretums must have 100 different species — and more specific structural differences, not that they are better or more important.
"The majority of our accredited [arboretums] are at level one. There just aren't that many level four [arboretums] in the world, those are very large … in audience and very large in capacity and in acreage and there just aren't as many as those," Paist said. "Just because you're a small level one arboretum doesn't mean you're any less important."
Generally, community members hope that designation as an arboretum will signal for the park what Mission Hill NHS Executive Director Pat Flaherty called the space's "next life," in a speech at the event.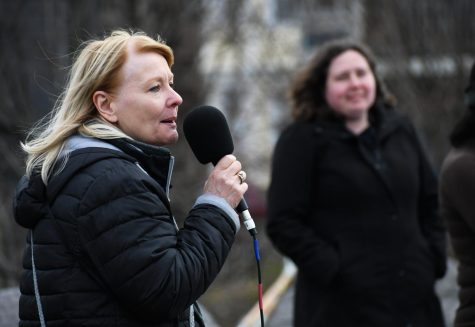 For Moore, the arboretum status will add onto a space with a celebrated history of community engagement that turned an old quarry site into a green space.
"We spent a long time talking about what we wanted to see happen in this old quarry site and everybody's voice was heard, we came to an agreement. Then, … we actually got what we asked for," Moore said of the original creation of the park in the early 2000s. "As everybody who lives in this neighborhood knows, an awful lot of the community process that we participate in is not really community process. We're asked for our opinion, and nobody cares what we say, it's just one more rubber stamp, it's one more jump they have to get through to get their permits. So, to have this as the result of a real community effort is completely amazing."
Johnson said she's been excited to see how members of the community, especially long-time residents, have responded to the project.
"Being able to see a difference in the community members' lives [has been exciting], because a lot of the older community members who were involved in the initial planning of the park have been able to see, over decades, how this park has improved and seeing this large project come together. I really like it because they're very grateful," Johnson said. "I'm just trying to do my job. I didn't realize how big of an impact this would make."
Tricia Fitzgerald — the widow of Kevin Fitzgerald, the state representative after whom the park is named — said the Arbor Day event and the push for the arboretum status will make more people realize the value of the park and the neighborhood it lives in.
"The more people that are involved, the more people that witness it, the more people realize how special this neighborhood is," Fitzgerald said. "I think that's a really cool thing."