NU administration removes occupancy sensors in ISEC in response to privacy, ethical concerns
Students and faculty working in the Interdisciplinary Science and Engineering Complex, or ISEC, pushed back against Northeastern administration last week after the university attempted to monitor their activity at their desks through occupancy sensors. 
In a Sept. 16 email to ISEC faculty, Senior Vice Provost for Research David Luzzi introduced the idea of a research study including placing monitoring sensors under assigned desks within ISEC to identify and document desk occupancy and usage.
"As the amount of use-inspired research being done by our community grows every day, so does the desire from more members of our research community to utilize the space that provides boundless research opportunity," Luzzi wrote. "In order to develop best practices for assigning desks and seating within ISEC, the Office of the Provost will be conducting a study aimed at quantifying the usage of currently assigned seating in the write-up areas outside of the labs and the computational research desks. The results will be used to develop best practices for assigning desks and seating within ISEC (and EXP in due course)."
The initial email emphasized that the sensors would not collect the identity of any individuals, analyze an individual's time at their desk, evaluate or rate performance of students or employees or share information with supervisors of the occupants of the space.
The sensors were then installed later last month without faculty or student knowledge, according to graduate students working in ISEC. Following the installation the night of Sept. 26, some who work in ISEC wrote an open letter to Luzzi and Provost and Senior Vice President for Academic Affairs David Madigan, voicing their concerns about the study. 
Some of the letter's main points included overall privacy concerns, lack of communication from the university that the study was taking place, concern over about the kinds of sensors being used and the poorly conceived nature of the study. Over 250 faculty, students and staff signed the letter.
"Taking a step back, Northeastern prides itself on being a world leader in security and privacy research, with a particular focus on how to ensure that the benefits of new technologies are enjoyed by all. However, to accomplish that goal requires trust between the faculty, students, staff, and the upper administration," the group wrote in the letter. "To roll out such a study — one that runs counter to the research mission of many of the study subjects themselves — in this manner, with no consultation, discussion, or input is counterproductive and harmful to Northeastern's reputation as a top-tier research institution."
One of the labs being monitored by the sensors within ISEC was the university's Cybersecurity and Privacy Institute. Lisa Oakley, a Ph.D. student in the Khoury College of Computer Science, works for the institute, and said she had privacy concerns about that the study. The devices used by the university were Spaceti Desk Presence Smart Stones which, according to some students, do not have the capability to anonymize the data they collect, allowing anyone to access this information.
"We took particular issue with this because there are many people in our lab who do research on the privacy leakage that these kinds of devices can have, and know that there's no way to anonymize, and were able to look at the devices and figure out that they were not taking any steps to anonymize the data that was coming out of them," Oakley said. "So they just installed these devices that were just sharing information broadly to anybody who connected to them about whether or not we were sitting at our desks."
Some students and faculty who spoke with The News argued the devices were easy to hack into and obtain information from, and given the nature of the assigned desks in ISEC, individuals could identify who was at their desks at a given time. Students were able to demonstrate that the devices were not anonymous, despite contrary claims from Northeastern. Ph.D. student in the Khoury College of Computer Sciences Xenia Dragon was able to reverse-engineer the device with her colleagues within days of them being installed.
"There's documentation online about exactly how these devices operate, which makes it really easy to just set up a radio and start capturing messages. And so I did this, within hours, I had had a feed of everything being sent from all of these sensors. And it's, again, not encrypted at all," she said. 
Dragon said she felt having the sensors installed in the cybersecurity lab was an insult to the researchers working there.
"Besides it being a massive privacy violation, and besides it being a thing that no students were actually asked about or consented to, there are people in that lab that study embedded devices and [have] published papers on how a bunch of [internet of things] devices are really trivially broken and have really bad security," she said. "So it's a slap in the face honestly to have the very same devices that we have papers on just put under everybody's desk without any questions asked. It just doesn't make sense."
Ankit Mittal, a Ph.D. student in the College of Engineering, had scheduled a research demo for industry partners that was disrupted by the placement of the sensors. Since he is a Ph.D. student, he said he was not included in the original communication from Luzzi regarding the implementation of the sensors.
"In the [Internet of Things, or] IoT lab, we work on the [industrial, scientific and medical, or] ISM band, which is the unlicensed band which is available for [internet of things] devices to communicate with each other," Mittal said. "[The sensors] absolutely interfere with that which can affect the accuracy of the results that one has, and so that's another dimension of concern. I would say it's not just about security of data, but it's about the fundamental research … I was totally surprised by this interference that I started observing in my experiments."
Some ISEC faculty members supported the efforts of the graduate students in removing the sensors. In an email to Luzzi shared with The News by Oakley, Engin Kirda, a professor of computer science, echoed concerns and offered suggestions to administrators on how to move forward.
"Having discussed this with other stakeholders, we think pausing this data collection at this point and beginning a [dialogue] with the subjects of the study would be a productive way forward. In particular, understanding the tradeoffs of these sensors versus other methods of data collection (e.g., logs from the door locks) would be a useful starting point," he wrote. "The letter was signed by over 250 ISEC residents in under 24 hours, and the number continues to grow. I think this does indicate that this experiment has hit a nerve for many and created unease and unhappiness, but we remain very hopeful that these concerns can be addressed with a productive [dialogue]."
Because the sensors were intended to monitor how much time individuals spent in their research spaces, some faculty and graduate students were concerned that the research would lead to them having to share their assigned space with undergraduate students and administrators. Khoury College Ph.D. student Max von Hippel explained how disruptive this would be to the quality of the research being produced in ISEC.
"With the nature of research, you need to have a space, you can go to it any hour of the day, or even pretty late into the night to you know, be in quiet, have a whiteboard and focus. And if I have to go on a website and choose a slot to share my desk with somebody, I'm not going to do it, I'll just tell you right now, I'll literally never come to the office, if that's the case, because it's too annoying," he said. "I think that's what [administration] wants. They want to bully us into being remote, so that then they can take our space and use it for administrators. And they have plenty of money, they could just buy more space."
Responding to claims that undergraduates will not be able to use the lab space within ISEC, Oakley pointed out that many undergraduate students are already collaborating with researchers within the labs. 
"We have never prevented undergraduate researchers from joining the lab and participating in research. And that is something that almost every lab has been actively working toward," she said.
Oakley also said that, in her eyes, ISEC does not feel very interdisciplinary due to the lack of access to other floors and labs and that this study does nothing to promote interdisciplinary research and collaboration. 
"We're never told what the other floors do. Even people have been told when going into other labs that they're not allowed to be there unless they have a desk there. This idea that it's an interdisciplinary building is not true either," she said. 
Many other graduate students, including von Hippel, echoed these sentiments.
"There's a myriad of ways that they could increase the interdisciplinary aspect of ISEC that we could help them [with], if they, I don't know, would consider asking us instead of just surveilling us and disparaging us," von Hippel said.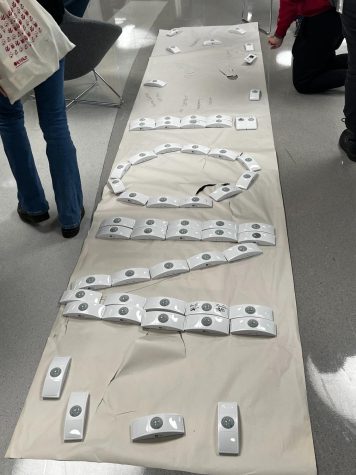 To protest the sensors, many graduate students on the sixth floor of ISEC removed them from the work desks and stuck them on a kitchen table. 
On Oct. 6, Luzzi hosted a town hall meeting with ISEC students and faculty regarding their concerns about the sensors. According to Oakley, the meeting was held with very short notice and faculty members had to inform graduate students that it was taking place, despite the study also having direct implications for them and their research.
"Before the meeting, a group of Ph.D. students brought down a number of the sensors on a banner, and laid them out in front of the room to indicate that we were not happy with what was happening," she said. "As more of a public presence, because it seemed like the town hall was not being done in good faith. We work together across floors of ISEC to bring a visual representation of our unhappiness with what was happening."
Luzzi faced additional backlash from faculty and students regarding the study at the town hall. At 3 p.m. the same day, Luzzi announced in an email that the sensors would be removed from ISEC.
"Given the concerns voiced by a population of our graduate students around the project to gather data on desk usage in a model research building (ISEC), we are pulling all of the desk occupancy sensors from the building. For those of you who have engaged in discussion, please accept my gratitude for that engagement," Luzzi wrote.
On Oct. 8, Provost and Senior Vice President for Academic Affairs David Madigan sent a follow-up email to faculty members regarding the removal of the sensors. Madigan encouraged faculty members to pass along the message to graduate students working in ISEC.
"I want to make it clear that all of the desk sensors installed in ISEC have been removed and will not be reinstalled," Madigan wrote. "While our intent was simply to assess overall desk usage — the sensors are not capable of identifying specific individuals — we fully understand the privacy concerns that have been raised. Once your concerns were expressed, we moved quickly to remove the sensors."
Moving forward, some of those working and researching in ISEC are concerned that the administration will try to monitor their desk space again. 
"Are [they] going to try and put some sensors again, without our knowledge and without our consent? These are the things that concern us," Mittal said.
Editor's Note: This story was edited at 4:33 p.m. to clarify that Northeastern Media Relations responded to request for comment comment to The News through emails already sent to faculty.